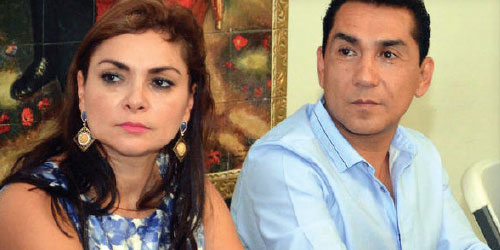 El ex alcalde de Iguala, Jorge Luis Abarca y su esposa, María de los Ángeles Pineda, (apodados como "La Pareja Imperial") están en la cárcel – y quizá permanezcan ahí por un tiempo.
El martes (4 de Nov.), la Procuraduría General de la República [mexicana] informó que la pareja había sido arrestada esa madrugada en el barrio de Iztapalapa de la Ciudad de México, donde estaban alquilando una casa. Las autoridades estaban buscando detenerlos por la desaparición de 43 estudiantes de la Escuela Nacional de Ayotzinapa.
Su arresto fue el resultado de una investigación que las autoridades mexicanas habían iniciado hace unas semanas. Abarca y su esposa eran buscados por varios delitos, entre ellos homicidio y la desaparición de los 43 estudiantes. Durante una conferencia de prensa, el Procurador General de la República, Jesús Murillo Karam, señaló que Abarca había planeado el asesinato de al menos 6 personas y la desaparición de los estudiantes, que aún no han sido encontrados.
En un reporte de Grupo Imagen, Felipe Cruz, padre de uno de los estudiantes desaparecidos, llamó a los arrestos como "muy importantes".
"El rompecabezas está completo", dijo Cruz, según lo citan. "Ahora, sólo necesitamos esperar para que ellos nos digan dónde … (están) los estudiantes".
Minutos después de que había sido anunciada la detención, los medios de comunicación mexicanos empezaron a informar que la organización criminal Guerreros Unidos había confesado la ejecución de los estudiantes. De acuerdo con el sitio web Aristegui Online, Ángel Casarrubias Salgado (alias "El Mochomo") había ordenado a miembros del grupo que asesinaran a los 43 estudiantes.
Al cierre de esta edición, algunos miembros del grupo estaban supuestamente bajo custodia y habían dicho a las autoridades mexicanas que los estudiantes fueron enterrados en una fosa. Sin embargo, hasta el momento las autoridades mexicanas no habían confirmado esa información.
[divider]
Iguala's former mayor and wife arrested in connection to missing 43 students.
Former Iguala Mayor Jorge Luis Abarca and his wife, Maria de los Angeles Pineda, (a.k.a. "La Pareja Imperial) are in jail – and they might be there for a while.
On Tuesday (Nov. 4), the Mexican Attorney General's Office reported that the couple had been arrested early that morning in Mexico City's Iztapalapa neighborhood, where the two were renting a house. Authorities were looking to arrest the couple for the disappearance of 43 students from the Escuela Nacional de Ayotzinapa.
The couple's arrest resulted from an investigation that Mexican authorities had started a few weeks ago. Abarca and his wife were wanted for several crimes, including homicide and the disappearance of the 43 students. During a press conference, Mexican Attorney General Jesus Murillo Karam stated that Abarca had planned the killings of at least six people and the disappearance of the students, who still haven't been found.
In a report from Grupo Imagen, Felipe Cruz, the father of one of the missing students, called the arrests "very important."
"The puzzle is complete," Cruz was quoted as saying. "Now, we just need to wait for them to tell us where … the students (are)."
Minutes after the arrest had been announced, Mexican media outlets started reporting that the criminal organization Guerreros Unidos had confessed to executing the students. According to the Web site Aristegui Online, Angel Casarrubias Salgado (a.k.a. "El Mochomo") had ordered group members to murder the 43 students.
At press time, some of the group members were reportedly in custody and had told Mexican authorities the students were buried in a grave. However, at press time, Mexican authorities hadn't confirmed that information.