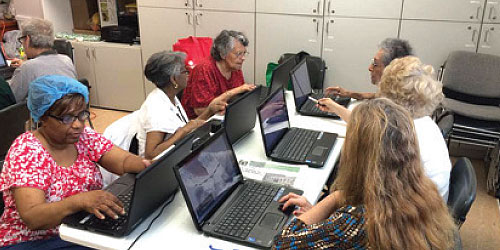 El 18 de Nov., la Corporación de Desarrollo Económico Hispano (HEDC) celebrará su aniversario 21en 28 Event Space, ubicado en 1300 W. 28th St. en Kansas City, Mo.
"Ésta será simplemente una celebración de apoyo a los negocios emprendedores latinos en el área de Kansas City", comentó Pedro Zamora, Director de HEDC.
El evento es gratuito para los partidarios y clientes de HEDC. Habrá comida y bebidas.
Zamora, quien se convirtió en el Director de HEDC en octubre, está muy entusiasmado con la celebración.
"Es fácil para mí venir y celebrar", dijo. "La verdad es que el personal ha realizado una gran labor".
Zamora también reconoció el trabajo de su predecesora, Carmen López, quien está afanándose en la celebración de aniversario.
"La Sra. López ha ayudado a la agencia a seguir adelante", refirió. "Ella sigue ayudando a la agencia".
Desde su creación, HEDC ha ayudado a empresarios aspirantes a iniciar sus negocios y a seguir adelante. La organización ayuda a las personas a crear planes de negocios que incluyen finanzas, mercadotecnia y estrategias de desarrollo organizacional para manejar la empresa.
"Siempre estamos trabajando para … (ofrecer) los programas adecuados, para que los clientes puedan tener éxito – y siempre nos estamos enfocando en formas para dejarlos listos para comenzar sus negocios", indicó Zamora.
El próximo programa de HEDC que se estará ofreciendo es Fast Trac, que se realizará en noviembre. El costo es de $125.
Para más información sobre los programas de HEDC, llame al (816) 221-3442 ó visite
www.kchedc.org.
[divider]
HEDC celebrating 21 years of service
On Nov. 18, the Hispanic Economic Development Corp. (HEDC) will celebrate its 21st anniversary at the 28 Event Space, located at 1300 W. 28th St. in Kansas City, Mo.
"This will be just a celebration of supporting Latino entrepreneurial businesses in the Kansas City area," said Pedro Zamora, HEDC director.
The event is free for supporters and HEDC clients. There will be food and drinks.
Zamora, who became the HEDC director in October, is excited about the celebration.
"It is easy for me to come and celebrate," he said. "The truth is that the staff has done a great job."
Zamora also recognized the work of his predecessor, Carmen Lopez, who's working on the anniversary celebration.
"Mrs. Lopez has helped the agency to keep moving forward," he said. "She continues helping the agency."
Since its creation, the HEDC has helped aspiring entrepreneurs start businesses and keep moving forward. The organization helps people to create business plans that include finance, marketing and organizational development strategies for running the business.
"We are always working on … (offering) the right programs, so clients can be successful – and we are always focusing on ways to get them ready to start their business," Zamora said.
The next HEDC program being offered is the Fast Trac program. It will take place in November. The cost is $125.
For more information about HEDC's programs, call (816) 221-3442 or visit www.kchedc.org.