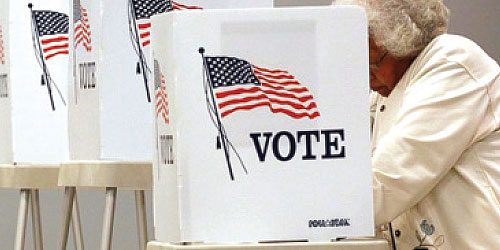 Si bien el panorama legislativo nacional se ha desplazado ligeramente hacia la derecha con la mayoría republicana tanto en la Cámara como en el Senado, los votantes de Missouri despertaron el miércoles con gran parte sin cambios en su legislatura. Todos los representantes de EE.UU. titulares del estado retuvieron sus escaños. Son los siguientes:
Distrito 1:
Lacy Clay (D)
Distrito 2:
Ann Wagner (R)
Distrito 3: Blaine Luetkemeyer (R)
Distrito 4:
Vicky Hartzler (R)
Distrito 5: Emanuel Cleaver II (D)
Distrito 6:
Sam Graves (R)
Distrito 7:
Billy Long (R)
Distrito 8:
Jason Smith (R)
Enmienda 2 fue aprobada como ley volviendo admisibles los actos delictivos previos de los delincuentes sexuales. Ahora, la ley permite a los fiscales utilizar cargos previos — incluyendo aquellos que fueron descartados — como evidencia en contra de los delincuentes sexuales. La ley fue aprobada con un amplio margen de 71%.
Enmienda 3 La iniciativa de desempeño de los maestros fue derrotada abrumadoramente. La nueva regulación habría requerido que los educadores fueran despedidos, retenidos, degradados, promovidos y pagados utilizando una análisis de rendimiento estudiantil. También habría requerido que los maestros celebraran contratos de no más de tres años con los sistemas escolares públicos; y habría declarado ilegales la negociación colectiva y el sindicato. La medida falló con 76% votos de "no".
Enmienda 6, son su fracaso, un período de votación temprana de 6 días no se extenderá a los electores.
Enmienda 10 rechinó con una victoria, lo que significa que ahora los gobernadores tiene restricciones más estrictas contra la modificación del financiamiento aprobado por la asamblea general. Ya no se les permitirá reducir los fondos aprobados por la asamblea; y tendrán controles más estrictos en la modificación de las partidas individuales del presupuesto. Poco más de la mitad de los votantes — 56% — emitieron un voto "Sí" para la medida.
En Kansas, el escenario legislativo también permanece en gran medida sin cambios, favoreciendo a los titulares.
Los titulares del Partido Republicano, Tim Huelskamp, Lynn Jenkins, Kevin Yoder y Mike Pompeo, todos ganaron sus escaños en la Cámara de EE.UU., nuevamente con victorias holgadas.
El secretario de Estado, Kris Kobach, también ganó la reelección con un amplio margen.
En el Senado estuvo un poco más apretado, pero nuevamente quedó el legislador republicano Pat Roberts, con 53% de los votos.
La contienda gubernamental estuvo apretada, pero aún así el republicano Republican Sam Brownback, quien fue ampliamente criticado por  obstruccionismo partidista y casi perder su cargo ante su rival demócrata. Con un 50% de los votos — 4% más que su oponente — ganó otro período de 4 años.
La medida de juegos a azahar de caridad, SCR 1618, ha sido aprobada como ley. Permite a las organizaciones sin fines de lucro celebrar rifas para recaudar fondos.
---
Kansas, Missouri elections favor incumbents
By Jesus Lopez-Gomez
Although the national legislative landscape has shifted slightly to the right with Republican majorities in the House and the Senate, Missouri voters woke up to a largely unchanged legislative landscape Wednesday morning (Nov. 5). All the state's incumbent U.S. Representatives retained their seats following the elections on Tuesday (Nov. 4). They are as follows:
District 1: Lacy Clay (D)
District 2: Ann Wagner (R)
District 3: Blaine Luetkemeyer (R)
District 4: Vicky Hartzler (R)
District 5: Emanuel Cleaver II (D)
District 6: Sam Graves (R)
District 7: Billy Long (R)
District 8: Jason Smith (R)
In other election news, Amendment 2 passed with a 71 percent margin. The law allows for prosecutors to use prior charges — including those that were dropped — as evidence against sex offenders.
On the other hand, teacher performance initiative Amendment 3 was defeated with 76 percent of Missouri voters rejecting it. The proposed amendment would've required educators to be dismissed, retained, demoted, promoted and paid using data-driven student performance analysis. It also would've required teachers to enter into contracts running no more than three years with public school systems and would have outlawed collective bargaining or organized labor for educators.
With the failure of Amendment 6, a six-day early voting period won't be extended to voters.
Amendment 10 squeaked out a victory with 56 of Missouri voters supporting it. With its passage, governors have tighter restriction against modifying funding passed by the General Assembly. In addition, governors are no longer permitted to reduce funding passed by the state legislature and have tighter controls on changing budgetary line items.
In Kansas, the legislative picture also remained largely unchanged. GOP incumbents Tim Huelskamp, Lynn Jenkins, Kevin Yoder and Mike Pompeo all won their respective U.S. House seats again by comfortable margins. Secretary of State Kris Kobach also won a re-election victory by a wide margin.
The U.S. Senate race was somewhat tighter, but again went to sitting Republican legislator Pat Roberts, who received 53 percent of the vote.
The governor's race was tighter still, with Republican incumbent Sam Brownback winning with 50 percent of the vote – 4 percent more than his opponent. Brownback has been widely criticized for partisan obstructionism during his current term.
A charitable gambling measure, SCR 1618, has been voted into law. It permits non-profits to hold raffles for fund-raisers.