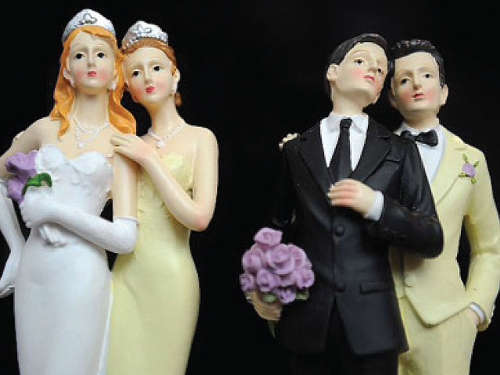 Tras el fallo de la Corte Suprema de EE.UU. despejando el camino para los matrimonios entre personas del mismo sexo en Kansas, la Conferencia Católica de Kansas emitió recientemente un comunicado condenando la decisión del estado para reconocer las uniones.
Citando la tradición religiosa y una enmienda de protección del matrimonio que fue aprobada por el 70% del electorado estatal en el 2005, la declaración conjunta de los Obispos argumenta que, "incluso los miembros de la legislatura y el poder judicial bien intencionados y concienzudos no pueden alterar una realidad dada", del matrimonio que es un "orden natural instituido por Dios" definido como exclusivamente entre un hombre y una mujer.
Sin embargo, la declaración aseguró que las personas homosexuales son bienvenidas en 338 parroquias de la conferencia estatal, que en conjunto alberga más de 400,000 católicos en todo el estado.
Aún así, "también debemos hacer notar que la enseñanza de la Iglesia sobre el matrimonio no es simplemente una 'postura' sobre una cuestión política ya que el matrimonio no es una creación del estado", dice la declaración.
Cada uno de los Obispos del estado — el arzobispo Joseph Naumann de Kansas City, y los obispos John Brungardt de Dodge City, Edward Weisenburger de Salina y Carl Kemme de Wichita —firmaron el comunicado.
"El matrimonio es más que sólo dos adultos y el comportamiento que eligen para participar en él", dijo Naumann. "Es por ello que los niños son siempre parte de éste".
Hablando el miércoles (19 de Nov.) por la mañana, Naumann refirió que la Iglesia no "cree que Dios hizo un enorme error en la forma en que define el matrimonio". Él no estaba esperando que fuera corregido 2,000 años después".
Él dijo que los miembros de su congregación que han hablado con él sobre la decisión de la Corte están "perturbados" y "sienten que la cultura y la sociedad están cometiendo un grave error. Y agregó que los defensores de la igualdad de matrimonio están haciendo mal uso de la palabra "matrimonio".
"Al decir que algo es matrimonio cuando no lo es, hay ramificaciones en el matrimonio", señaló.
El comunicado de prensa emitido en respuesta a la decisión del alto tribunal cita "los números sustanciales de niños [que] intencionalmente irán sin madres y padres", como resultado de tener hijos criados por dos mujeres o un par de hombres.
Naumann elaboró más allá este punto en un video disponible en el sitio web de la conferencia, defendiendo la postura de la Iglesia sobre el matrimonio entre personas del mismo sexo.
El Arzobispo recalcó que los hombres y las mujeres son esencialmente diferentes; y ambos son necesarios para criar a un niño.
"Ningún hombre puede ser una madre de un niño y ninguna mujer un padre", dijo. "La cultura se ha vuelto cada vez más hostil hacia aquellos que simplemente tratan de preservar la definición de matrimonio como se ha entendido desde hace milenios".
Y añadió que, "votar por un candidato a pesar de su apoyo a matrimonios del mismo sexo es sólo moralmente una opción si hay defectos morales aún más serios en el candidato de la oposición".
Planteada la cuestión de si los defensores de la igualdad de matrimonio están actuando en el pecado, el Arzobispo indicó que la respuesta se encuentra en lo que hay en sus corazones.
"¿Si creo que las personas que abogan por eso están equivocadas? Sí. Yo creo que es muy peligroso", dijo. "Y si la gente está defendiendo esto para socavar el matrimonio y la vida familiar, sí, entonces es pecaminoso. Pero la mayoría están actuando por un sentido equivocado de compasión".
"En realidad, no es compasivo tomar algo como el matrimonio y cambiarlo".
[divider]
Kansas bishops welcome gays, but not gay marriage
By Jesus Lopez-Gomez
Following the U.S. Supreme Court ruling clearing the way for same-sex marriage in Kansas, the Kansas Catholic Conference recently released a statement condemning the state's decision to recognize the unions.
Citing religious tradition and a marriage protection amendment passed by 70 percent of the state's electorate in 2005, the bishops' joint statement argued that, "even well-intentioned, conscientious members of the legislature and judiciary cannot alter a given reality" – that of marriage being a "natural order instituted by God" defined as exclusively between a man and a woman. The statement, however, assured that gay people are welcome in the state conference's 338 parishes, which together host more than 400,000 Catholics statewide.
Nevertheless, "we also must note that the church's teaching on marriage is not simply a 'position' on a political issue because marriage is not a creation of the state," the statement read.
Each of the state's bishops — Archbishop Joseph Naumann of Kansas City, and Bishops John Brungardt of Dodge City, Edward Weisenburger of Salina, Carl Kemme of Wichita — were signatories to the statement.
"Marriage is more than just (being) about two adults and the behavior you choose to engage in," Naumann said. "That's why children are always part of it."
Speaking on Wednesday morning (Nov. 19), Naumann said the church doesn't "believe that God made some huge mistake in how he defined marriage," he said. "He wasn't waiting for it to be corrected 2,000 years later."
Naumann said members of his congregation who've spoken to him about the court's decision are "disturbed" and "feel that culture and society … (are) making a huge mistake." Moreover, marriage equality advocates are misusing the word "marriage," he stated.
"To say something is marriage that is not, there are ramifications on marriage," the archbishop said.
The press release issued in response to the high court's ruling cited the "substantial numbers of children (that) will intentionally go without mothers and fathers" from having children raised by two women or two men. Naumann elaborated on that point in a video available on the conference's Web site defending the church's position on same-sex marriage.
Naumann said men and women are different, and both are required to raise a child.
"No man can be a mother to a child and no woman a father," he said. "The culture has become increasingly hostile towards those simply striving to preserve the definition of marriage as it has been understood for millennia."
He added: "(To) vote for a candidate despite their support for same-sex marriage is only morally an option if there are even more serious moral defects in the opposing candidate."
Posed with the question of whether marriage equality advocates are acting in sin, the archbishop said the answer lies in what's in their hearts.
"Do I think that (the) people advocating for that are wrong? Yes. I think it's very dangerous," he said. "And if people are advocating for this to undermine marriage and family life, yes, then it's sinful. But most are acting out of misguided sense of compassion. It isn't really compassionate to take something like marriage and change it."