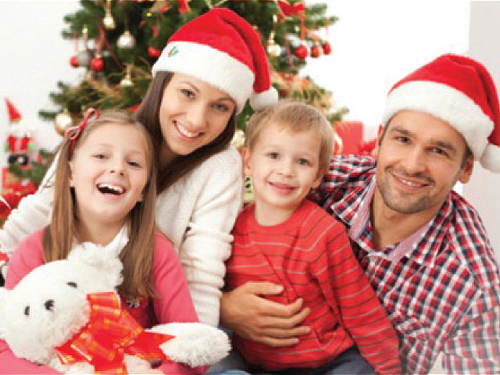 La Navidad es un tiempo para que las personas se reúnan con sus seres queridos e intercambien regalos —un momento para ser parte de una tradición internacional.
La Navidad se celebra en la mayoría de los países.La mayoría de los pueblos cristianos celebran el día en que Jesucristo nació con árboles, regalos, decoraciones y reuniones familiares; pero algunos tienen tradiciones únicas.
En América Latina, por ejemplo, la gente suele celebrar la Navidad el 24 de diciembre, en lugar del 25, como lo hacemos en Estados Unidos y como ocurre en muchos otros países.Se reúnen con sus familias, cenan —y si se pueden dar el lujo, intercambian regalos.En Nochebuena, la familia se reúne al mediodía para comer y celebrar.Al igual que en Estados Unidos, las casas y los hogares están decoradas con adornos navideños.
En los países europeos, las familias suelen reunirse el 25 de diciembre, almorzar e intercambiar regalos.Las ciudades suelen estar decoradas con luces y adornos navideños.En Alemania, los árboles de Navidad se meten a la casa el día de Nochebuena.Por lo general, los padres decoran los árboles en secreto.
El número de personas que celebran la Navidad en China es pequeño en comparación con la población total del país. Por lo general, en las ciudades principales es donde se encuentran las decoraciones y las tradiciones navideñas.La gente canta villancicos y regala manzanas durante la Nochebuena.
Al igual que en China, el número de personas que festejan Navidad en India es pequeño en comparación con la población general.Los que si, decoran cualquier árbol que encuentran en vez de árboles de hoja perenne, como es el caso en muchos países. La parte más importante de la celebración navideña en la India es asistir a una misa de Navidad a medianoche y reunirse con familiares.
Ahora que usted sabe acerca de cómo otras personas celebran la Navidad en todo el mundo, disfrute su propia celebración navideña con sus seres queridos.Y mientras hace eso, piense en los cambios positivos que puede hacer en su vida — y la vida de aquellos que ama, y las vidas de las personas en todo el mundo.
[divider]
Christmas: Be part of an international tradition
Commentary By Chara
Christmas is a time for people to gather with loved ones and exchange gifts – a time to be part of an international tradition.
Christmas is celebrated in most countries. Most Christian countries celebrate the day Jesus Christ was born with trees, gifts, decoration and family gatherings. But some countries have unique traditions.
In Latin America, for example, people usually celebrate Christmas on Dec. 24, rather than Dec. 25, as we do in the United States and as is the case in many other countries. They gather with their families, have dinner – and if they can afford it, they exchange presents. On Christmas Eve, the family gathers at lunchtime to eat and celebrate. As with the United States, the houses and streets are decorated with Christmas ornaments.
In European countries, families usually gather on Dec. 25, eat lunch and exchange gifts. The towns are usually decorated with Christmas lights and ornaments. In Germany, Christmas trees are brought into the house on Christmas Eve. Usually, the parents decorate the trees secretly.
The number of people who observe Christmas in China is small in comparison to the country's overall population. It is usually in the main cities where you will find Christmas decoration and traditions. People sing Christmas Carols and they give away apples during Christmas Eve.
As with China, the number of people who observe Christmas in India is small in comparison to the overall population. Those who do decorate any tree they find, rather than evergreen trees, as is the case in many countries. The most important part of the Christmas celebration in India is attending a midnight Christmas Mass at and gathering with family members.
Now that you know about how other people celebrate Christmas around the globe, enjoy your own Christmas celebration with your loved ones. And while you're doing so, think about the positive changes you can make into your life – and the lives of those you love, and the lives of people around the globe.