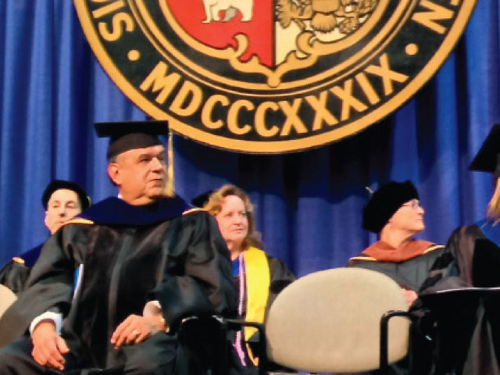 Harry Truman, Shirley Helzburg y el director ejecutivo de Guadalupe Centers Inc. (GCI) Cris Medina tienen algo en común: cada uno posee un doctorado honorario de la Universidad de Missouri-Kansas City (UMKC).
El 19 de diciembre, la universidad le otorgó un grado a Medina en reconocimiento a sus esfuerzos para crear oportunidades para más jóvenes de Kansas City para acceder a la educación superior. Él recibió su título de Doctor en Filosofía durante la ceremonia de graduación de mediados de año de UMKC en el Centro Recreativo Swinney.
Cuando Medina se hizo cargo de GCI en 1980 tras la muerte del CEO, la organización cívica hispana sin fine de lucro tenía solamente dos edificios y un presupuesto de menos de $500,000. En la actualidad, la organización cuenta con 17 lugares alrededor de la ciudad, una plantilla de alrededor de 300 personas y un presupuesto anual de $18 millones por servicios como capacitación laboral, operaciones educativas, asesoramiento y asistencia básica sanitaria.
En el núcleo de operaciones de la organización sin fines de lucro está un nexo de cuatro escuelas. La primaria Academia Niños, la preparatoria chárter Alta Vista, la secundaria Alta Vista y Plaza de Niños, todas ellas forman lo  que se conoce como el Sistema Educativo Guadalupe.
"Mejorar la calidad de vida de nuestra comunidad ha sido mi pasión. Afortunadamente, mi carrera me ha permitido trabajar hacia esta meta", comentó Medina en una declaración preparada para el comunicado de prensa de la universidad anunciando su doctorado.
El Consejo Nacional de La Raza ha reconocido constantemente las contribuciones de GCI. El grupo de derechos civiles denomina a la organización de Kansas City, Mo., una de las 10 organizaciones comunitarias más efectivas.
Medina también ayuda a manejar su negocio familiar, El Taquito Inc.; y su restaurante asociado, La Fonda El Taquito.
[divider]
Medina awarded UMKC honorary doctorate
By Jesus Lopez-Gomez
Harry Truman, Shirley Helzburg and Guadalupe Centers Inc. (GCI) CEO Cris Medina have something in common: Each holds an honorary doctorate from the University of Missouri-Kansas City (UMKC).
On Dec. 19, the university bestowed a degree on Medina in recognition of his efforts to create opportunities for more young Kansas Citians to access higher education. He received his honorary doctor of philosophy degree during UMKC's mid-year commencement ceremony at the Swinney Recreation Center.
When Medina took over GCI in 1980 after the CEO's death, the non-profit Hispanic civic organization had just two buildings and a budget of less than $500,000. Today, the organization has 17 locations around the city, a staff of around 300 and an annual budget of $18 million for services such as job training, educational operations, counseling and basic healthcare.
At the core of the non-profit's operations is a nexus of four schools. Academia de Ninos (Niños in Spanish) Elementary, Alta Vista Charter High School, Alta Vista Middle School and Plaza de Ninos all form what's known as the Guadalupe Educational System.
"Improving the quality of life for our community has been my passion. Fortunately, my career has allowed me to work toward this goal," Medina said in a statement prepared for the university's press release announcing his doctorate.
The National Council of La Raza has consistently recognized GCI's contributions. The civil rights group calls the Kansas City, Mo., organization one of the country's 10 most effective community organizations.
Medina also helps manage his family business, El Taquito Inc.; and its associated restaurant, La Fonda El Taquito.