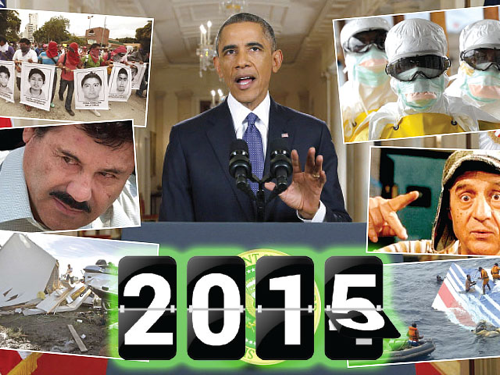 Enero
Ataques ocurridos en Michoacán por parte de vigilantes contra el cártel de las drogas "Los Caballeros Templarios" llevaron al caos, miedo, muerto y la intervención del Gobierno en México. Los grupos Vigilantes son fuerzas no autorizadas por el gobierno que están tratando de combatir a los capos de las drogas que actúan en el territorio de Michoacán. Como respuesta, el Gobierno envió al ejército para tomar las armas de los vigilantes.
El 22 de enero, el mexicano Edgar Tamayo fue ejecutado a las 9:32 p.m. en Huntsville, Texas, por el supuesto asesinato del oficial de policía de Houston Guy Gaddis en 1994. Tras su ejecución, la Secretaría de Relaciones Exteriores de México emitió un comunicado protestando por la ejecución en términos de que viola un tratado internacional y contraviene la interpretación de la ley criminal internacional.
Febrero
El 4 de Feb., la tormenta de nieve Nika rompió el récord de 1924 de KC. KCTV5 reportó que un total de 7.5" de nieve fue registrado en el área metropolitana. En 1924, el total de nieve fue de 7.4".
El 6 de Feb., el presidente de la Cámara, John Boehner anunció que no era probable que la reforma migratoria fuera aprobada en el 2014 debido a la falta de confianza en la administración del presidente Obama.
El 22 de Feb., Joaquín Guzmán Loera alias "El Chapo" fue arrestado en Mazatlán Sinaloa México en un operativo que se llevó a cabo en un edificio de apartamentos. La operación "Gárgola" fue organizada entre la Armada de México y la Agencia de Control de Drogas (DEA).
Marzo
El 5 de marzo, los republicanos de la Cámara aprobaron la ley H.R. 4138, ENFORCE, con 233 de los 181 votos. La resolución desafía las órdenes ejecutivas firmadas por el presidente Barak Obama y permite al Congreso demandarlo.
El 8 de marzo, el vuelo MH370 fue reportado como desaparecido; y el 24 de marzo, el primer ministro de Malasia, Najib Razak anunció que el vuelo aparentemente se había estrellado en el océano Índico y que no había sobrevivientes.
El 25 de marzo, la Organización Mundial de la Salud reportó que había un brote del virus Ébola en Guinea. Él continuaría propagándose durante la primavera y verano, con unos cuantos casos reportados en Estados Unidos.
Abril
El 4 de abril, John Fierro, Presidente y CEO del Centro Mattie Rhodes, recibió el reconocimiento de Liderazgo Comunitario del Director de la Agencia Federal de Investigación en Washington, D.C.
Más de una docena de disparos fueron reportados en menos de un mes en el área de Kansas City – y la policía informó que el número podría aumentar. Hubo 3 tiroteos confirmados en lugares que incluyeron Kansas City, Blue Springs y Lee's Summit en Missouri; y Leawood, Kan.
El 27 de abril, el papa Francisco canonizó a los papas Juan Pablo II y Juan XXIII en el Vaticano, designados así como Santos en la Iglesia Católica Romana.
Mayo
El 10 de mayo, el personal del Palacio de Justicia Truman creó una cápsula del tiempo que almacenará recuerdos por 80 años. Entre los artículos que reflejan la cultura de KC estuvieron cosas de los equipos locales (Reales, Jefes, Comets, Sporting KC, etc.), una iPad, un Twinkie y una edición de Dos Mundos. La cápsula del tiempo será abierta el 7 de Sep. de 2093.
El 15 de mayo, los Centros Médicos Truman (TMC) organizaron la gran apertura del Centro de Cáncer Richard y Annette Bloch en Kansas City, Mo. El centro, un proyecto de $6 millones, abrió para los pacientes a finales de febrero.
Junio
El 2 de junio, el rey español Juan Carlos I anunció en la televisión nacional de ese país que abdicaba a su trono. Él fue rey de España por cuatro décadas. Durante su reinado, el país estableció una monarquía constitucional. Su hijo Felipe de Asturias, lo está sucediendo.
El 8 de junio, el papa Francisco se reunió con el presidente palestino, Mahmud Abbas y su homólogo israelí Shimon Peres para orar por la paz en el Medio Oriente. Ésta fue la primera vez que dos líderes de países en conflicto se reúnen en el Vaticano.
El 15 de junio, Colombia abrió sus urnas para la segunda ronda de elecciones presidenciales. Los candidatos incluyeron al presidente Juan Manuel Santos y a Óscar Iván Zuluaga. Santos ganó con 50.9% contra 45% para Zuluaga. En la primera ronda, Zuluaga había conseguido el 29.25% de los votos, contra 25.69% de Santos.
Utilizando fondos federales, el Departamento de Policía de Kansas City (Mo.) operó una serie de puntos de control colocados aleatoriamente alrededor de la ciudad para identificar a los conductores sin licencia. Funcionalmente, los puntos de control fueron similares de los de DUI. Varias multas fueron emitidas a aquellos que no tenía una licencia.
Julio
La derrota 7-1 del equipo brasileño ante Alemania en las semifinales de la Copa Mundial varonil realizada el 8 de julio provocó disturbios en el país sudamericano.
El 15 de julio, legisladores republicanos anunciaron que aconsejarían al Gobierno estadounidense el envío de la Guardia Nacional a la frontera entre México y EE.UU. para reducir el flujo de niños inmigrantes que viajan solos de países centroamericanos hacia el país.
El 18avo. brote de sarampión del año se extendió al área de Kansas City. En el lado de Missouri, 22 casos fueron confirmados en la metrópoli y 4 en el condado Clay. Kansas registró 3 casos confirmados en el área – todos en el condado Wyandotte. A nivel nacional, el número de casos fue mayor que en cualquier otro tiempo desde el 2000, cuando las autoridades de salud pública declararon que la enfermedad había sido eliminada en el país.
El 21 de julio, el presidente Barack Obama firmó una orden ejecutiva prohibiendo a los contratistas federales la discriminación en contra de trabajadores lesbianos, gays, bisexuales y transgénero. La ley convierte en ilegal despedir y acosar a los empleados en base a su orientación o género sexual.
El 25 de julio, el presidente Barack Obama se reunió con líderes centroamericanos para tratar de resolver la crisis de los niños que viajan solos a Estados Unidos. Según informes de CNN, Obama explicó que a los niños que crucen la frontera ilegalmente no se les permitiría permanecer en el país.
Agosto
El 7 de agosto, la iglesia en Northeast estaba realizando una escuela bíblica de vacaciones para 44 niños cuando la estructura con 100 años de antigüedad se colapsó sin ninguna advertencia. Las investigaciones muestran que la edad del edificio, que fue construido en 1931, aunado a las deficiencias estructurales y la fuerte lluvia jugaron parte en el derrumbe.
El 14 de agosto, cientos de habitantes de Kansas City organizaron una manifestación civil pacífica en la fuente J.C. Nichols para protestar por el resiente asesinato de Michael Brown por un oficial de policía de Ferguson, Mo. El incidente conduciría a enfrentamientos entre personal de las fuerzas del orden y manifestantes. Unos cuantos meses después, la decisión de un gran jurado de no presentar cargos al oficial – y una decisión de no procesar a un policía blanco en la Ciudad de Nueva York por la muerte por asfixia del afroamericano Eric Garner – provocó protestas en todo el país y discusiones sobre el abordar la relación entre la raza y la brutalidad policial.
El 18 de agosto, en la Casa Blanca el vicepresidente tomó el juramento del secretario de Vivienda y Desarrollo Urbano (HUD) Julián Castro, quien fue juramentado originalmente el 28 de julio por el juez Richard Roberts en la sede de HUD. La Ceremonia de la Casa Blanca dio la bienvenida a Castro al gabinete del Presidente.
Defensores de inmigración locales pasaron una semana con aquellos detenidos en los centros de detención de Control de Aduanas e Inmigración (ICE) en Artesia, N.M., como parte de un proyecto a largo plazo de la Asociación Americana de Abogados de Inmigración para brindar representación legal a la ola de recién llegados. Las circunstancias dictaban que los voluntarios se movieran agresivamente para tantos inmigrantes como fuera posible; los detenidos suficientemente afortunados de obtener una fianza para su liberación tienen hasta dos años para presentar una petición de asilo ante un juez.
Septiembre
El 6 de Sep., el presidente Obama decepcionó nuevamente a los defensores de la reforma migratoria al dar un paso atrás en la consideración de la acción ejecutiva en materia de inmigración indocumentada. Sin embargo, el secretario de prensa de la Casa Blanca, Josh Earnest, dijo que esto no cambiaba el compromiso del Mandatario para usar su autoridad ejecutiva, si fuera necesario.
El 11 de Sep., el Concejo de la ciudad de Kansas City aprobó la protección reforzada para las víctimas de violencia doméstica. Grupos policiales de Kansas City, Mo. se unieron al conjunto de grupos de defensa de las mujeres alabando dicha decisión. El Concejo votó 10-1 para enfrentar a los abusadores con persecuciones más severas y veloces.
El 13 de Sept., parado junto a miembros del Consulado mexicano en la plaza Barney Allis para "El Grito", el alcalde de Kansas City, Mo., Sly James dijo que era importante para él asistir al evento para mostrar a los hispanos de la ciudad que ellos cuentan con un aliado. Y también hizo comentarios que deben leerse como un firme apoyo a una reforma migratoria justa.
El 22 de Sep., el Pentágono de Estados Unidos anunció que aviones y bombarderos lanzaron alrededor de 14 ataques contra ISIS y Khorasan. Según una declaración hecha por el ejército de EE.UU., el grupo Khorasan había estado formado por veteranos de Al Qaeda y estaban planeando atacar nuevamente a Estados Unidos.
El 25 de Sep., el Departamento de Defensa de EE.UU. anunció que a ciertos inmigrantes indocumentados se les permitiría servir en el ejército.
El 26 de Sep. estudiantes fueron llevados a otra parte por agentes de la policía en Iguala, una ciudad al sur de México, y luego fueron reportados como desaparecidos. En los meses siguientes, la desaparición de los 43 estudiantes atraería la atención de los medios internacionales, así como protestas en todo el mundo.
Octubre
Lynda Callon – una líder comunitaria, activista, luchadora y madre de hijos "adoptivos" quien era conocida por su labor con el Centro CAN del Westside – falleció el 12 de Oct. de cáncer. Su trabajo ahí le granjeó el respeto y amor de muchas personas que trabajaron con ella y de aquellas a las que les ayudó. Por su labor, dedicación y compromiso con la comunidad hispana del barrio de Westside, Lynda recibió el premio Ohtli otorgado por el Gobierno mexicano.
El 13 de Oct., en un esfuerzo por promover el cambio en la Iglesia Católica Romana, el papa Francisco promovió la idea de aceptar a los homosexuales y a los divorciados que deseen volverse a casar, durante el Sínodo que contó con la asistencia de 200 líderes de la Iglesia. El cambio fue rechazado en Roma y varios medios de comunicación lo denominaron como un revés para el Sumo Pontífice
El 19 de Oct., Evo Morales fue declarado ganador de las elecciones presidenciales de Bolivia. El Tribunal Supremo Electoral anunció que él había recibido el 61% de los votos, seguido por Samuel Doria con 24.49% y Jorge Quiroga con 9.07%.
El 24 de Oct., una masacre suicida ocurrió en una escuela en Marysville, Washington.
Noviembre
El 7 de Nov., Jesús Murillo Karam —Procurador general de la República mexicana— tuvo una sesión de una hora de preguntas sobre los estudiantes que desaparecieron desde septiembre en el estado de Guerrero. Él había convocado a la ahora famosa conferencia de prensa televisada para anunciar la detención de dos sospechosos y el descubrimiento de lo que parecían ser restos de los estudiantes.
El 19 de Nov., los Obispos de Kansas dieron la bienvenida a las personas homosexuales, pero no a sus matrimonios.
Tras el fallo de la Corte Suprema de EE.UU. despejando el camino para los matrimonios entre personas del mismo sexo en Kansas, la Conferencia Católica de Kansas emitió un comunicado condenando la decisión del estado para reconocer las uniones. Citando la tradición religiosa y una enmienda de protección del matrimonio que fue aprobada por el 70% del electorado estatal en el 2005, la declaración conjunta de los Obispos argumenta que, "incluso los miembros de la legislatura y el poder judicial bien intencionados y concienzudos no pueden alterar una realidad dada", del matrimonio que es un "orden natural instituido por Dios" definido como exclusivamente entre un hombre y una mujer.
El 20 de Nov., el presidente Obama anunció que tomaría una acción ejecutiva referente a la reforma migratoria. Se estimó que ésta podría ayudar a aproximadamente 5 millones de inmigrantes indocumentados.
El 28 de Nov., a la edad de 85 años falleció el famoso comediante mexicano Roberto Gómez Bolaños, "Chespirito", en la ciudad de Cancún, México. Varios servicios en todo el mundo fueron celebrados en todo el mundo para honrar su legado a las comunidades de habla hispana.
Diciembre
El 4 de Dic,. alrededor de 300 trabajadores de la industria de servicios protestaron en Kansas City, Kan., para demandar un salario de $15 la hora y una representación sindical. La protesta formó parte de una serie de demostraciones simultáneas planeadas en todo el país. Los trabajadores de servicios se reunieron instando a sus compañeros a impugnar los trabajos que, para ellos, están ligados con salarios insatisfactorios.
El Centro de Investigación Pew emitió un informe señalando que 44% de la población inmigrante era elegible para el alivio a la deportación bajo la Acción Diferida para los Llegados en la Infancia (DACA) y las nuevas regulaciones. El estudio indicó que los inmigrantes mexicanos eran los principales beneficiarios de la acción ejecutiva de alivio a la deportación del presidente Obama. Sin embargo, el número de mexicanos presentes en el país ilegalmente —y los inmigrantes indocumentados en general— había disminuido. Llegó a su punto más alto en 2007, en 12.2 millones (4% de la población estadounidense). Actualmente, se estima que es poco más de 11 millones.
El 16 de Dic., Estados Unidos y Cuba rompieron el silencio diplomático de 53 años en un intercambio que resultó en la liberación de dos presos políticos de Cuba y la promesa de una mayor cooperación entre las dos naciones.
El 19 de Dic., la Universidad de Missouri-Kansas City otorgó un Doctorado Honorario a Cris Medina —CEO de Guadalupe Centers Inc.— en reconocimiento a sus esfuerzos para crear oportunidades para que más jóvenes de Kansas City accedan a la educación superior. Él recibió su título durante la ceremonia de graduación de mediados de la universidad  en el Centro Recreativo Swinney.
[divider]
Remembering 2014: The Year in News
January
The attacks that took place in Michoacan by vigilantes over drug cartel "Los Caballeros Templarios" leaded to chaos, fear, death, and government intervention in Mexico. Vigilante groups are non-authorized government forces that are trying to battle drug lords that act in Michoacan territory. As a response, the government sent the army to take the weapons from vigilantes.
Mexican national Edgar Tamayo was executed at 9:32 p.m. on Jan. 22 in Huntsville, Texas, for allegedly killing Houston Police Officer Guy Gaddis in 1994. After his execution, the Mexican Foreign Ministry issued a release protesting the execution on the grounds it violated an international treaty and an international interpretation of criminal law.
February
On Feb. 4, snowstorm Nika broke a 90-year-old record for snowfall in Kansas City. KCTV5 reported that 7.5 inches of snow fell in the metropolitan area. In 1924, the total snowfall was 7.4 inches.
On Feb. 6, U.S. Speaker of the House John Boehner announced that immigration reform legislation would probably not be passed in 2014 because of the lack of trust in President Barack Obama's administration.
Alleged drug lord Joaquin Guzman Loera, a.k.a, "El Chapo," was arrested on Feb. 22 in an apartment building in Mazatlan Sinaloa, Mexico. The operation, nicknamed "Gargola," was organized by the Mexican navy and the U.S. Drug Enforcement Agency.
March
On March 5, U.S. House Republicans passed House Resolution 4138 – known as the ENFORCE Act – 233-181. The resolution challenged executive orders signed by President Obama and permitted congressional lawsuits against the president.
On March 8, Flight MH370 was reported missing. Malaysian Prime Minister Najib Razak announced on March 24 that the plane had apparently crashed into the Indian Ocean and there were no survivors.
The World Health Organization reported on March 25 there was an outbreak of the Ebola virus in Guinea. The outbreak would continue to spread during the spring and summer, with a few cases reported in the United States.
April
John Fierro, Mattie Rhodes Center president and CEO, received the Director's Community Leadership Award on April 4 from the Federal Bureau of Investigation in Washington, D.C.
More than a dozen shootings were reported in less than a month in the Kansas City area – and the police reported that the number could increase. There were 3 confirmed shootings in places including Kansas City, Blue Springs and Lee's Summit in Missouri; and Leawood, Kan.
Pope Francis canonized Popes John Paul II and John XXIII on April 27 at the Vatican, thus designating them as saints in the Roman Catholic Church.
May
On May 10, the Jackson County (Mo.) Truman Courthouse staff created a time capsule that will store memories for 80 years. Among the items included reflecting the KC culture were artifacts from local sports teams (Royals, Chiefs, Comets, Sporting KC, etc.), an iPad, a Twinkie and a Dos Mundos issue. The time capsule will be open on Sep. 7, 2093.
On May 15, Truman Medical Centers hosted the grand opening of the Richard and Annette Bloch Cancer Center in Kansas City, Mo. The center, a $6 million project, had opened for patients at the end of February. 
June
Spanish King Juan Carlos I announced on June 2 on Spanish national television that he was abdicating his throne. He was Spain's king for four decades. During his reign, the country established a constitutional monarchy. His son, Felipe—Prince of Asturias—is succeeding him.
Pope Francis met with Palestinian President Mahmud Abbas and Israeli President Shimon Peres on June 8 to pray for the peace in the Middle East. It was the first time that two leaders of countries in conflict gathered at the Vatican.
On June 15, Colombia held its second round of presidential elections. Candidates include President Juan Manuel Santos and Oscar Ivan Zuluaga. Incumbent Santos won with 50.9 percent of the vote to challenger Zuluaga's 45 percent. Zuluaga had won the first round with 29.25 percent of the votes to Santos' 25.69 percent.
Using federal grant money, the Kansas City (Mo.) Police Department operated a series of checkpoints placed randomly around the city to identify unlicensed drivers. Functionally, the checkpoints were similar to DUI checkpoints. Several tickets were issued to those individuals who didn't have a license.
July
Brazil's 7-1 loss to Germany in the men's World Cup semifinals on July 8 in Belo Horizonte, Brazil, led to rioting in the South American country. 
On July 15, Republican lawmakers announced they would advise the U.S. government to send the National Guard to the U.S.-Mexican border to reduce the flow of immigrant children traveling alone from Central American countries to the United States.
The year's 18th national outbreak of the measles virus was spread to the Kansas City area. On the Missouri side of the metro, 22 cases were confirmed in Kansas City and four in Clay County. Kansas recorded three confirmed cases of measles in the area – all in Wyandotte County. Nationwide, the number of people with measles was greater than at any other time since 2000, when public health officials declared the disease eliminated in the United States.
On July 21, President of the U.S. Barack Obama signed an executive order banning federal contractors from discriminating lesbian, gay, bisexual, and transgender workers. The law makes illegal to fire, harass employees based on their sexual orientation or gender.
On July 25, U.S. President Barack Obama met with Central American leaders to try to address the crisis of children traveling alone into the United States. According to reports from CNN, Obama explained that children crossing the border illegally wouldn't be permitted to stay.
August
On Aug. 7, a church in Northeast was hosting vacation bible school for 44 children when the 100-year-old structure began to collapse without warning. Investigations show the age of the building – which was built in 1931 – combined with both structural deficiencies and heavy rain all played a part in the collapse
On Aug. 14, hundreds of Kansas Citians staged a quiet, organized, civil rally at J.C. Nichols Fountain to protest the recent killing of Michael Brown by a Ferguson, Mo., police officer. The incident would lead to standoffs between law enforcement personnel and protestors in Ferguson. A few months later, the decision by a grand jury to not indict the officer – and a decision to not indict a white New York City police officer in the choking death African-American Eric Garner – would spark protests around the United States and discussions about addressing the relationship between race and police brutality.
On Aug. 18, at the White House, the Vice President Joe Biden swore in Housing and Urban Development (HUD) Secretary Julian Castro. He had originally been sworn in on July 28 by Judge Richard Roberts at the HUD headquarters. The White House ceremony was held to welcome Castro to President Obama's cabinet.
Local immigration advocates spent a week with those held in an Immigration and Customs Enforcement (ICE) detention center in Artesia, N.M., as part of a long-term project organized by the American Immigration Lawyer Association to provide the recent surge of arrivals with legal representation. Circumstances dictated that volunteers moved aggressively for as many immigrants as possible; detainees fortunate enough to get a bond for their release have up two to years for present an asylum request before a judge.
September
President Obama disappointed immigration reform advocates on Sept. 6 by stepping back from taking executive action on undocumented immigration. However, White House press secretary Josh Earnest said that this didn't change the president's commitment to use his executive authority to address the issue, if necessary. 
Kansas City, Mo., law enforcement groups joined an array of women's advocacy groups lauding the passage of strengthened protection for domestic violence victims, which the Kansas City Council passed on Sept. 11. The council voted 10-1 to address abusers with swifter, more severe prosecution.
On Sept. 13, after standing alongside members of the Mexican Consulate at the Barney Allis Plaza for "El Grito," Kansas City, Mo., Mayor Sly James said it was important for him to attend the event to show Kansas City's Hispanics they have an ally in him. James also said his comments should be read as a firm support for fair immigration reform.
The Pentagon announced on Sept. 22 that U.S. jets and bombers had launched around 14 strikes against ISIS and Khorasan. According to a statement made by the U.S. military, the Khorasan group had been formed by al-Qaeda veterans and was planning an attack against the United States. 
On Sept. 25, the U.S. Department of Defense announced that certain undocumented immigrants would be allowed to serve in the military. 
Students were led away by police officers on Sept. 26 in the southwestern Mexican town of Iguala and then reported missing. Over the ensuing months, the disappearance of the 40-plus students would draw international media attention and protests.
October
Lynda Callon – a community leader, activist, fighter and mother of "adopted" children who was known for her work with the Westside CAN Center – died on Oct. 12 from cancer. Her work there earned her the respect and love of many people who worked with her and were helped by her. Because of her work, dedication and commitment to the Hispanic community in Kansas City, Mo.'s Westside neighborhood, Callon received the Ohtli Award from the Mexican government.
On Oct. 13, as an effort to promote change in the Roman Catholic Church, Pope Francis promoted the idea of accepting homosexuals and divorcees who want to remarry in a synod that had the attendance of 200 Church Leaders. The idea was rejected in Rome, and several media call it a setback for the Pope.
On Oct. 19, Evo Morales was declared the winner of Bolivia's presidential election. The Tribunal Supremo Electoral (Supreme Elections Committee in English) announced that Morales had received 61 percent of the vote, followed by Samuel Doria with 24.49 percent and Jorge Quiroga with 9.07 percent.
A massacre-suicide took place on Oct. 24 at a school in Marysville, Wash. 
November
On Nov. 7, Mexican Attorney General Jesus Murillo Karam took an hour's worth of questions regarding the students who had been missing since September from the state of Guerrero. He called the now-infamous televised press conference to announce the detention of two suspects and the discovery of what appeared to be remains of the students.
On Nov. 19, Kansas's bishops welcomed gay people, but not the gay marriage. Following the U.S. Supreme Court ruling clearing the way for same-sex marriage in Kansas, the Kansas Catholic Conference released a statement condemning the state's decision to recognize the unions. Citing religious tradition and a marriage protection amendment passed by 70 percent of the state's electorate in 2005, the bishops' joint statement argued that, "even well-intentioned, conscientious members of the legislature and judiciary cannot alter a given reality" – that of marriage being a "natural order instituted by God" defined as exclusively between a man and a woman.
On Nov. 20, President Obama announced he would take executive action on immigration reform. It was estimated his executive action would help around 5 million undocumented immigrants.
On Nov. 28, Mexican comedian, Roberto Gomez Bolaños, a.k.a "Chespirito", died in the city of Cancun, Mexico, at the age of 85. Several services were made around the world to honor his legacy to the Hispanic-speaking populations.
December
On Dec. 4, approximately 300 service workers protested in Kansas City, Kan., to demand $15 an hour and union representation. The protest was part of a series of planned simultaneous nationwide demonstrations. Service workers gathered urging their coworkers to contest jobs that are, to them, tied to unsatisfactory wages.
The Pew Research Center issued a report stating that 44 percent of the immigrant population was eligible for deportation relief under deferred action for childhood arrivals (DACA) and the new regulations. The study pointed out that Mexican immigrants were the primary beneficiaries of President Obama's deportation relief executive action. However, the number of Mexicans present in the country illegally — and undocumented immigrants overall — had fallen. It peaked in 2007 at 12.2 million or 4 percent of the U.S. population. Today, estimates put the undocumented immigrant population at just over 11 million.
On Dec. 16, the United States and Cuba broke a 53-year diplomatic silence in an exchange resulting in the release of two political prisoners from Cuba and the promise of greater cooperation between the two countries.
The University of Missouri-Kansas City bestowed an honorary doctorate on Guadalupe Centers Inc. CEO Cris Medina on Dec. 19 in recognition of his efforts to create opportunities for more young Kansas Citians to access higher education. He received his degree during the university's mid-year commencement ceremony at the Swinney Recreation Center.