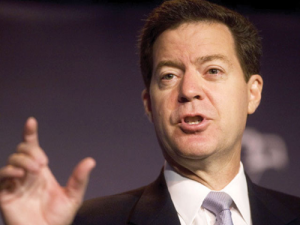 El 27 de enero, algunos legisladores de Kansas introdujeron su esfuerzo perenne para revocar los derechos de colegiatura estatal para los inmigrantes indocumentados.
El Proyecto de la Cámara de Kansas 2139 busca modificar la ley estatal que concede a estudiantes indocumentados pagar los costos de colegiatura universitaria al mismo precio que los residentes. Hay 651 alumnos que pagan la colegiatura estatal en Kansas y no están autorizaos para vivir en Estados Unidos, según datos del otoño del 2014 del Consejo de Rectores de Kansas.
La portavoz del consejo, Breeze Richardson, se negó a tomar una opinión firme en cuanto al proyecto de ley, pero citó la oposición sistemáticamente previa por parte del consejo contra los esfuerzos de la legislatura para derogar la política.  Representantes del consejo testificaron en contra de medidas similares en el 2013, 2011 y 2006.
Se han intentado derogaciones regularmente desde que la ley extendió la colegiatura estatal a estudiantes indocumentados en el 2004. Cada intento ha fallado.
Richardson dijo que no hay razón para pensar que este esfuerzo renovado tenga más probabilidades de ser aprobado. Además, "como una estrategia a favor del crecimiento, los intereses económicos de este estado tienen que tener a todos los estudiantes en mente", indicó.
Ella citó las metas del consejo de que el 60% de los residentes de Kansas completen una educación universitaria para el 2020. Los residentes con educación universitaria conforman el 53% de la población del estado.
"Necesitamos estudiantes indocumentados", refirió. "Necesitamos que vayan a la universidad porque necesitamos que todos vayan a la universidad".
Ella comentó que la oposición más común a la política emerge de un malentendido sobre cómo se financian las universidades. Los 651 estudiantes indocumentados que están matriculados en las universidades estatales están creando más financiamiento para las instituciones. Las universidades y los colegios de Kansas son financiados a través de un sistema de subsidios, dinero fijado en una cantidad sin importar el número de estudiantes matriculados.
En términos simples, tener más estudiantes —presentes legalmente o de otra manera— no desviaría más dinero para las escuelas de Kansas.
"Cuando y si alguien dice: 'Yo no quiero pagar por ese chico', eso es una declaración inexacta porque las cifras de matrícula no influyen en el financiamiento", refirió Richardson.
Durante su informe de gobierno del Estado, el gobernador Sam Brownback dijo que no tiene intención de modificar o derogar esta política.
El intento para revocar la colegiatura de residente ha sido sometido a la Comisión de Asuntos Federales y Estatales de la Cámara de Kansas.
El patrocinador principal del proyecto de ley es el representante de Shawnee, Kansas, John Rubin. Sus 15 copatrocinadores incluyen a Virgil Peck, el legislador estatal que consiguió la ira nacional con una broma que proponía controlar la población de inmigrantes indocumentados del mismo modo como se controlaría a la población de cerdos: un helicóptero y un tirador bien entrenado.
Todos los legisladores de Kansas involucrados con este proyecto de ley se afilian a los republicanos de la legislatura (ver recuadro para una lista completa).

Kansas introduces bill to repeal in-state undocumented tuition fees
On Jan. 27, some Kansas legislators introduced their perennial effort to repeal in-state tuition for undocumented immigrants.
Kansas House Bill 2139 seeks to amend state law granting in-state college tuition costs to undocumented students. There are 651 pupils paying in-state tuition in Kansas without authorization to live in the United States, according to fall 2014 data from the Kansas Board of Regents.
Board spokesperson Breeze Richardson declined to stake a firm position on the bill, but cited the board's consistent past opposition to the legislature's efforts to repeal the policy. Board representatives testified against similar measures in 2013, 2011 and 2006.
Repeals have been attempted regularly since the policy extending in-state tuition to undocumented students was created in 2004. Each has failed. 
Richardson said there's no reason to see this renewed effort with improved odds of passing. Furthermore, "as a pro-growth strategy, the economic interests of this state have to have all students in mind," she said. 
Richardson cited the board's goals of having 60 percent of Kansans complete college education by 2020. College-educated residents are 53 percent of the state's population.
"We need undocumented students," she said. "We need them to go to college because we need everybody to go to college."
Richardson said the most common opposition to the policy emerges from a misunderstanding of how colleges are funded. The 651 undocumented students that are enrolled in state universities are creating increased funding for the institutions. Kansas universities and colleges are funded through a system of grants, money fixed to an amount regardless of enrollment numbers.
Plainly put, having more students — legally present or otherwise — wouldn't divert more money to Kansas schools.
"When and if someone says, 'I don't want to pay for that kid,' that's an inaccurate statement because enrollment figures don't influence funding," Richardson said.
During his State of the State address, Gov. Sam Brownback said he has no intention of modifying or repealing this policy.
The in-state tuition repeal effort has been referred to the Kansas House's committee on Federal and State affairs.
The bill's primary sponsor is Shawnee, Kan., Rep. John Rubin. Its 15 co-sponsors include Virgil Peck, the state legislator that won national ire with a quip proposing to control the undocumented immigrant population the same one would control the feral hog population: a helicopter and a well-trained marksman. 
All the Kansas legislators involved with this bill caucus with the legislature's Republicans (see sidebar for a complete list).