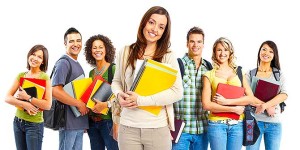 En Estados Unidos, los graduados universitario en general consiguen trabajo más rápido y están mejor pagados que los que no los son. Desafortunadamente, muchos colegios tienen etiquetas de precio alto, convirtiéndolos en un reto para muchas personas para obtener una educación universitaria.
Pero eso no significa que no puedes asistir a la universidad. Hay varias opciones que podrían ayudarte a pagar la escuela. Éstas incluyen las siguientes:
*Asistencia federal: El Gobierno de EE.UU. ofrece varias opciones de ayuda financiera. La Solicitud Gratuita para Ayuda Financiera Estudiantil (FAFSA, por sus siglas en inglés) está disponible para aquellos interesados en seguir su educación, pero que no tienen dinero para hacerlo.
*Opciones locales/área: Hay varias organizaciones en el área de Kansas City y programas que ayudan a los estudiantes hacia el logro de un título universitario a través de becas, incluyendo algunas orientadas a los latinos como Latinos del Mañana y el Fondo de Becas Hispanas (HSF).
"El apoyo de becas es fundamental para ayudar a los estudiantes a alcanzar sus metas educativas", comentó Mayra Aguirre, Directora Ejecutiva de HSF.
El plazo de la solicitud de HSF para este año es el 1 de marzo. La solicitud y los requisitos están disponibles en https://www.growyourgiving.org/scholarships/hispanic-development-fund-scholarship-program.
Si quieres ayuda para encontrar otros recursos, existen varios eventos a los que puedes asistir para hablar sobre la asistencia financiera y otras cuestiones para ayudarte a determinar tu futuro universitario. Estos incluyen los siguientes:
*Evento Acceso y Alistamiento Universitario: Este evento es para alumnos de 8avo. a 11avo. grados que están interesados en asistir a la universidad. Los temas que cubre incluyen solicitudes para la universidad y becas, habilidades sociales y de comunicación, e información para padres nacidos en el extranjero sobre el sistema de educación secundaria de EE.UU.
Este año, el área organizará un evento, comenzando a las 8:30 a.m. del sábado 7 de marzo en la Facultad de Odontología de la Universidad de Missouri-Kansas City, ubicada en 650 E. 25th St. Para registrarse, visite www.latinosoftomorrow.com.
*Domingo de Meta Universitaria: Creado por la Asociación de Ayuda Financiera Estudiantil Indiana, este evento brinda información sobre cómo presentar una solicitud FAFSA. El domingo, 22 de febrero, de 2 a 4 p.m., habrán varias ubicaciones en Kansas albergando el "College Goal Sunday", incluyendo el Colegio Comunitario de Kansas City, Kan.,  en el Upper Jewell Building y la Universidad MidAmerica Nazarene en la biblioteca Mabee de la escuela con sede en Olathe.
Mira tus opciones. Es posible que haya más oportunidades para abrirte las puertas hacia una educación universitaria de las que piensas.
[divider style="solid" top="20″ bottom="20″]
Upcoming events provide options for getting a college education
Commentary by Chara
In the United States, college graduates generally get jobs faster and are better paid that those who aren't. Unfortunately, many colleges carry a high price tag, making it challenging for many people to get a college education.
But that doesn't mean you can't attend college. There are several options that might help you pay for college. They include the following:
*Federal assistance: The U.S. government offers several financial aid options. The Free Application for Federal Student Aid (FAFSA) is available for those interested in continuing their education, but don't have the money to do so.
*Local/area options: There are several Kansas City area organizations and programs that help students toward achieving a college degree by providing scholarships, including some Latino-oriented ones, such as Latinos of Tomorrow and the Hispanic Scholarship Fund (HSF).
"Scholarship support is critical to helping students achieve their educational goals," said Mayra Aguirre, HSF executive director.
This year's HSF scholarship application deadline is March 1. Application and eligibility requirements are available at https://www.growyourgiving.org/scholarships/hispanic-development-fund-scholarship-program.
If want help finding other resources, there are multiple events you can attend that discuss financial assistance and other issues to help you determine your college future. They include the following:
*College Access & Readiness Event: This event is for current students in grades 8-11 who are interested in attending college. Topics covered include college and scholarship applications, social and communication skills and information for foreign-born parents about the U.S. secondary education system.
This year, the area will host an event, starting at 8:30 a.m. on March 7 at the University of Missouri-Kansas City School of Dentistry, located at 650 E. 25th St. To register, visit www.latinosoftomorrow.com.
*College Goal Sunday: Created by the Indiana Student Financial Aid Association, this event provides information on how to submit a FAFSA application. From 2 to 4 p.m. on Sunday (Feb. 22), there will be various locations Kansas hosting College Goal Sunday, including Kansas City, Kan., Community College in the Upper Jewell Building and MidAmerica Nazarene University in the Olathe-based school's Mabee Library.
Look at your options. There might be more opportunities to open the door to a college education than you think.