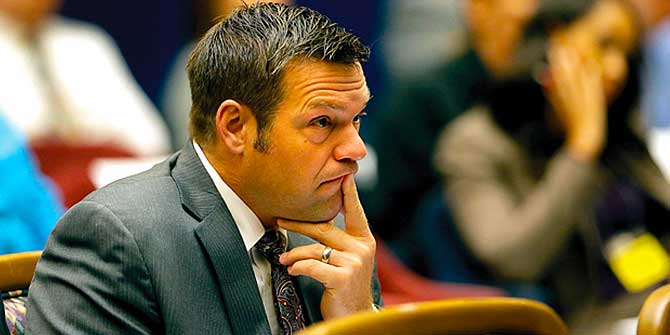 A finales del 2014, el secretario de Estado de Kansas, Kris Kobach, apareció en la televisión de Topeka, hablando sobre un tema que lo ha elevado a la presencia nacional: fraude electoral.
Kobach también es un abogado que ha sido autor y ha apoyado diversas medidas facturadas como "protecciones de la libertad" en Kansas y en todo el país — la más famosa Ley del Senado de Arizona SB 1070, un  proyecto de ley anti-inmigrante que apenas sobrevivió un desafío de la Corte Suprema y es mejor conocida como la ley "muéstrame tus papeles". Por esa razón, los inmigrantes y los grupos que abogan por su bienestar general usualmente escuchan cuando Kobach está hablando.
Pero los comentarios de Kobach en la estación de televisión de Topeka atrajeron la atención de una nueva parte: el Departamento de Justicia de EE.UU.
El principal fiscal federal de Kansas envió una carta a Kobach tras su aparición en respuesta a sus acusaciones de que el Departamento de Justicia está fallando en perseguir los casos de fraude de votantes que les aporta.
"En el futuro, si su oficina determina que ha habido un acto de fraude electoral, por favor envíenme el asunto a mí para su investigación y enjuiciamiento", escribió el fiscal de EE.UU, Barry R. Grissom —nombrado por el presidente Obama en la Oficina del Distrito de Kansas— en una carta del 6 de Nov. que obtuvo la Prensa Asociada en una solicitud de registros.
"Hasta entonces, para que podamos evitar errores de hechos para el futuro; que conste, que no hemos recibido casos de fraude electoral de su oficina en más de cuatro años y medio", continuó Grissom. "Y le puedo asegurar que, yo sé de lo que estoy hablando".
Grissom informó que Kobach nunca ha respondido a la carta.
El altercado se perfila mientras Kobach está solicitando que los poderes de enjuiciamiento sean añadidos a la Oficina del Secretario de Estado de Kansas para que así pueda tener la autoridad legal para  procesar los casos de fraude electoral él mismo. En enero, Kobach dijo a los legisladores que detectó 18 casos de fraude electoral en la pila de 1.7 millones de votantes que eran elegibles para emitir un voto en 2010 y 2012.
De esos, 15 casos llegaron a los fiscales del condado, mientras uno se fue al FB — y al azar, un procurador general de Texas, quien dijo Kobach es más agresivo en cuanto a perseguir el fraude electoral que el propio personal del estado. Ese Fiscal General recibió una queja originada en el condado Shawnee, pero Lee McGowan, el Jefe de personal de la oficina del Procurador del condado Shawnee, indicó que el caso de fraude electoral nunca le fue referido.
Debido a que la acción fue tomada sólo en siete casos —y él tenía que llevar el trabajo legal de fraude electoral fuera del estado — Kobach señaló que necesita poder para presentar cargos él mismo.
Kobach está presionando por una legislación que le permitiría esa autoridad y poder para perseguir los delitos electorales locales directamente, en lugar de enlazase a través del fiscal del condado, como lo requiere la ley estatal. Las sanciones del fraude electoral también se incrementarían bajo la legislación propuesta.
[divider]
Kobach pressing for prosecutorial authority
By Jesus Lopez-Gomez
In late 2014, Kansas Secretary of State Kris Kobach appeared on Topeka television, speaking on a topic that has elevated him to a national presence: voter fraud.
Kobach also is a lawyer who has authored and supported various measures billed as "freedom protections" in Kansas and across the nation — most famously Arizona's Senate Bill 1070, an anti-immigrant bill that barely survived a Supreme Court challenge and is better known as the "show me your papers" law. For that reason, immigrants and groups advocating for their welfare usually listen when Kobach is talking.
But Kobach's comments on Topeka television station drew the attention of new party: the U.S. Department of Justice.
Kansas' top federal prosecutor sent a letter to Kobach following the televised appearance in response to his allegations that the Department of Justice is failing to pursue the voter fraud cases he brings to them.
"Going forward, if your office determines there has been an act of voter fraud, please forward the matter to me for investigation and prosecution," wrote U.S. Attorney Barry R. Grissom, a President Obama appointee in the District of Kansas Office, in a Nov. 6 letter the Associated Press obtained in a records request.
"Until then, so we can avoid misstatements of facts for the future, for the record, we have received no voter fraud cases from your office in over four-and-a-half years," Grissom continued. "And I can assure you, I do know what I'm talking about."
Grissom said Kobach has never responded to the letter.
The fracas is emerging as Kobach is requesting that prosecutorial powers be added to the Kansas Secretary of State's Office so he can have the legal authority to prosecute voter fraud cases himself. In January, Kobach told lawmakers he detected 18 cases of voter fraud in the in the pool of 1.7 million voters that were eligible to cast a ballot in 2010 and 2012.
Of those, 15 cases made it to county prosecutors, while one apiece went to the FB — and randomly, a Texas attorney general, whom Kobach said is more aggressive about prosecuting voter fraud than the state's own legal staff. The Texas attorney general received a complaint originating in Shawnee County, but Lee McGowan, the chief of staff for the Shawnee County Attorney's Office, said the voter fraud case was never referred to him.
Because action was taken in only seven cases — and he needed to bring the voter fraud legal work outside of the state — Kobach said he needs power to press charges himself.
Kobach is pressing for legislation that would allow him that authority and the power to prosecute local election offenses directly, as opposed to liaising through the county prosecutor, as required under state law. Voter fraud penalties also would be increased under the proposed legislation.