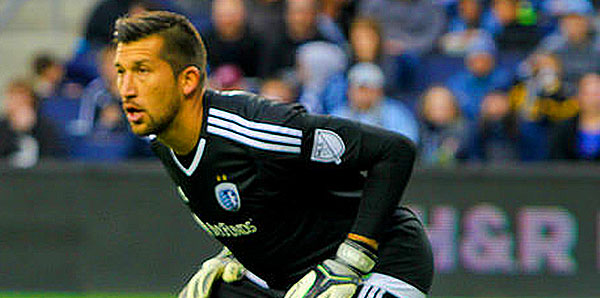 Para el veterano jugador de fútbol profesional Luís Marín, esta temporada significa empezar de nuevo.
El portero chileno está jugando para un nuevo equipo, en una liga nueva—y en un país nuevo. Su carrera se desarrolló en su tierra natal antes de unirse al Sporting Kansas City durante la temporada baja.
"Es un muy buen equipo", comentó durante una entrevista en español cuando el equipo azulino realizó recientemente su espectáculo de pretemporada en Kansas City, Mo. "Pienso que se está alineando en un buen equipo".
Desde que se incorporó a ese "gran grupo", Marín ha sido titular en cada partido de la temporada regular de la MLS, incluyendo la victoria 3-2 del Sporting sobre la Unión de Filadelfia del domingo (5 de abril) en el Sporting Park. A lo largo de cinco juegos, él ha conseguido 15 salvamentos para su escuadra que está 2-1-2 con 8 puntos antes de su encuentro del sábado (11 de abril) contra el Real Salt Lake. Oficialmente, logró cuatro atajadas contra Filadelfia.
El director técnico del Sporting, Peter Vermes, probablemente ve el nuevo inicio de Marín con el Sporting como un reflejo de un nuevo comienzo para el equipo en general. Durante el espectáculo de pretemporada del equipo de KC, dijo al locutor de televisión del Sporting y anfitrión del evento, Nate Bukaty, que el club había "hecho un montón de adiciones en la temporada bajada" a través de la contratación de jugadores de ligas fuera de EE.UU. y de otros equipos de la MLS; y a través de selecciones de reclutamiento.
Para probar su punto, Vermes podía apuntar a su alineación. De los 27 jugadores en ella, contando a dos actualmente inactivos, 13 no estaban con el Sporting en 2014.
Marín no es el único cambio de la temporada baja del Sporting; él también forma parte de un grupo central de jugadores nacidos en Latinoamérica. El Sporting tiene 12 nacidos fuera de Estados Unidos – seis de ellos latinoamericanos.
Chilean one of Sporting's new faces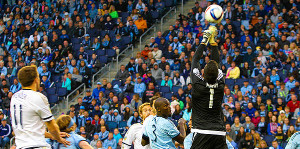 For veteran professional soccer player Luis Marin, this season has meant starting over.
The Chilean goalkeeper is playing for a new team, in a new league – and in a new country. Marin's career was his homeland before joining Sporting Kansas City during the offseason.
"It's a very good team," Marin said during a Spanish-language interview when Sporting recently held its preseason pep rally in Kansas City, Mo. "I think it's forming into a good group."
Since joining that "good group," Marin has started every regular-season MLS game, including Sporting's 3-2 victory over the Philadelphia Union on Sunday (April 5) at Sporting Park. Through five games, he had made 15 saves for Sporting, which is 2-1-2 with eight points entering its meeting Saturday (April 11) with visiting Real Salt Lake. Officially, he made four saves against Philadelphia.
Sporting manager Peter Vermes would probably see Marin's new start with Sporting as reflective of a new start for the team in general. During Sporting's preseason pep rally, he told Sporting TV announcer and event host Nate Bukaty the team had "made a lot of additions in the offseason" through signing players from leagues outside the United States and from other MLS teams, and through draft picks.
To prove his point, Vermes could point to his roster. Of the 27 players on it, counting two current inactive players, 13 weren't with Sporting in 2014.
Marin is not only part Sporting's offseason changes; he's also part of a group of a core group of Latin American-born players. Sporting has 12 players born outside the United States – six of them from Latin American countries.