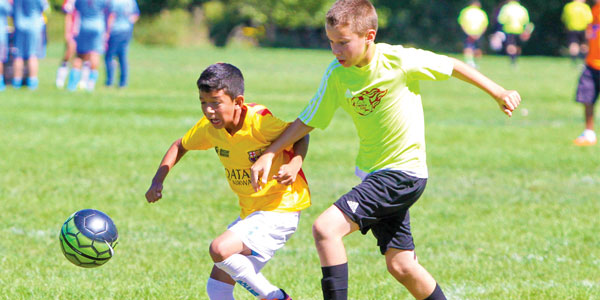 Más de 4,000 espectadores y jugadores de diferentes nacionalidades disfrutaron un día lleno de fútbol y otras formas de entretenimiento el 19 de septiembre durante la copa Univisión en Kenneth Pole Soccer Field.
Jugadores de Sporting Kansas City fueron parte del evento incluyendo el venezolano Bernardo Añor quien llamó el evento como algo "chévere."
"En verdad lo deberían hacer mas seguido… esta es mi primera vez que vengo y entiendo que tan grande es la comunidad hispana," dijo Añor.
La final de la copa Univisión tomaron lugar el domingo 26 de septiembre. Los siguientes fueron los ganadores: El primer lugar se lo llevó Barcelona U14 y Barilleros en primera división. El segundo lugar fue para Guerreros Oklahoma y Deportivo Laguna U14.
---
Copa Univision event draws hundreds
Story by Paula Alzate and photos by Michael Alvarado
More than 4,000 spectators and players of various nationalities enjoyed a full day of soccer and other forms of entertainment on Sept. 19 at the Copa Univision competition at the Kenneth Pole Soccer Field.
Players from Sporting Kansas City were among those in attendance, including Venezuelan-born midfielder Bernardo Anor (Añor in Spanish), who called the event "really cool."
"They really should do it more often…. It is the first time I (have been able to) come, and I understand how big the Hispanic community is (from attending this)," Anor said.
The Copa Univision finals took place on Sunday (Sept. 26). The following were the winners: first place Barcelona U14 and Barilleros first division; second place: Guerreros Oklahoma and Deportivo Laguna U14.