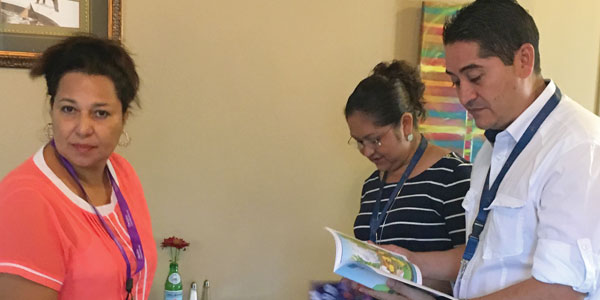 Un grupo de profesores de Honduras están visitando el área de Kansas City para recibir entrenamiento y recursos que esperan ayuden a mejorar la educación en su país natal.
Friends United, una organización en Independence, Mo., esta encargada darles la capacitación suficiente; esta organización recibe profesores de Honduras cada año, este año la visita empezó el 19 de septiembre e irá hasta el 5 de octubre.
Durante la visita, los profesores visitarán diferentes escuelas, tendrán la oportunidad de interactuar con los estudiantes, hablaran con otros profesores y podrán aprender acerca de la educación en Estados Unidos.
Noel Arturo Martínez, director municipal en Piraera, Honduras, dijo que ha disfrutado el programa y planea implementar algunas estrategias en su comunidad.
"Estoy muy impresionado con la motivación de los niños," dijo Martínez. "Hay una disciplina y mucha motivación por parte de los profesores. Pero lo que más me impresiono es cuanto material hay en los colegios- y la infraestructura es algo que no se ve allá, comparado con las escuelas de acá."
Gilda Patricia López, profesora de primaria, dice estar fascinada con el apoyo del gobierno que los colegios en Estados Unidos. "Ha sido sensacional interactuar con los niños en los colegios que hemos visitado," dijo López.
Friends United continuará apoyando los profesores después que ellos regresen a su país, el 24 de octubre se llevara a cabo una subasta para recaudar fondos para el programa.
Para mas información acerca de esta organización visite  http://friendsunitedusa.org/about/.
---
Honduran teachers visit KC area
By Paula Alzate
Some Honduran teachers are visiting the Kansas City area to receive training and resources that they hope will help them provide better education in their homeland.
Friends United, an organization located in Independence, Mo., is hosting the teachers and providing the training. The organization works with a group of teachers from Honduras each year. This year's group started its visit on Sept. 19 and will conclude its visit on Oct. 5.
During the visit, the teachers are visiting various schools, interacting with students, visiting with other teachers and learning about the U.S. educational system. Noel Arturo Martinez, municipal director in Piraera, Honduras, said he has enjoyed the program and plans to take back some strategies with him to implement in his community.
"I am impressed (with) how motivated the kids are," Martinez said. "There's a discipline and there's a lot of motivation from the teacher to the students. But what (has) impressed me the most is how much material they (schools) have – and the infrastructure is something that we don't have there, compared to the schools here."  
Gilda Patricia Lopez, an elementary school teacher in Honduras, is fascinated with the government support U.S. schools receive. "It's been thrilling to interact with the children at the schools the group has visited," Lopez said.
Friends United will continue supporting the teachers following their return to the Central American country: On Oct. 24, it will host an auction to raise funds for the program.
For more information about Friends United, visit http://friendsunitedusa.org/about/.