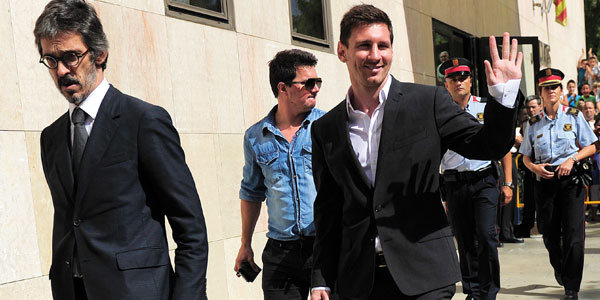 La estrella de fútbol argentino, Lionel Messi y su padre Jorge Horacio Messi podrían ir a la cárcel hasta 22 meses en España por tres años de presunto fraude de impuestos.
De acuerdo a un periódico español, Messi quien vive en Barcelona, firmó contratos con compañías como Banc Sabadell, Telefónica, Danone, Air Europa, Adidas y Pepsi "por una suma de €10m pero ningún impuesto español fue pagado." Así mismo, Messi supuestamente empezó compañías en países como Belice y Uruguay para evadir el pago de impuestos.
Según los reportes, Messi debe al gobierno español €4 millones en impuestos.
El ganador de cuatro Balones de Oro de la FIFA (Ballon d'Or) es uno de los atletas mejor pagados según la revista Forbes con un salario anual de $64.7 millones.
---
Messi could face jail time
Paula Alzate
Argentinian-born soccer star Lionel Messi and his father, Jorge Horacio Messi, could face up to 22 months in prison in Spain for three years of alleged tax fraud.
According to a Spanish newspaper, Messi, who lives in Barcelona, signed contracts with companies such as Banc Sabadell, Telefonica, Danone, Air Europa, Adidas and Pepsi for the "combined sum of €10m, but no tax in Spain was originally paid on them." He also allegedly set up companies in countries such as Belize and Uruguay to avoid paying taxes.
Messi reportedly owes Spain €4 million in back taxes.
A four-time winner of FIFA's Ballon d'Or, Messi is among the world's highest-paid soccer players, drawing $64.7 million (in U.S. dollars) a year in salary, according to the magazine Forbes.