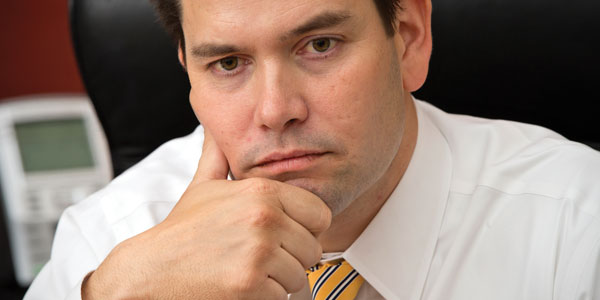 El senador de Estados Unidos y candidato republicano presidencial, Marco Rubio desea que termine el programa de Acción Diferida para los Llegados en la Infancia (DACA)
"DACA va a terminar -y la manera ideal para hacerlo es que sea reemplazado por un sistema de reforma que produzca una alternativa", NBC citó a Rubio. "Si no sucede así, terminará. No puede ser la política permanente de los Estados Unidos".
Si termina DACA, las personas protegidas por ella podrían enfrentar la deportación. El programa protege a más de 700,000 estudiantes indocumentados en Estados Unidos.
En respuesta a los comentarios de Rubio, hechos durante una reciente conferencia noticiosa – Jassiel Pérez el líder de United We Dream Action (Acción Soñamos Unidos), hizo una declaración en un comunicado de prensa publicado en el sitio de la red de la organización.
"Seamos claros: al quitar DACA el senador Rubio desea deportarme -y a cientos de miles de jóvenes inmigrantes", declaró el comunicado. "Esto es un ataque personal y es una prueba adicional de que él no apoya a la comunidad inmigrante. DACA es una victoria que nuestra comunidad ganó mediante una campaña fuertemente reñida contra el presidente Obama".
El representante de Estados Unidos Rubén Gallego también criticó a Rubio, diciendo que las declaraciones del senador eran políticamente escandalosas.
"Si Rubio no apoya a los Soñadores – jóvenes que son americanos completamente pero solamente no tienen papeles –ni a otros inmigrantes, como podemos esperar que nos apoye en problemas como educación, atención médica y la economía? La respuesta obvia es que no lo hará". Gallego fue citado por LatinPost.
___________________________________________________________________________________________________________
Rubio wants DACA to end
By Chara
U.S. Sen. and Republican presidential candidate Marco Rubio wants the country's Deferred Action for Childhood Arrivals (DACA) program to end.
"DACA is going to end – and the ideal way for it to end is that it's replaced by a reform system that creates an alternative," Rubio was quoted by NBC as saying. "But if it doesn't, it will end. It cannot be the permanent policy of the United States."
If DACA ends, people protected by it could face deportation. The program protects more than 700,000 undocumented students in the United States.
In response to Rubio's comments – made during a recent news conference – United We Dream Action leader Jassiel Perez made a statement in a press release posted on that organization's Web site.
"Let's be clear: By taking away my DACA, Senator Rubio wants to deport me – and hundreds of thousands of immigrant youth," the statement read. "This is a personal attack and is further proof that he does not stand with the immigrant community. DACA is a victory that our community won through a hard-fought campaign against President Obama."
U.S. Rep. Ruben Gallego also criticized Rubio, saying that the senator's remarks were politically outrageous.
"If Rubio won't stand up for Dreamers – young people who are Americans in all but paperwork – and other immigrants, how can we expect him to stand up for us on issues like education, healthcare and the economy? The obvious answer is that he won't," Gallego was quoted by the LatinPost as saying.