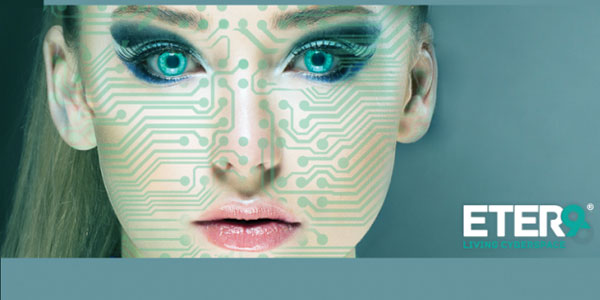 Aunque la inmortalidad no puede ser posible en el mundo real, la inmortalidad digital a través de la inteligencia artificial es una realidad, por cortesía de ETER9.
ETER9 es una red social que funciona mediante la recopilación de los comportamientos de medios sociales individuales de los usuarios en línea, ETER9 aprende cómo el usuario interactúa con otros y crea un "Correspondiente" digital. Ese Correspondiente aprende cómo el usuario interactúa en las redes sociales mediante el escaneo de comentarios y Likes de Facebook, fotos de Instagram y Tweets. Comienza a actuar independientemente en nombre del usuario cuando él o ella no está en línea.
El propósito de esta red social es que el Correspondiente tome el control de cuentas de redes sociales del usuario después de que el usuario ha fallecido, lo que permite que el usuario exista en línea eternamente. Por medio de comentarios, Likes y otras interacciones, el Correspondiente seguirá interactuar con los seres queridos y amigos en línea, con base en la información que obtiene del usuario.
Fundada en Portugal por el programador Henrique Jorge, ETER9 según informes acumuló una red de aproximadamente 5.000 usuarios BETA, con el potencial de crecer a medida que gane popularidad.
Aunque otras redes sociales como Facebook no utilizan la inteligencia artificial para interactuar después de que sus usuarios se mueren, las plataformas conservan datos de usuario antes de que muera el usuario. Y Facebook permite a los usuarios asignar sus amigos o seres queridos acceso a sus perfiles.
---
ETER9 offers users online immortality
By Melissa Arroyo
Although immortality might never be possible in the real world, digital immortality through artificial intelligence is a reality, courtesy of ETER9.
A social media network that works by collecting online users' individual social media behaviors, ETER9 learns how the user interacts with others and creates a digital "Counterpart." The Counterpart learns how the user interacts on social media by scanning the user's Facebook posts and likes, Instagram photos and Tweets. It begins to act independently on the user's behalf when he or she isn't online.
The intended purpose is for the Counterpart to take control of the user's social media accounts after the user has died, thus allowing the user to exist in the online realm eternally. By commenting, liking and sharing, the Counterpart will continue to interact with loved ones and friends online, based on the information it collected from the user.
Founded in Portugal by developer Henrique Jorge, ETER9 reportedly accumulated a network of approximately 5,000 BETA users, with the potential to grow as it gains popularity.
Although other social networks such as Facebook don't use artificial intelligence to interact after its users die, the platforms retain user data before the user dies. And Facebook allows users to assign their friends or loved ones access to their profiles.