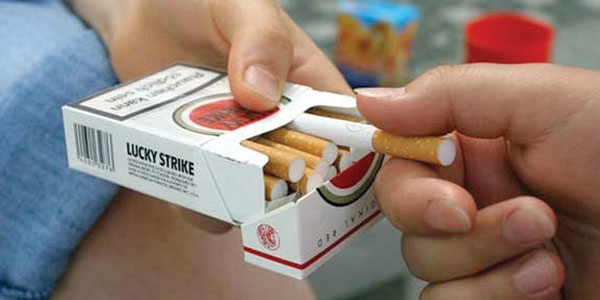 En un intento por disuadir a los adolescentes de fumar cigarrillos, los miembros del consejo de la ciudad y los comisionados de ambas Ciudades de Kansas votaron recientemente para aumentar la edad legal para comprar tabaco de 18 a 21, en efecto el Jueves, 26 de noviembre.
Ambas ordenanzas también prohíben la venta de cigarrillos electrónicos y productos de vapor a menores de 21. El Gobierno Unificado del Condado de Wyandotte / Kansas City, Kan. junto con los Comisarios y el Consejo de la Ciudad de Kansas aprobaron sus respectivas ordenanzas para apoyar Tobacco 21.
Tobacco 21 es un movimiento nacional que resulta de los estudios que reafirman las posibles consecuencias para la salud a largo plazo de la nicotina, incluyendo la adicción temprana y el cáncer de pulmón. A nivel local, la Cámara de Comercio de Kansas City y el Blue Cross Blue Shield emprendieron el movimiento Tabaco 21 KC.
"Las tasas de tabaquismo entre los jóvenes adolescentes son más altos en Kansas y Missouri que en el resto de la nación", dijo la Dra. Bridget McCandless, directora ejecutiva del Health Care Foundation de Greater Kansas City y co-presidente de la Comisión Healthy KC. "La investigación muestra que los que han tenido sus primeros cigarrillos a los 18 años tiene casi el doble de probabilidades de convertirse en fumadores por toda la vida en comparación con los que no lo han intentado a los 21 años."
Al igual que con las ordenanzas aprobadas en más de 90 ciudades en siete estados, las dos ordenanzas solamente prohíben que menores de 21 años compren cigarrillos u otros productos de nicotina.
Si una persona de 18 años de edad esta fumando, la persona no tendrá consecuencias legales. Sólo los vendedores serán penalizados con una multa de $ 100 por una primera ofensa.
---
KCK, KCMO officials vote to increase age to buy tobacco
By Melissa Arroyo
Hoping to deter teens from smoking cigarettes, city council members and commissioners in both Kansas Cities voted recently to raise the legal age for buying tobacco from 18 to 21, effective Thursday (Nov. 26).
Both ordinances also prohibit selling e-cigarettes and vapor products to anyone under 21. The Unified Government of Wyandotte County/Kansas City, Kan. Board of Commissioners and the Kansas City Council passed their respective ordinances to support Tobacco 21.
Tobacco 21 is a nationwide movement resulting from research studies that reaffirm the potential long-term health consequences of nicotine, including early addiction and lung cancer. Locally, the Greater Kansas City Chamber of Commerce and the Blue Cross Blue Shield led the Tobacco 21 KC movement.
 "The rates of teen and youth smoking are higher in both Kansas and Missouri than in the rest of the nation," said Dr. Bridget McCandless, CEO of the Health Care Foundation of Greater Kansas City and co-chair of the Healthy KC Commission. "Research shows that those who have had their first cigarettes by age 18 are almost twice as likely to become lifelong smokers as those who have not tried by age 21."
As with ordinances passed by more than 90 cities in seven states, the two ordinances only prohibit anyone younger than 21 from buying cigarettes and other nicotine products.
Any 18-year-olds caught smoking won't face legal consequences. Only the sellers will be penalized, receiving a $100 fine for a first offense.