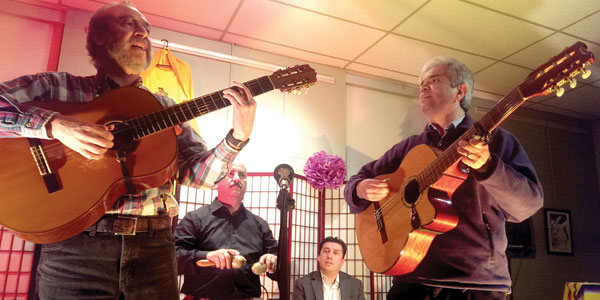 Desde recitar poemas a tocar instrumentos, varios miembros de la comunidad latina del área de Kansas City se reunieron el 19 de noviembre en la biblioteca Oak Park del condado de Johnson (Kan.) en Overland Park para la última Tertulias Latinoamericanas – Noche de Poesía y Canto de 2015.
Según Magaly Vallazo, gerente de la biblioteca y organizadora del evento, la reunión se llevó a cabo por primera vez en el año 2011 y la audiencia disfrutó de 240 actuaciones y presentaciones.
"Este es un objetivo que hemos logrado todos juntos," dijo Vallazo. "Muchos de los artistas y escritores de esta noche han participado en este evento antes – y estamos contentos de que hemos recibido esta cantidad de participación."
Los miembros de la comunidad se reúnen cada año en la biblioteca a leer su escritura creativa en español, cantar canciones, tocar instrumentos y más. Además, los organizadores del evento también invitaron a varios artistas de Bolivia, Filipinas y México para participar.
"Este evento puede ser considerado clásico en su naturaleza", dijo German Perilla, especialista en información en la Biblioteca del Condado de Johnson. "Hemos tenido canciones clásicas y poesía en el escenario, como la cancion popular
v'Gracias a la vida', y también tenemos obras originalmente escritas por nuestros participantes. "
Para obtener más información acerca de Tertulias Latinoamericanas, contacte a German Perilla al (913) 826-4648.
El público también está invitado a participar en el Colectivo de Escritores latinos.
Para obtener más información, visite www.latinowriterscollective.org.
---
Library hosts last Tertulias Latinoamericanas of 2015
By Melissa Arroyo
From reciting poems to playing instruments, creative individuals from the Kansas City area's Latino community gathered on Nov. 19 at the Johnson County (Kan.) Library-Oak Park Library in Overland Park for their last Tertulias Latinoamericanas – Noche de Poesia y Canto (Latin American Gatherings – Night of Poetry and Singing in English) of 2015.
According to Magaly Vallazo, branch manager and event organizer, the event was first held in 2011. It has brought the community together for 240 performances and presentations.
"This is an objective that we accomplished collectively," Vallazo said. "Many of tonight's artists and writers have participated in this event before – and we are happy that we received this much participation."
Members of the community gather each year at the library to read their creative writing in Spanish, sing songs, play instruments and more. In addition, the event organizers also have invited various artists from Bolivia, the Philippines and Mexico to participate.
"This event can be considered classic in its nature," said German Perilla, Johnson County Library information specialist. "We have had classic songs and poetry performed on stage, like the popular 'Gracias a la Vida' ('Thanks to Life' in English), and we also have works originally written by our participants."
For more information about Tertulias Latinoamericanas, contact German Perilla at (913) 826-4648.
The public also is invited to join the Latino Writers Collective. For more information, visit www.latinowriterscollective.org.