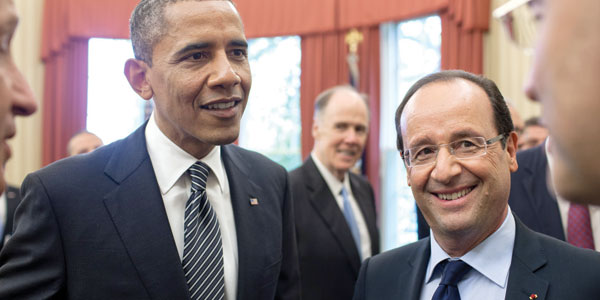 El presidente de Estados Unidos Barack Obama se reunió recientemente con el presidente francés François Hollande en Washington, D.C. para hablar de cómo intensificarán su lucha contra ISIS en Siria e Irak.
La reunión surgió pocas semanas después de los ataques terroristas de ISIS el 13 de noviembre en París que dejó 130 muertos. Después de los ataques, Obama demostró su apoyo hacia Francia -uno de los aliados más cercanos de Estados Unidos.
"Nos encanta Francia por su espíritu, su cultura y su alegría de vivir", CNN citó a Obama. "Desde los ataques, los americanos recuerdan sus propias visitas a París, visitando la torre Eiffel o caminar a lo largo del Sena. Conocemos esos lugares. Son parte de nuestras memorias, entrelazados en la tela de nuestras vidas y nuestra cultura".
Después de la visita a la Casa Blanca, Hollande visitó Gran Bretaña, Rusia, Alemania y China para hablar con líderes en esos países y sobre cómo luchar contra ISIS.  Varios medios de comunicación han reportado que Hollande está formando una "coalición anti -ISIS".
"El terrorismo es nuestro enemigo", declaró Hollande durante su visita a Rusia. "Lo conocemos. Tiene un nombre: es Daesh, el Estado islámico".
Sin embargo, personas tales como Johanna Zaldivar en EU no está de acuerdo con la idea, temiendo que tome lugar una guerra.
"Pienso que los líderes deben pensar cuidadosamente… lo que quieren hacer", dijo Zaldivar. "Si siguen atacando y alimentando el odio, esto puede traer serias y horribles consecuencias".
En noticias relacionadas, Francia recientemente lanzó bombardeos aéreos contra fuerzas de ISIS. Hollande ha declarado que continuarán los ataques militares contra ISIS. No se han revelado las localidades o planes de ataque.
---
Obama and Hollande meet in Washington
By Chara
U.S. President Barack Obama recently met with French President François Hollande in Washington, D.C., to discuss how they'll intensify their fight against ISIS in Syria and Iraq.
The meeting came a few weeks after ISIS' Nov. 13 terrorist attacks in Paris that left 130 people dead. Following the attacks, Obama expressed support for France – one of the United States' closes allies.
"We love France for your spirit and your culture and your joie de vivre," Obama was quoted by CNN as saying. "Since the attacks, Americans have recalled their own visits to Paris, visiting the Eiffel Tower or walking along the Seine. We know these places. They're part of our memories, woven into the fabric of our lives and our culture."
After the White House visit, Hollande visited Great Britain, Russia, Germany and China to talk with leaders in those countries about how to fight ISIS. Several media outlets have reported that Hollande is forming an "anti-ISIS coalition."
"Terrorism is our enemy," Hollande stated during his visit to Russia. "We know it. It has a name: It's Daesh, the Islamic State."
 However, people such as U.S. resident Johanna Zaldivar disagree with the idea, fearing a war will take place.
"I think the leaders should think carefully … (about) what they want to do," Zaldivar said. "If they keep attacking and feeding hate, this can bring serious and horrible consequences."
In related news, France recently launched airstrikes against ISIS forces. Hollande has stated that military attacks against ISIS will continue. Locations or plans of attack haven't been revealed.