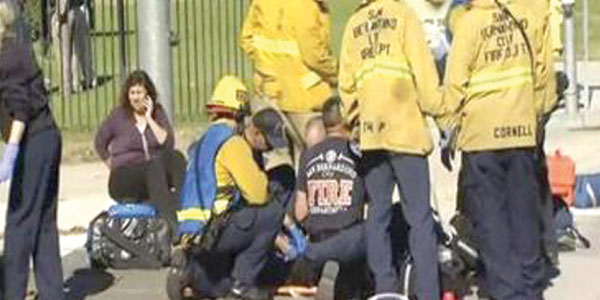 El miércoles 2 de diciembre  un tiroteo fue reportado en San Bernardino, California. Al cierre de esta edición, al menos 14 personas murieron y varias resultaron heridas, según un informe de CNN.
El tiroteo tuvo lugar en el Centro Regional del Interior, que tiene alrededor de 670 empleados y atiende a más de 30.000 personas. La instalación tiene la intención de "trabajar en una base personal de uno-a -uno con las personas con discapacidades para que tengan una vida mejor," según las fuentes.
Al cierre de esta edición, dos de tres sospechosos han sido capturados, sin embargo, la policía todavía está buscando el tercer sospechoso que se voló de la escena de los hechos.
El presidente Obama hizo hincapié en la importancia del control de armas e incitó al Congreso a trabajar en las reformas de armas.
---
Shooting in California leaves 14 people killed
By Paula Alzate
On Wednesday (Dec. 2) a shooting was reported in San Bernandino, California. At the end of this edition, at least 14 people were killed and several injured, according to a CNN report.
The shooting took place at the Inland Regional Center, which has around 670 employees and serves over 30,000 people. The facility intends to "work on a personal, one-on-one basis with people with developmental disabilities to make their lives better as they define it," according to sources.
At the close of this edition, two out of three suspects have been capture, however, police are still looking for the third suspect who flew the scene.
President Obama emphasized on the importance of gun control and encouraged the congress to work on gun reforms.