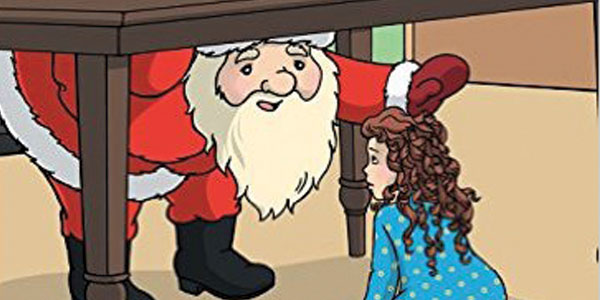 A los 7 años, Lupe Cruz soñaba con conocer a Santa Claus.
Cruz ha convertido ese sueño en un libro para niños: "El paseo mágico de Navidad de Tillie," el primer libro de una serie – y el primer libro que ha escrito.
Cruz, originaria de Texas e hija de una familia de inmigrantes, comenzó a trabajar a temprana edad con su familia. Debido a su difícil situación económica, no experimentó la Navidad como hicieron otros niños.
"Teníamos que trabajar en diferentes estados y no íbamos a la escuela," recordó Cruz. "Éramos … así de pobre que no teníamos juguetes. Todos nuestros juguetes eran los juguetes que hice con las cosas que iba  encontrando."
Un día, la madre y la abuela  estaban decorando un árbol frente a su casa porque la familia no podía comprarse un árbol de Navidad. Su abuela le dijo que estaban decorando porque Santa Claus venía esa noche.
"(Yo) casi no pude dormir esperando a que Santa viniera," dijo Cruz. "Cuando por fin me dormí, soñé que estaba bajo la mesa de la cocina cuando vi las botas de Santa …. Traté de alcanzarlo y él me dijo que no me iba a dar un regalo, porque no le hice caso a mi abuela y no fui a dormir, así que me puse a llorar. "
Años más tarde, Cruz recordó su experiencia; y después de haber aprendido sola a hablar Inglés y a escribir, se devolvió a ese momento en "El paseo mágico de Navidad de Tillie."
Cruz ha empezado a trabajar en su segundo y tercer libro.
"Cuando estaba casi terminado el libro, me di cuenta de que necesitaba una continuación," dijo ella. "Va a ser una serie de tres libros. El segundo, hará hincapié en … el hermano de Tillie, que tiene autismo. "
Según Cruz, tuvo una vida triste y dura cuando de niña;  y es por eso que ella quiere ser un defensora de los niños pobres y los niños víctimas de abusos, dijo.
"Una Navidad mágica de Tillie" está disponible en las tiendas y en Amazon.com en pasta dura y blanda, y como un e-book.
_________________________________________________________________________________________________________
Cruz brings Christmas dream to life with book
By Paula Alzate
At age 7, Lupe Cruz dreamed of meeting Santa Claus.
Cruz has turned that dream into a children's book: "Tillie's Magical Christmas Ride," the first book of a series – and the first book she has written.
Cruz, a Texas native and daughter of an immigrant family, started working at an early age with her family. Because of their hard economic situation, she didn't experience Christmas as other kids did.
"We would work in different states and would not go to school," Cruz recalled. "We were … (so) poor that we didn't have toys. All our toys were toys I made with things I would find."
One day, Cruz's mother and grandmother were decorating a tree outside her house because the family couldn't afford a Christmas tree. Her grandmother told her they were decorating it because Santa Claus was coming that night.
"I almost couldn't fall asleep waiting for Santa to come," Cruz said. "When I finally fell asleep, I dreamed that I was under the kitchen table when I saw Santa's boots…. I tried to reach him and he said to me that he was not going to give me a gift because I didn't listen to my grandma and didn't go to sleep, so I started crying."
Years later, Cruz remembered her experience. Having taught herself to speak English and how to write, she turned that experience into "Tillie's Magical Christmas Ride."
Cruz has started working on her second and third books.
"When I was almost done with the book, I realized that it needed a continuation," she said. "It's going to be a series of three books. The second one will emphasize … Tillie's brother, who has autism."
According to Cruz, she had a tough, sad life when as a kid. That's why she wants to be an advocate for poor children and abused children, she said.
"Tillie's Magical Christmas" is available in stores and on Amazon.com in hard and soft cover, and as an e-book.