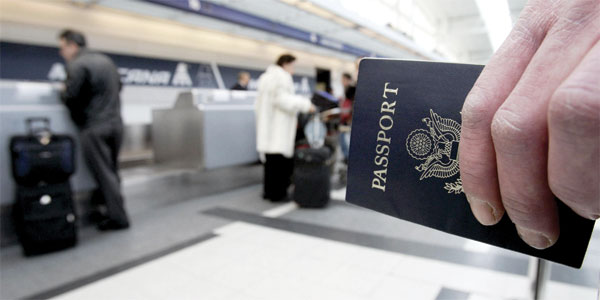 Titulares de licencias de Missouri tendrán que mostrar pasaportes en el aeropuerto en el 2016
Residentes de Missouri tendrán que mostrar sus pasaportes en el aeropuerto a principios de 2016 como resultado de la Ley de Identificación Real (Real ID Act) de 2005.
Recomendado por la Comisión del 9/11, el Real ID Act del 2005 es una iniciativa para hacer cumplir las normas nacionales de identificación personal al abordar aviones comerciales federalmente regulados a través de una red de estados. El objetivo es ayudar a prevenir ataques terroristas y ayudar a mantener seguros los aeropuertos, junto con las instalaciones federales y centrales nucleares.
Según su sitio web, el Departamento de Seguridad Nacional (DHS) está programando los planes para la implementación de la aplicación Real ID en los aeropuertos. Reconocido como un estado compatible, los residentes de Kansas no se verán afectados y pueden continuar abordando aviones con sólo presentar su licencia de conducir emitida por el estado en los aeropuertos.
De acuerdo con el DHS, el público recibirá un amplio aviso por adelantado antes de que los requisitos de identificación para el cambio de aviones de embarque.
"Esa notificación incluirá información sobre el proceso para las personas con una licencia de conducir no conforme o tarjeta de identificación para poder viajar en avión", la declaración del DHS dice.
Para obtener más información, visite http://www.dhs.gov/secure-drivers-licenses.
________________________________________________________________________________________________________
Missouri license holders to show passports at airport in 2016
By Melissa Arroyo
Missouri residents might have to show their passports at the airport early in 2016 as a result of the Real ID Act of 2005.
Recommended by the 9/11 Commission, the Real ID Act of 2005 is an initiative to enforce national standards for personal identification when boarding federally regulated commercial aircraft through a network of states. The aim is to help prevent terrorist attacks and help keep airports safe, along with federal facilities and nuclear power plants.
According to its Web site, the Department of Homeland Security (DHS) is scheduling plans for implementing Real ID enforcement at airports. Recognized as a compliant state, Kansas residents won't be affected and can continue to board planes by only presenting their state-issued driver's licenses at airports.
According to the DHS, the public will receive ample advanced notice before identification requirements for boarding aircraft change.
"That notice will include information on the process for individuals with a non-compliant driver's license or identification card to be able to travel by aircraft," the DHS' statement read.
For more information, visit http://www.dhs.gov/secure-drivers-licenses.