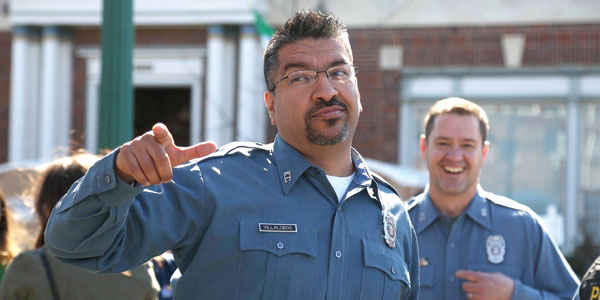 Oficial de policía da consejos de prevención para estas vacaciones
Con las fiestas acercándose, la prevención del crimen es fundamental, de acuerdo con el policía de Kansas City especialista en prevención de delito Octavio Villalobos.
La prevención de robos de vehículos y del hogar son importantes en esta época del año, Villalobos sugirió. Debido al clima frío alrededor de la temporada de vacaciones, la gente tiende a dejar sus vehículos prendidos con las llaves dentro; aunque este modo mantiene el vehículo caliente también da oportunidades a criminales para robar, sobre todo cuando las personas han ido de compras navideñas y dejan los regalos visibles en sus vehículos.
"Los criminales no tienen tiempo para romper la ventana y buscar algo," dijo. "Le decimos a la gente, si compran algo, póngalo debajo del asiento o les aconsejamos ponerlo en el maletero – En algún lugar donde no sea visible."
Con las familias que viajan durante las vacaciones, muchos hogares son vulnerables a los robos. Pero de acuerdo con Villalobos, hay muchos pasos que las personas pueden tomar para ser proactivos y reducir sus posibilidades de ser robadas.
"Le decimos a la gente que mejoren sus puertas y marcos," dijo. "Si usted tiene una casa de dos pisos, asegúrese de que el primer nivel está siempre asegurado. Los primeros pisos son siempre los lugares que los ladrones buscan. Asegúrese de que sus vecinos saben cuando se ha ido, si usted tiene una buena relación con ellos."
Villalobos aconseja a aquellos que viajan de tener cuidado con su correo. Las personas deben ser especialmente cuidadosas en dar a los criminales un acceso fácil a su correo con información financiera, sugirió.
"Alrededor de este tiempo, ellos (los delincuentes) buscan recibos de tarjetas de crédito (y declaraciones)," dijo Villalobos. "Pueden ir y copiar los números y comprar cosas en línea."
Ser un buen vecino puede ayudar a prevenir los robos, también. Los criminales tienen menos probabilidades de frecuentar barrios cuando alguien que ve algo sospechoso llama a la policía.
Cualquiera que haya sido robado no debe tomarlo como algo personal, dijo Villalobos.
"Esto (el robo) puede causar un trauma," dijo. "Empiezas a vivir con ansiedad después de que ha sido víctima. La mayoría del tiempo, no es personal. Es sólo porque ven algo y quieren robarlo. Quieren ser oportunistas; no es porque estaban buscándolo a usted."
Para obtener más consejos de prevención del delito, visite http://kcmo.gov/wp-content/uploads/sites/2/2013/12/Holiday-Crime-Prevention-English.pdf?
_________________________________________________________________________________________________________
Police officer shares holiday prime prevention tips
By Paula Alzate
With the holidays approaching, crime prevention is essential, according to Kansas City area police officer and crime prevention specialist Octavio Villalobos.
Preventing vehicular and home burglaries are important this time of year, Villalobos suggested. Because of the cold weather around the holiday season, people tend to leave their vehicles running with the keys inside. Although doing so keeps the vehicle warm, it also gives criminals opportunities to steal, especially when people have gone holiday shopping and leave gifts visible in their vehicles.
"Criminals don't have time to break the window and look for something," he said. "We tell people, if they buy something, stick it under a … (seat) or put it in your trunk – somewhere where (it) is not visible."
With families traveling during the holidays, many homes are vulnerable to burglars. But according to Villalobos, there are many steps people can take to be proactive and reduce their chances of being burglarized.
"We tell people to upgrade their doorways and frames," he said. "If you have a two-story home, make sure the first level is always secure. First floors are always the (places burglars) look for. Make sure your neighbors know when you are gone, if you have a good relationship with them."
Villalobos advises those who are traveling to be careful with their mail. They should especially be careful about giving criminals easy access to mail with financial information when they're gone, he suggested.
"Around this time, they (criminals) look for credit card receipts (and statements)," Villalobos said. "They can go and copy numbers and buy stuff online."
 Being a good neighbour can help prevent burglaries, too. Criminals are less likely to frequent neighborhoods when someone who sees something suspicious calls the cops.
Anyone who's burglarized shouldn't take it personally, Villalobos suggested.
"It (burglary) causes trauma," he said. "You start living with anxiety after … (you've been victimized). Most of the time, (it) is not personal. (It) is just because they see something and they want to steal it. They want to be opportunistic. (It) is not because they were looking for you."
For more crime prevention tips, visit http://kcmo.gov/wp-content/uploads/sites/2/2013/12/Holiday-Crime-Prevention-English.pdf?