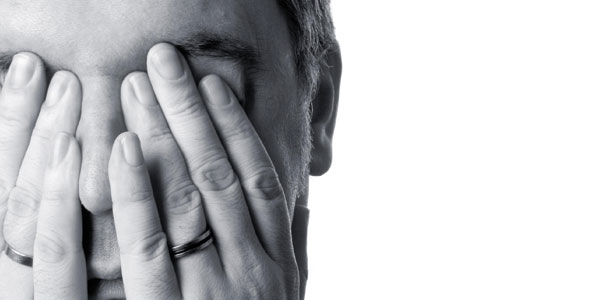 Everyone at some point feels anxious for some reason, whether it's because of work, personal issues, school or something else.
Some stress can be beneficial. However, when a person's amount of stress gets too high, it can affect the person's life and might lead to generalized anxiety disorder (GAD).
According to the Anxiety and Depression Association of America (ADAA), GAD affects 3.1 percent of the U.S. population – and women are more likely to be affected by it than men. Symptoms include lack of sleep, fears, constant worrying, body aches, compulsive behaviors and a lack of self-esteem.
To reduce your amount of stress and to cope with stress, try the following tips:
*Get enough sleep: Get between seven and eight hours of sleep a night. This will help you be more proactive during your waking day. It'll also improve your mood and attitude.
*Focus on the appropriate areas of your life: Focus on your priorities and what you can control.
*Have a hobby: Pursuing a sport or doing something else you like to do will help you disconnect from your daily routine.
*Talk to someone: According to the ADAA, talking to friends or relatives can help release some stress; however, if the stress continues, professional help is a good option.
*Look for written and video sources: There are a many books and online sources, including online videos that can provide anxiety management techniques.
For more information about stress management, visit www.adaa.org.
---
Frente a la ansiedad

Commentary by Paula Alzate
Todos en algún momento nos sentimos ansiosos por alguna razón, ya sea a causa del trabajo, problemas personales, la escuela o algo más.
Un poco de estrés puede ser beneficioso; sin embargo, cuando la cantidad de estrés de una persona es demasiado alta, puede afectar la vida cotidiana y puede llevar a trastorno de ansiedad generalizada (GAD).
De acuerdo con la Asociación de Depresión y Ansiedad de América (ADAA), GAD afecta a 3,1 por ciento de la población de Estados Unidos – y las mujeres son más propensas a ser afectados por éste que los hombres. Los síntomas incluyen falta de sueño, miedos constantes, dolores en el cuerpo, preocupaciones, comportamientos compulsivos y la falta de autoestima.
Para reducir la cantidad de estrés y para lidiar con el estrés, pruebe los siguientes consejos:
* Duerma lo suficiente: Obtenga entre siete y ocho horas de sueño por noche; esto le ayudará a ser más proactivo durante su día diaria. También va a mejorar su estado de ánimo y su actitud.
* Concéntrese en las áreas apropiadas de su vida: Concéntrese en sus prioridades y lo que puede controlar.
* Tenga un hobby: Busque un deporte o haga alguna otra cosa que le guste; esto le ayudará a desconectar de la rutina diaria.
* Hable con alguien: De acuerdo con la ADAA, hablar con amigos o familiares pueden ayudar a liberar algo de estrés; sin embargo, si el estrés continúa, la ayuda profesional es una buena opción.
* Busque fuentes escritas o video: Hay muchos libros y recursos en línea, incluyendo videos en línea que pueden proporcionar las técnicas de manejo de la ansiedad.
Para obtener más información sobre el manejo del estrés, visite www.adaa.org.