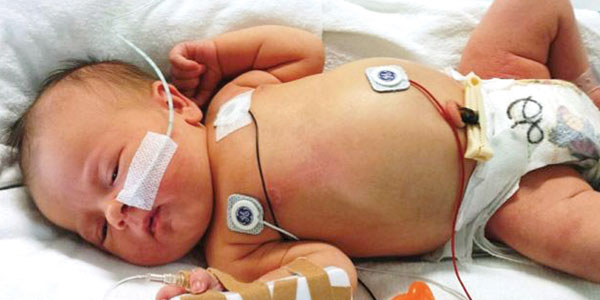 Las investigaciones demuestran que el síndrome neonatal de abstinencia sigue siendo un problema en Estados Unidos.
De acuerdo con el gobierno de EE.UU, un bebé nace con síndrome neonatal de abstinencia (NAS) cada 25 minutos. Un estudio publicado en línea en www.drugabuse.gov declara que hubo un aumento 5 veces mayor en el número de bebés nacidos con NAS del año 2000 al 2012.
Causado por el uso de drogas durante el embarazo que causa que un bebé nazca con adicción a las drogas y sufra de abstinencia a la adición de drogas, NAS se caracteriza por bajo peso al nacer y complicaciones respiratorias. Los síntomas incluyen dolor abdominal, manchas en la piel, fiebre, reflejos hiperactivos, convulsiones, sudor, vómito, diarrea, calambres y escalofríos.
De acuerdo con un reporte de noticias de Greelong, la heroína es la droga más común que utilizan las madres durante el embarazo que puede conducir a NAS. Entre otras drogas que pueden causar NAS están los medicamentos analgésicos, antidepresivos y anti psicóticos.
"Las mujeres embarazadas deben conocer los riesgos y evitar el consumo de drogas, esto las afecta a ellas y la salud de su hijo", dijo el doctor Fabián Muñoz. "Las drogas son un asesino silencioso. Los efectos que un niño experimenta cuando están en abstinencia son terribles".
Para mayor información sobre los centros de rehabilitación y programas de apoyo, visite www.drugabuse.gov
---
Drug-addicted babies continue to be a problem in America
Compiled by Chara
Research shows that neonatal abstinence syndrome continues to be an issue in the United States.
According to the U.S. government, a baby is born with neonatal abstinence syndrome (NAS) every 25 minutes. A study published online at www.drugabuse.gov states there was a five-fold increase in the number of babies born with NAS from 2000 to 2012.
Caused by drug usage during pregnancy that prompts a baby to be born with a drug addiction and suffering from drug addiction withdrawal, NAS is characterized by a low birth weight and respiratory complications. Symptoms include abdominal pain, blotchy skin, fever, hyperactive reflexes, seizures, sweating, vomiting, diarrhea, cramps and chills.
According to a news report from Greelong, heroin is the most common drug mothers use during pregnancy that might lead to NAS. Other drugs that might cause NAS include painkillers, antidepressants and antipsychotics.
"Pregnant women should be aware of the risks and avoid drug consumption. This affects them and their child's health," said Dr. Fabian Munoz (Muñoz in Spanish). "Drugs are a silent killer. The effects that a child experiences when in withdrawal are terrible."
For more information on drug rehabilitation clinics and support programs, visit www.drugabuse.gov.