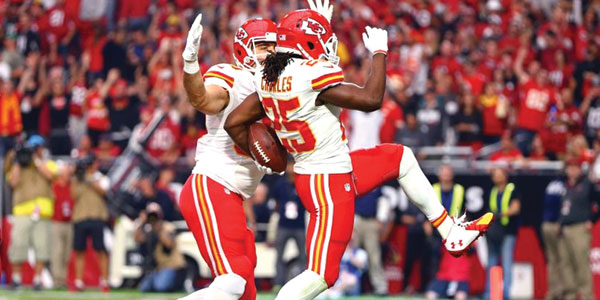 Juego entre KC -Houston no copiará juego anterior, sugiere Reid
Los aficionados al fútbol no deben esperar que el juego de playoff de  AFC de los Chiefs de Kansas City con Houston sea una copia del juego en la temporada regular de los 2 equipos, dijo el entrenador de los Chiefs, Andy Reid después de la victoria de Kansas City 23 a 17 ante Oakland, el domingo 3 de enero en el estadio Arrowhead.
Los Chiefs, quienes derrotaron a los Texans 27 -20 en septiembre del 2015 en Houston, se enfrentarán a los Texans de nuevo el sábado 9 de enero a las 3:35 p.m. en el estadio NRG. Después de la victoria del domingo en el juego final regular de la temporada de Kansas City, Reid le aseguró a los reporteros que Kansas City y Houston son "diferentes" de lo que fueron hace casi 4 meses. Un cambio en Kansas City desde el enfrentamiento de la primera semana es el "estado mental" el equipo, dijo  el tackleador defensivo de los Chiefs, Dontari Poe.
"Ahora tenemos más seguridad", declaró Poe quien hizo una tackleada  el domingo. "Éso es importante creo yo. Es la razón por la que ahora tenemos una buena racha (10 juegos ganados). Y mientras que podamos mantenernos así, estaremos bien".
El corredor Charcandrick West, quien obtuvo 34 yardas en 13 cargos el domingo, dijo que los Chiefs han madurado durante la temporada. West atribuyó al inicio 1 – 5 de Kansas City.
"Una vez que pasas cosas como esa… te hace una mejor persona… no que quisiéramos tener 1 -5", dijo él. "Pero… debido a que pasamos por eso, nos ayudó y nos hizo reunirnos como equipo y dejar de preocuparnos sobre las estadísticas individuales y cosas como esa".
Si los Chiefs, en quinto lugar (11 -5) derrotan a los Texaans que están en cuarto lugar (9 -7) entonces enfrentarían Denver que tiene primer lugar y a Nueva Inglaterra de segundo lugar, dependiendo del resultado del juego entre Pittsburgh y Cincinnati el sábado en el estadio Paul Brown. Una victoria de Cincinnati que tiene tercer lugar los enviaría a Denver. Una victoria de los Steelers en sexto lugar los enviaría a Foxbor Massachusetts para enfrentar al actual campeón del Super Tazón, los Patriots.
________________________________________________________________________________________________________
KC-Houston rematch won't duplicate earlier meeting, Reid suggests
By Shawn Roney
Football fans shouldn't expect the Kansas City Chiefs' AFC playoff game with Houston to be a carbon copy of the two teams' regular-season meeting, Chiefs coach Andy Reid suggested after Kansas City's 23-17 win over Oakland on Sunday (Jan. 3) at Arrowhead Stadium.
The Chiefs, who defeated the Texans 27-20 in September 2015 in Houston, will face the Texans again at 3:35 p.m. on Saturday (Jan. 9) at NRG Stadium. Following Sunday's victory in Kansas City's regular-season finale, Reid assured reporters that Kansas City and Houston are "different" than they were roughly four months ago. One change in Kansas City since that Week 1 showdown is the team's "mindset," Chiefs defensive tackle Dontari Poe said.
"(We've) kind of got a certain grit about us," stated Poe, who made one tackle Sunday. "That's big, I think. That's the reason that we (are) on the (10-game winning) streak that we (are) on now. And as long as we keep it (up), we'll be all right."
Running back Charcandrick West, who had 34 yards on 13 carries Sunday, said the Chiefs have matured over the season. West attributed that to Kansas City's 1-5 start.
"Once you go through things like that, … it makes you a better person…. Not that we wanted to go 1-5," he said. "But … (because we) went through that, it helped us out and made us come together as a team and stop worrying about individual stats and stuff like that."
Should the fifth-seeded Chiefs (11-5) defeat the fourth-seeded Texans (9-7) again, they would face top-seeded Denver or second-seeded New England, depending on the outcome of the Pittsburgh-Cincinnati meeting on Saturday at Paul Brown Stadium. A victory by No. 3-seeded Cincinnati would send them to Denver. A victory by the sixth-seeded Steelers would send them to Foxboro, Mass., to face the defending Super Bowl champion Patriots.