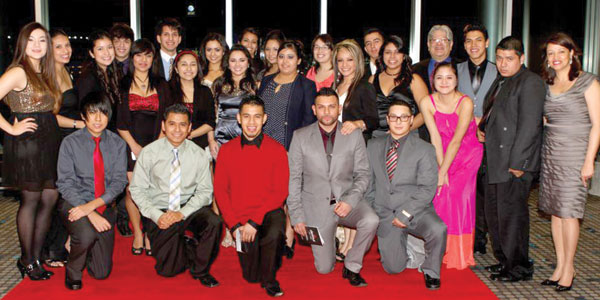 La organización Latinos of Tomorrow de Kansas City ha ayudado a cientos de estudiantes graduarse de la escuela secundaria, la universidad y del posgrado, incluso desde su fundación en 2005, de acuerdo con Amarilis Valdez-Dempsey, asesora adulto y directora.
El programa tiene como objetivo ayudar a cientos – incluso miles – más.
"Nuestro principal objetivo es conseguir que los estudiantes de secundaria se preparen para la universidad – y luego una vez que llegan a la universidad, queremos asegurarnos de que se quedan allí", dijo Valdez-Dempsey. "Ayudamos a los estudiantes a prepararse para la universidad y le ayudamos a encontrar becas. Trabajamos con ellos para aplicar a ellas, escribir los ensayos y … (sigue) hasta … (con) cartas de agradecimiento".
Al proporcionar orientación a los estudiantes desde octavo grado hasta la graduación de la universidad, Latinos of Tomorrow ha "sido capaz de ayudar a los estudiantes a graduarse de la universidad sin deudas", dijo Valdez-Dempsey.
"Ellos fueron capaces de obtener las becas para pagar la escuela", dijo.
El programa se reúne el primer y tercer sábado de cada mes en las oficinas de la Cámara de Comercio Hispana de Kansas City en Kansas City, Mo. Tiene un plan de estudios y ofrece varios talleres gratuitos para los estudiantes. Según Valdez-Dempsey, los próximos talleres tratarán temas relacionados con la ayuda económica, cómo prepararse para las entrevistas y cómo planificar una carrera profesional.
"Cada taller abarca un tema diferente," dijo ella. "Una reunión que vamos a tener … (cubrirá) cómo navegar FAFSA (Solicitud Gratuita de Ayuda Federal para Estudiantes). Tratamos de tener una variedad de talleres para los padres y los estudiantes … (ambos pueden asistir) …. Algunos … son sólo para los estudiantes ".
El programa es gratuito. Según Valdez-Dempsey, los únicos requisitos son que los estudiantes participen en el programa y tengan un plan a seguir para su educación universitaria.
Para obtener más información, visite http://www.latinosoftomorrow.com.
---
Latinos of Tomorrow opening doors of opportunity 
By Paula Alzate
Latinos of Tomorrow Greater Kansas City has helped hundreds of students graduate from high school, college and even graduate school since its founding in 2005, according to Amarilis Valdez-Dempsey, its adult advisor and director.
The program aims to help hundreds – even thousands – more.
"Our main focus is to get high school students ready for college – and then once they get into college, we want to make sure that they stay there," Valdez-Dempsey said. "We help students prepare for college and find the scholarships. We work with them (on) applying to them, writing the essays and … (following) up … (with) thank you letters."
In providing guidance to students from the eighth grade through graduation from college, Latinos of Tomorrow has "been able to help students graduate from college with zero debt," Valdez-Dempsey said.
"They were able to get the scholarships to pay for school," she said.
The program meets the first and third Saturday of each month at the Hispanic Chamber of Commerce of Greater Kansas City offices in Kansas City, Mo. It has a curriculum and provides various free workshops for students. According to Valdez-Dempsey, the next workshops will cover topics related to financial aid, how to prepare for interviews and how to plan a career path.
"Each workshop is (on) a different subject," she said. "One meeting that we're going to have … (will cover) how to navigate FAFSA (Free Application for Federal Student Aid). We try to have a variety of workshops where parents and students … (can both attend)…. Some … are just for students."
The program is free. According to Valdez-Dempsey, the only requirements are that the students engage with the program and plan to pursue a college education.
For more information, visit http://www.latinosoftomorrow.com.