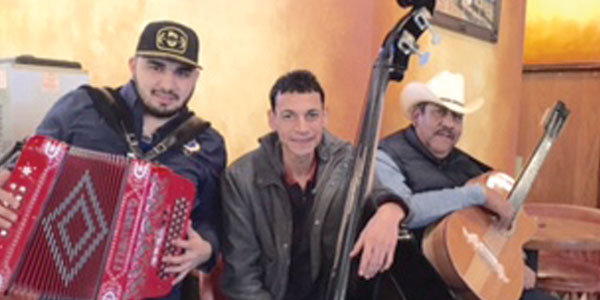 El grupo "Los del Tololoche" ofrecen música Norteña para todas las ocasiones.
El Sr. Enrique Chapa, su hijo Gabriel y Hernán Rentería, amigos que se conocieron en Kansas a pesar de que  todos son originarios de Chihuahua, México, llegaron a Kansas City, hace 6 años.
Chapa dice que a él desde pequeño le encanta la música, toca la guitarra, su hijo toca el Tololoche y Hernán el  acordeón.
Formaron su conjunto hace seis meses y tocan en los restaurantes como El Tapatío en Kansas City, Kan., entre otros.
Enrique está casado con Victoria Estrada y tienen juntos dos hijos y una hija.
Ellos quieren agradecer a los residentes de Kansas que les gusta la música Norteña porque han sido bien recibidos, el conjunto Norteño, va a fiestas privadas, bodas, y  quinceañeras en donde a ellos los contratan. Si usted tiene un evento y quiere contratarlos,  llame al teléfono de Rey  913-957-0877 y Edgar 913-713-5857.
__________________________________________________________________________________________________________________
By Dos Mundos staff 
The group "Los del Tololoche" offers nortena (norteña in Spanish) music for all occasions.
Mr. Enrique Chapa, his son Gabriel and Hernan Renteria, friend, met in Kansas even though they all are originally from Chihuahua, Mex. They arrived in Kansas City, 6 years ago.
Chapa said that since he was a kid he loves music and plays guitar. His son plays the toloche and Hernan plays accordion.
They formed their band six months ago and play at restaurants such as El Tapatio in Kansas City, Kan., among others.
Enrique Estrada is married to Victoria. Together have two sons and a daughter.
They want to thank the residents of Kansas who like the nortena music and because they have been well received. The band goes to private parties, weddings, and quinceneras. If you have an event and you want them to play, call Rey at 913-957-0877 and Edgar at 913-713-5857.