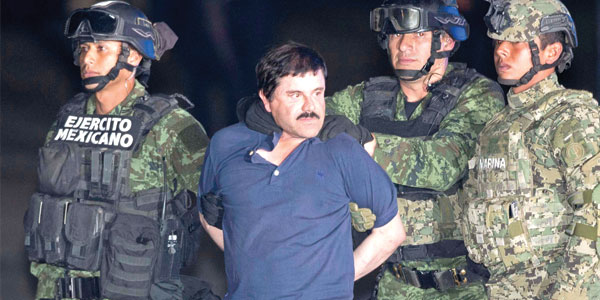 Joaquín "El Chapo" Guzmán sigue en la cárcel, y México sigue igual. O peor. Es ingenuo creer que la recaptura del líder del narcotráfico, que se había escapado unos meses antes, mejora rápida y significativamente la situación de 126 millones de mexicanos.
Es cierto que, como dijo el mandatario Enrique Peña Nieto, con la captura de El Chapo se ha detenido a 98 de 122 líderes del narcotráfico. Pero eso no debe dar una falsa percepción de éxito. Eso supondría que el 80% del país está bajo control y sin narcoviolencia. No es así. A esa lista le faltan muchos nombres.
El sexenio de Peña Nieto podría ser más violento que el de su predecesor, Felipe Calderón. En los primeros tres años de Peña Nieto, hasta diciembre del 2015, fueron asesinados violentamente 52,724 mexicanos. Eso es más de la mitad de los 104,089 homicidios dolosos durante el sexenio de Calderón. (Aquí están las cifras del propio gobierno: bit.ly/1KTkyif )
No se trata tampoco de arruinarle la fiesta del gobierno que, muy mexicanamente (es decir, con mucha pompa y sin preguntas de la prensa), celebró en Palacio Nacional la tercera captura del narcotraficante. Junto al presidente estaban, ya aliviados y justificadamente felices, los mismos funcionarios a los que se les había escapado el líder del cartel de Sinaloa. Pero, como dijo el propio Chapo en la polémica entrevista con el actor Sean Penn en Rolling Stone: "El día que yo no exista, no va a mermar en nada el tráfico de drogas."
Todo sigue igual. O peor.
México es muy inseguro. Han secuestrado, según cifras oficiales, a 4,259 mexicanos desde que Peña Nieto tomó posesión. El peso está en franca caída (y los únicos mexicanos que se benefician son los que reciben dólares de sus familiares en Estados Unidos). El petróleo, cada día más barato, ya no es salvavidas.
¿Misión cumplida? No lo creo (aunque lo haya puesto Peña Nieto en Twitter). En Los Pinos necesitan a un buen historiador o alguien que vea un poquito de tele. Se les olvidó que esa es la misma desafortunada frase que tantas burlas le causó al ex presidente estadounidense George W. Bush tras su fatídica invasión a Irak. Se la pusieron en una enorme manta en un portaviones mientras él pronunciaba un discurso hace casi 13 años. Hoy, todavía, Irak es un desastre y México un país violento. Dejemos, pues, la frase "Misión Cumplida" solo para las imposibles películas de Tom ¿Misión cumplida? ¿Cómo es posible que hayan encontrado dos veces al Chapo y no sepan dónde están los 43 estudiantes de Ayotzinapa, desaparecidos hace 16 meses?
El gobierno quiere promover su imagen y hacer justicia a periodicazos. Y ya que la nueva política oficial es filtrar a la prensa sus investigaciones secretas ¿por qué el gobierno no filtra también los contratos de la extraña compra de la llamada Casa Blanca por parte de la pareja presidencial? ¿Por qué no filtra las cuentas del ex presidente del PRI, Humberto Moreira, detenido y luego liberado en España? ¿Por qué no filtra los nombres de los funcionarios que ayudaron a escapar al Chapo?
Porque eso no está en el guión. La "Chaponovela" puede desviar la atención de los mexicanos por un ratito pero, no es suficiente para salvar la presidencia de Peña Nieto.
Eso lo sabe Barack Obama. El Presidente de Estados Unidos aniquiló a Osama bin Laden en el 2011, pero deshacerse del líder de Al Qaeda (que planeó los actos terroristas del 9/11) no le hizo más fácil la labor de gobernar. El bono de buena voluntad le duró un par de meses, y luego todo volvió a la normalidad.
Lo mismo podría ocurrirle a Peña Nieto. Que quede claro: Es un gran logro tener tras las rejas al principal narcotraficante del mundo. Pero sería triste presentar una recaptura como el mayor triunfo de su gobierno.
Tras la Chaponovela viene el viaje del papa Francisco a México. Será otra gran distracción. Pero luego vendrá una primavera de desengaño — y quizás de indignación — para los mexicanos. Será como cuando prenden las luces por la mañana en un discoteca; no hay manera de escaparse del asco que produjo la noche y dejar de pisar todo lo que hay podrido en el piso.
Posdata: Acabo de ver la película "The Revenant" (o "El renacido"). Extraordinaria. De Oscar. El director, Alejandro Gonzalez Iñárritu y el director de fotografía, Emmanuel "El Chivo" Lubeski, están demostrando que los mexicanos pueden competir en cualquier parte del mundo … y ganar. México es mucho más que su gobierno.
(Jorge Ramos, periodista ganador del Emmy, es el principal director de noticias de Univision Network. Ramos, nacido en México, es autor de nueve libros de grandes ventas, el más reciente de los cuales es "A Country for All: An Immigrant Manifesto.")
---
El Chapo: Mexico's Latest Telenovela
The notorious drug lord Joaquin "El Chapo" Guzman may be locked up (again), but it would be naive to assume that his recapture will significantly improve the well-being of more than 120 million Mexicans.
  After El Chapo was caught, Mexican President Enrique Peña Nieto also announced that 98 of Mexico's 122 most-wanted drug leaders had also been captured. Proportionally, then, about 80% of the country should be free of drug-related violence — but that's not the case. Mexico's most-wanted list is missing more than a few names.
  I don't want to rain on the government's post-arrest parade (even though the announcement about the capture was made with great ostentation and with no questions from the press). But as El Chapo said himself in his controversial Rolling Stone interview with Sean Penn: "The day I don't exist, [drug trafficking is] not going to decrease in any way at all."
  After El Chapo was captured, Peña Nieto triumphantly tweeted "mission accomplished."
  Mission accomplished? Not quite. El Chapo may be behind bars, but everything else in Mexico remains unchanged — or perhaps worse. The fact is that Peña Nieto's tenure might turn out to be even deadlier than that of his predecessor, Felipe Calderón. During Pena Nieto's first three years in office, 52,724 Mexicans were killed in violent crimes. That›s more than half as many as took place throughout Calderón's six-year term (the official figures can be seen here: bit.ly/1KTkyif).
  Mission accomplished? A good historian might have advised Peña Nieto against repeating the phrase that caused President George W. Bush so much grief after the fateful U.S. invasion of Iraq almost 13 years ago. The term "mission accomplished" should be reserved for use in Tom Cruise's "Mission Impossible" movies — and nowhere else.
  Since Peña Nieto took office, 4,259 Mexicans have been kidnapped, according to government data. The Mexican peso continues its free fall (the only Mexicans who benefit are those who receive dollars from relatives in the U.S.). And sure, the Peña Nieto administration found El Chapo twice, but there›s still no word on the 43 college students from Ayotzinapa who disappeared over 16 months ago.
  The Mexican government is simply using the capture of El Chapo in an attempt to improve its public image.
  Officials seem to have even leaked information on how they tracked him down by using phone messages he left for a Mexican actress. And since the government's new policy is to leak secret information to the press, why don't officials leak the contracts related to the multimillion dollar mansion that Peña Nieto and his wife acquired? Why don't they leak information about the accounts of Humberto Moreira, the former head of Mexico's Institutional Revolutionary Party, who was arrested earlier this month in Spain on suspicion of money laundering, then later released? Why don't they leak the names of the officials who allegedly helped El Chapo escape last year?
  The answer: because none of this is in the script. Mexico's latest telenovela might divert the attention of the country for a while, but locking up Public Enemy No. 1 won't be enough to salvage Peña Nieto's presidency, or make his job easier.
  The death of Osama bin Laden didn't make it any easier for Obama to govern. The political good will lasted for about two months before everything reverted to business as usual. The same will be true for Peña Nieto.
  Of course, the capture of El Chapo, the world's biggest drug trafficker, is a major accomplishment. But it's sad that Peña Nieto might consider that to be his greatest triumph.
  After this telenovela is over, Mexico will be distracted by Pope Francis' visit in February, another huge diversion. But a seasonof disappointment — and maybe outrage — looms over the country.
  P.S.I recently watched "The Revenant" — a wonderful and truly Oscar-worthy film. Director Alejandro Gonzalez Iñarritu and his cinematographer, Emmanuel "El Chivo" Lubeski, are proving that Mexicans can indeed compete in anywhere in the world … and win. Iñarritu and Lubeski remind us that Mexico is so much more than its troubled government.