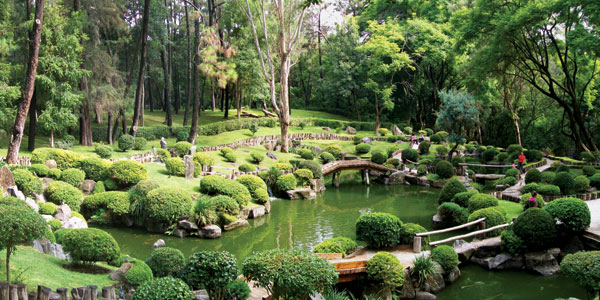 Varios activistas en Guadalajara están en contra de la construcción que está teniendo lugar en Los Colomos, un bosque urbano en la perla tapatía.
Los manifestantes acusan al gobernador de Jalisco Aristóteles Sandoval y al alcalde de Guadalajara Enrique Alfaro de romper una promesa con respecto a Los Colomos.
«Nos dijeron que no iban a tocar Los Colomos – y ahora, esta construcción se está llevando a cabo", dijo Andrea Romero, residente de Guadalajara. "Esto es ilegal. No tenemos suficientes árboles y merecemos mantener nuestros bosques».
En respuesta a los manifestantes, El alcalde Alfaro dijo recientemente que la construcción es legal y que se está construyendo un edificio que será utilizado como almacén. Además, Alfaro dijo que la construcción en Los Colomos continuará y no afectará la reserva natural.
Sin embargo, de acuerdo con varios informes de prensa, el gobierno ha emitido una orden que prohíbe la construcción de cualquier tipo de «proyecto de urbanización» dentro de la zona. Sin embargo, el almacén no se considera un proyecto de urbanización, por lo que el gobierno continuará con dicha construcción.
_____________________________________________________________________________________________________________________
Activists protesting in Guadalajara to preserve Los Colomos
By Chara
Several activists in Guadalajara are protesting against construction that's taking place in Los Colomos, an urban bosque in the Mexican city.
The protesters are accusing Jalisco Gov. Aristoteles Sandoval and Guadalajara Mayor Enrique Alfaro of breaking a promise regarding Los Colomos.
 "They told us that they were not going to touch Los Colomos – and now, this construction is taking place," said Andrea Romero, a Guadalajara resident. "This is illegal. We don't have enough trees and we deserve to keep our forest."
In response to the protesters, Mayor Alfaro recently said the construction is legal and the building being constructed would be used as a warehouse. In addition, Alfaro said the construction at Los Colomos would continue and wouldn't affect the natural reserve.
But according to various news reports, the government has issued an order prohibiting the building of any kind of "urbanization projects" inside the area. However, the warehouse isn't considered an urbanization project, so the government is moving forward with it.