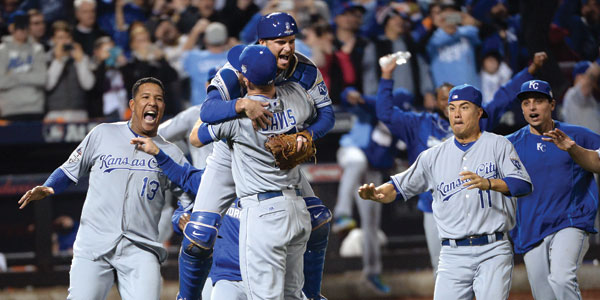 Muñoz es elegido como narrador
Esta temporada, los aficionados al béisbol de habla hispana en el área de Kansas City pueden seguir a los Royals de Kansas City en la radio en español.
En un comunicado de prensa el 10 de febrero, los campeones de la Serie Mundial anunciaron que estaban asociándose con Reyes Media, la compañía de noticias multimedia y entretenimiento con sede en Kansas City, Kansas que también publica el periódico Dos Mundos – para transmitir los 40 juegos en casa de la serie regular de los Royals. Empezando con el iniciador de la temporada el 3 de abril contra los Mets de Nueva York, el juego se transmitirá en la estación KYYS-AM (1250, conocida como "La Super Estacion") de Reyes Media.
"Nos enorgullece asociarnos con el equipo campeón mundial de los Royals para el 2016", se citó en el comunicado a la directora general de Reyes Media, Diana Reyes Raymer. "Sabemos lo mucho que a nuestra comunidad (hispana) le encanta el béisbol".
Jesús Ramón Muñoz manejará la narración de las jugadas. Al haber cubierto muchos de las temporadas actuales de los Royals durante sus 12 (que pronto serán 13) temporadas de narrar jugadas para el equipo Class AAA farm de los Royals en Omahá Nebraska, el locutor y director de programación mexicano está "muy emocionado" por la oportunidad.
"He … (conocido) a estos muchachos por mucho tiempo", dijo Muñoz durante una entrevista telefónica el lunes 22 de febrero.
Uno de los "muchachos" que Muñoz ha llegado a conocer es a Salvador Pérez, quien ayudó a los Royals a derrotar a los Mets en la Serie Mundial 2015 en cinco juegos y fue nombrado el jugador más valioso de las series. Muñoz aún recuerda la conmoción que creó Pérez hace unos años cuando el cátcher venezolano fue asignado a Omaha.
"Cuando lo vimos en Omahá, dijimos "Oye, este muchacho es el cátcher del futuro para los Royals de Kansas City", dijo Muñoz.
Pérez se reportó con los otros lanzadores y catchers el 19 de febrero en el centro de entrenamiento de primavera de los Royals en Surprise, Arizona. Los ejercicios de todo el club iniciaron el martes 23 de febrero.
_____________________________________________________________________________________________________________
Reyes Media to broadcast slate of Royals games in Spanish
Munoz gets play-by-play announcer nod
Compiled by the Dos Mundos Staff
This season, Spanish-speaking Kansas City area baseball fans can follow the Kansas City Royals on the radio en español.
In a Feb. 10 press release, the defending World Series champions announced they were partnering with Reyes Media – a Kansas City, Kan.-based multimedia news and entertainment company that also publishes Dos Mundos – to air 40 Royals regular-season home games. Starting with the season opener on April 3 against the New York Mets, the games will air on the Reyes Media station KYYS-AM (1250, a.k.a., "La Super Estacion").  
"We are proud to partner with the world champion Royals for 2016," Diana Reyes Raymer, Reyes Media general manager, was quoted in the release as saying. "We know how much our (Hispanic) community loves baseball."
Jesus Ramon Munoz (Muñoz in Spanish) will handle the play-by-play announcing. Having covered many of the current Royals during his 12 (soon to be 13) seasons of calling games for the Royals' Class AAA farm team in Omaha, Neb., the Mexican-born broadcaster and programming director is "very excited about" the opportunity.
"I've … (known) these guys for a long time," Munoz said during a phone interview on Monday (Feb. 22).
One of the "guys" Munoz has gotten to know is Salvador Perez, who helped the Royals defeat the Mets in the 2015 World Series in five games and was named series MVP. Munoz still remembers the buzz Perez created a few years ago when the Venezuelan-born catcher was assigned to Omaha.
"When we saw him in Omaha, we said, 'Man, this guy's the catcher of the future for the Kansas City Royals,' " Munoz said.
Perez reported with the other pitchers and catchers on Feb. 19 at the Royals' spring training facility in Surprise, Ariz. Full-club workouts began on Tuesday (Feb. 23).