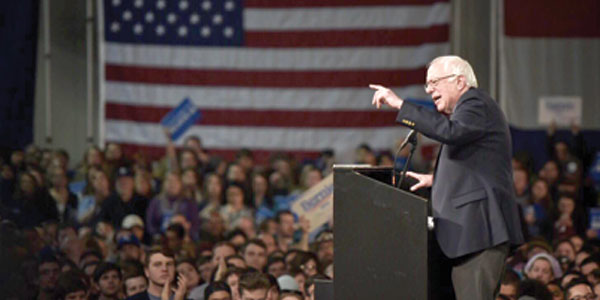 Los aficionados y seguidores del candidato presidencial demócrata y senador de los Estados Unidos Bernie Sanders se reunieron el miércoles (24 de febrero) en el Centro de Convenciones en Kansas City (Missouri) para escuchar la postura de Sanders en varias cuestiones que afectan a los estadounidenses.
Durante su visita, Sanders discutió la necesidad de aumentar el salario mínimo, la inversión a la educación y el empleo, y la mejora de la calidad de vida de las familias de bajos ingresos. También esbozó sus planes para su presidencia.
Sanders también dio su postura general contra los bancos, prisiones privadas y el desempleo. Además, habló de la necesidad de liberar a los latinos y otras minorías de las sombras. Sus partidarios aplaudieron con aprobación.
"¿Cómo es posible que tengamos más gente en la cárcel que cualquier otro país en el mundo? (Y) en gran parte hispanos y afroamericanos? ", preguntó retóricamente. "Estamos escuchando a nuestros hermanos y hermanas latinos que dicen que están cansados de vivir en las sombras. Ellos quieren un camino hacia la ciudadanía ".
Por otra parte, Sanders habló de su programa masivo de puestos de trabajo. Según Sanders, ha diseñado un programa para crear millones de puestos de trabajo mediante la reconstrucción de la infraestructura de Estados Unidos.
Sanders última parada de campaña había sido en Norfolk, Virginia y su próxima parada será en Tulsa, Oklahoma.
Durante la carrera presidencial de este año, Sanders ha recibido el apoyo de la generación de jóvenes que creen en sus ideas de la restauración de la economía, proporcionar educación universitaria gratuita, la creación de puestos de trabajo y la imposición de restricciones más severas en Wall Street.
A diferencia de su competidora demócrata, Hillary Clinton, Sanders se ha centrado principalmente en la supresión de la avaricia corporativa y el fortalecimiento de la clase media. Ha hablado ligeramente de un plan que aborde una reforma migratoria y que ofrezca iniciativas de derechos civiles para las minorías y los grupos marginados.
De acuerdo con una reciente encuesta de tendencia Reuters / ISPOS, campaña de Sanders está por delante de Clinton de 42 por ciento a 36 por ciento. Fue la última encuesta de votantes que muestra la carrera dando un giro a favor de Sanders.
Para obtener más información sobre Sanders, visite www.BernieSanders.com.
_____________________________________________________________________________________________________________
Sanders rallies for supporters in KCMO
By Melissa Arroyo
Fans and supporters of Democratic presidential candidate and U.S. Sen. Bernie Sanders gathered on Wednesday (Feb. 24) at the Kansas City (Mo.) Convention Center to hear Sanders' stance on several contemporary issues affecting Americans.
During his appearance, Sanders discussed the need for increasing the minimum wage, investing in education and jobs, and improving the quality of life for low-income families. He also outlined his plans for his presidency.
Sanders also gave his general stance against big banks, private prisons and unemployment. In addition, he discussed the need to get Latinos and other minorities out of the shadows, which his supporters applauded with approval.
"How does it happen that we have more people in jail than any other country in the world? (And) largely African American and Latino?" he asked rhetorically. "We are listening to our Latino brothers and sisters who are saying that they are tired of living in the shadows. They want a path toward citizenship."
Moreover, Sanders discussed his massive jobs program. According to Sanders, it's designed to create millions of jobs by rebuilding America's infrastructure.
Sanders last campaign stop had been in Norfolk, Va. He'll make his next stop in Tulsa, Okla.
During this year's presidential race, Sanders has received support from young millennials who believe in his ideas of restoring the economy, providing free college education, creating jobs and imposing tougher restrictions on Wall Street.
In contrast to his Democratic competitor, Hillary Clinton, Sanders has mainly focused on abolishing corporate greed and strengthening the middle class. He has lightly discussed a plan that would tackle immigration reform and provide civil rights initiatives for minorities and marginalized groups.
According to a recent Reuters/Ispos tracking poll, Sanders' campaign is ahead of Clinton's 42 percent to 36 percent. It was the latest voter survey showing the race taking a turn in Sanders' favor.
To learn more about Sanders, visit www.BernieSanders.com.