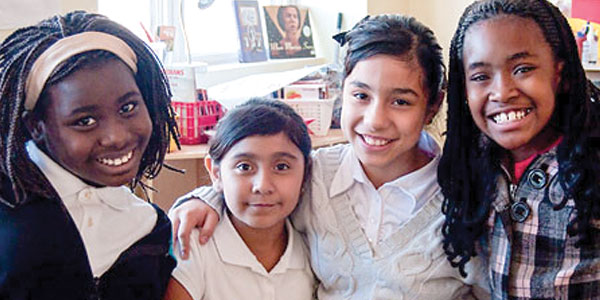 Crossroads Academy y Scuola Vita Nuova (SVN) se han asociado para abrir una nueva escuela secundaria en el año 2018 en el centro de Kansas City, Mo.
De acuerdo con un reciente comunicado de prensa, alrededor de 600 estudiantes asistirán la escuela que es parte del sistema educativo de Kansas City Escuelas Públicas de matrícula gratuitas.
"(La escuela) cumplirá los sueños, y lo más importante, las necesidades de nuestros estudiantes y sus familias, ya … que crea las experiencias educativas necesarias para tener éxito en el siglo 21", Nicole Goodman, directora de SVN, fue citada en el comunicado de prensa por el diario.
Tysie McDowell-Ray, co-fundador y director de Crossroads Academy, sugirió que la apertura de la escuela secundaria había resultado de "el éxito de los modelos de cruces de la Academia y SVN" en la enseñanza de "cientos de niños del área de Kansas City."
"Estamos encantados de ofrecer ahora la continuación de la educación secundaria, mientras preparamos a nuestros estudiantes a ser el futuro de nuestras comunidades", McDowell-Ray, fue citado en el comunicado por el diario.
Además, como parte del anuncio, Crossroads Academy reveló el nombre y la ubicación de su segunda escuela primaria: Quality Hill Academy. La escuela estará ubicada en la calle 11 y Washington. La Universidad de Central Missouri patrocinará Quality Hill, como lo hace con Crossroads y SVN.
Inscripciones para las escuelas se están aceptando electrónicamente. Para más información visite www.svncharter.org y www.crossroadsacademykc.org.
---
Downtown high school to open in 2018
Crossroads Academy and Scuola Vita Nuova (SVN) are partnering to open a new high school in 2018 in downtown Kansas City, Mo.
According to a recent press release, around 600 students will attend the high school tuition-free as part of the Kansas City Public Schools educational system.
"(The school) will fulfill the dreams, and most importantly, the needs of our students and their families as … it creates the educational experiences needed to succeed in the 21st century," Nicole Goodman, SVN principal, was quoted in the press release as saying.
Tysie McDowell-Ray, Crossroads co-founder and principal, suggested the opening of the high school had resulted from "the success of the Crossroads Academy and SVN models" in teaching "hundreds of Kansas City area children."
"We are thrilled to now offer the continuation of that education through high school, as we prepare our students to be the future of our communities," McDowell-Ray was quoted in the release as saying.
In addition, as part of the announcement, Crossroads revealed the name and location of its second elementary school: Quality Hill Academy. The school will be located at 11th Street and Washington. The University of Central Missouri will sponsor Quality Hill, as it does Crossroads and SVN.
Enrollments to the schools are being accepted online. For more information regarding enrollment, visit www.svncharter.org and www.crossroadsacademykc.org.