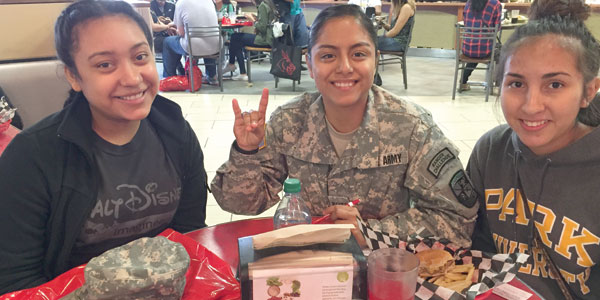 El 20 de febrero, los estudiantes de escuela secundaria del área de Kansas City visitaron la Universidad de Missouri Central (UCM) para tener una percepción de la vida universitaria.
Cerca de 100 estudiantes de East, J.C. Harmon, Liberty North y Blue Springs South participaron en el evento, organizado por el Ejército de Estados Unidos y los Centros Nacionales de Educación de LULAC (LNESC). Durante la visita, los estudiantes escucharon profesores y actuales cadetes de ROTC, y conversaron con representantes de LNESC.
La asociación entre el ejército y LNESC llevan a cabo visitas a universidad como la de UCM en diferentes lugares del resto del país. De acuerdo con un comunicado de prensa de la Agencia Axis, la finalidad de la asociación es incentivar a los estudiantes de buscar oportunidades de asistir a la universidad y proporcionarles información sobre las oportunidades de carrera con el Ejército y la forma en que el Ejército puede pagar por su educación. Luz Varela, un miembro de la Agencia Axis, dijo que los padres quieren que sus hijos vayan a la universidad, pero quieren que encuentren los recursos para hacerlo.
Muchos hispanos ven una educación universitaria sólo en sueños, pero la meta poco realista. Según una encuesta de educación, el 77 por ciento de los hispanos dicen que la razón principal por la que no asiste a una universidad es porque no pueden pagarla.
El ingreso es probablemente una de las razones por las que hispanos quieren ir a la universidad: De acuerdo con una estadística de trabajo reciente, se espera que las personas con títulos universitarios ganen 84 por ciento más que aquellos sin un título.
---
High school students get a glance of college life
By Paula Alzate
On Feb. 20, Kansas City area high school students visited the University of Central Missouri (UCM) to get a glance of college life.
About 100 students from East, J.C. Harmon, Liberty North and Blue Springs South high schools participated in the event, hosted by the U.S Army and the LULAC National Education Service Centers (LNESC). During the visit, students listened to professors and current ROTC cadets, and chatted with LNESC representatives.  
The Army and LNESC regularly partner up to conduct college visits such as the one at UCM elsewhere in the country. According to a press release from the Axis Agency, the purpose of the partnership is to encourage students to research opportunities to attend college and provide them with information about career opportunities with the Army and how the Army can pay for their education. Luz Varela, a member of the Axis Agency commenting on the Army's behalf, said parents want their children to attend college, but want them to find the resources to do so.
Many Hispanics find a college education to be desired, but unrealistic goal. According to an education survey, 77 percent of Hispanics claim the main reason they don't attend a college or university is because they can't afford it.
Income is probably one reason Hispanics want to attend college: According to a recent labor statistic, people with college degrees are expected to earn 84 percent more than those without a degree.