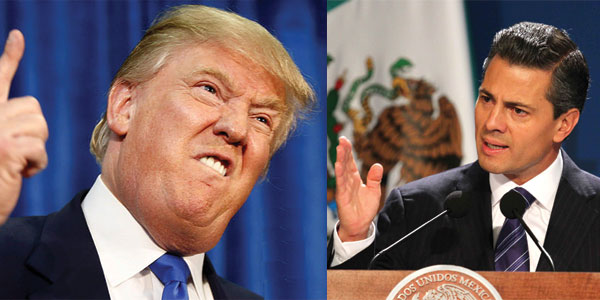 Hay cosas que, cuando no se hacen a tiempo, pierden su efectividad. Este es el caso de la respuesta del gobierno de Enrique Peña Nieto contra los ataques de Donald Trump. El Presidente mexicano se tardó 265 días en dar una respuesta oficial. Sí, 265. Dijo que México no pagaría por el muro que quiere construir Trump, y que el tono "estridente" del candidato se asemejaba al de Hitler y Mussolini.
El problema es que sus tardías declaraciones fueron en español y a medios mexicanos. Este mes, Peña Nieto, finalmente, salió en defensa de los inmigrantes de México en Estados Unidos que Trump calificó de violadores, criminales y narcotraficantes en junio. Pero ¿qué efecto tuvieron las declaraciones del gobernante mexicano? Ninguno. Dos semanas después, Trump sigue diciendo sus barbaridades contra México como si nada hubiera ocurrido.
Peña Nieto, en septiembre pasado, se había negado a criticar a Trump creyendo (equivocadamente) que no tendría posibilidades de llegar a la Casa Blanca. "No quiero contribuir a hacerle el caldo gordo (a Trump)", dijo Peña Nieto en una entrevista, utilizando una frase muy mexicana. Es decir, que la política de su gobierno iba a ser ningunear a Trump.
Una de las maneras más comunes de ofender de los mexicanos es el ninguneo. No te responden, te ignoran, hacen como que no existes. Eso lo aprendemos desde pequeños. Bueno, esa misma ley del hielo es la que Peña Nieto trató de aplicar a Trump — con terribles resultados.
La respuesta fue típica. Ante los grandes retos de su presidencia — la desaparición de 43 estudiantes en Ayotzinapa; el escape de El Chapo; alegatos de corrupción en torno a la adquisición de una residencia de lujo de su esposa a un contratista gubernamental; 52,000 muertes violentas en México; y ahora los ataques de Trump — Peña Nieto se esconde y no responde. El avestruz es la imagen de su presidencia. Pero negar la realidad no puede convertirse en la política exterior de México.
Ante la falta de liderazgo del gobierno de México, muchos mexicanos reaccionaron con indignación. Fueron nuestros artistas, escritores y periodistas quienes le respondieron a Trump, fuerte y tupido.
Aquí tengo dos ejemplos dispares. El ex canciller, Jorge Castañeda, sacó una campaña en las redes sociales asegurando que los mexicanos "no somos agachados, ni calladitos nos vemos más bonitos; es tiempo de hacerle frente a quien es un desgraciado".
Y el actor y comediante, Eugenio Derbez — quien acaba de recibir una estrella en el paseo de la fama en Hollywood — asumió una actitud similar. "Yo creo que no hay que quedarse callados", me dijo en una entrevista desde Los Ángeles. "Yo creo que sí hay que abrir la boca; yo creo que sí hay que contestarle (a Trump)". (Aquí está mi entrevista con Derbez: bit.ly/1PhkDxC.)
Derbez y Castañeda son sólo dos de los cientos de mexicanos influyentes que le contestaron a Trump mientras la presidencia de México seguía con su fallida estrategia de ninguneo.
Además, los mexicanos nunca estuvimos solos. Horas después de las primeras estupideces que dijo Trump en junio, el actor chileno Cristian de la Fuente, la actriz puertorriqueña Roselyn Sánchez y el cantante colombiano J Balvin renunciaron a participar en el concurso Señorita EUA, propiedad de Trump. Mientras Peña Nieto seguía calladito, artistas de todo el mundo nos dieron maravillosas muestras de solidaridad.
¿Qué obligó a Peña Nieto a hablar?
El asunto reventó cuando los ex Presidentes mexicanos, Felipe Calderón y Vicente Fox, salieron a denunciar en inglés el "estúpido" muro que Trump quiere que México pague. Así, acorralado, el gobierno de Peña Nieto por fin decidió responder. El primer ataque de Trump a México vino el 16 de junio del 2015, y las declaraciones del presidente contestándole se publicaron hasta el 7 de marzo del 2016. Eso se llama acción retardada.
Trump, hoy, ya está consolidado y sus burlas a México son parte de casi todos sus discursos. "¿Quién va a pagar por el muro?" le pregunta a sus seguidores. "¡México!" le responden entre gritos y risas.
Desde que Trump anunció su candidatura hemos andado peleados. Busqué una entrevista con él y, en lugar de responderme, publicó en internet el número de mi celular. Luego me expulsó de una conferencia de prensa. Su actitud, desde un principio, me pareció peligrosa y contagiosa. Estábamos, claramente, ante la presencia de un "bully". Y a los bullys hay que enfrentarlos rápida y contundentemente. De nada sirve ningunearlos.
Pero, Peña Nieto ni siquiera se movió. Durante ocho meses no hubo un solo mensaje oficial del Presidente que contrarrestara lo que decía Trump. Los resultados de esta fallida estrategia se pueden ver todos los días en la televisión y en las redes sociales.
---
Why You Shouldn't Ignore Bullies Like Trump
By Jorge Ramos
When a response to an attack isn't delivered in a timely manner, it loses impact. The perfect example: Mexican President Enrique Peña Nieto's delayed response to Donald Trump's criticism of Mexican immigrants. The Republican presidential contender first started attacking Mexico when he announced his candidacy on June 16, 2015, with his infamous comments about immigrants: "They're bringing drugs. They're bringing crime. They're rapists." Then he started saying that he planned to build a wall along the border, and that Mexico would pay for it.
  Peña Nieto didn't get around to responding to either of these broadsides until March 7 of this year — 265 days late. In an interview, Peña Nieto finally declared that Mexico would not pay for any such wall and likened Trump's "strident" tone to that of Hitler and Mussolini. Yes, Peña Nieto finally defended Mexican immigrants in the United States. But what effect did his comments have on Trump's campaign? None. Weeks later, Trump continues to repeat his nonsense about Mexico.
  Such dawdling isn't unusual for Peña Nieto. In an interview last September, Peña Nieto, when asked about Trump, said, "I don't want to be a part of his game." That was back when Peña Nieto believed that the real estate mogul had no chance to win the White House. Peña Nieto's strategy then was to ignore Trump and act as if he didn't exist: Don't engage the bully, don't directly address him and perhaps he'll go away.
  Ignoring problems tends to be Peña Nieto's typical response to his presidency's most enduring challenges: the disappearance of 43 college students in Ayotzinapa; the escape of drug kingpin El Chapo; allegations of corruption over his wife's purchase of a luxury home from a government contractor; 52,000 violent deaths in Mexico during his tenure; and now the prospect of Trump becoming the GOP candidate. Peña Nieto would rather duck and cover than react.
  But last year, while Peña Nieto was ignoring Trump's comments, other Mexicans reacted with outrage. Jorge Castañeda, Mexico's former secretary of foreign affairs, launched a social media campaign, and insisted that Mexicans "don't cower — we don't look better with our mouths shut." And the Mexican actor and comedian Eugenio Derbez — who recently got a star on Hollywood's Walk of Fame — took a similar stand. "I don't think we should keep silent," Derbez told me in a recent interview. "I think we have to speak up; I think we need to respond [to Trump]." (Watch my interview with Derbez here: bit.ly/1PhkDxC.)
  In fact, hundreds of artists, journalists, commentators and authors joined Derbez and Castañeda in defending Mexico. Shortly after Trump's initial comments, the actors Cristian de la Fuente, of Chile, and Roselyn Sanchez, of Puerto Rico, along with the Colombian singer J Balvin, backed out of participating in Trump's Miss USA pageant. While Peña Nieto kept silent, thousands of people around the world displayed a reassuring sense of solidarity with Mexico.
  So what forced Peña Nieto out of his self-induced silence?
  The Trump problem exploded again last month after former Mexican presidents Felipe Calderon and Vicente Fox strongly denounced the candidate's plan for the wall at the southern border. Peña Nieto's administration may have felt cornered, and finally decided that it was time for the president to react.
  Of course, by now Trump has consolidated his talking points about Mexico and created a gimmick for the campaign trail. During many of his recent speeches, Trump asks the crowd: "Who's going to pay for the wall?" And his cheering supporters reply, "Mexico!"
  As regular readers know, Trump and I have had a beef since I asked him to sit down for an interview last year. I sent him a handwritten note, and he responded by posting my phone number on social media. After that, he had me ejected from a news conference after I tried to question him on the logistics of his immigration policies.
  From the very start of his campaign, I felt that Trump's rhetoric was dangerous and contagious. For months now, we've witnessed a bully at work. And bullies need to be confronted quickly and without hesitation. Ignoring them is hazardous, and that's what Peña Nieto did for eight months. Not a single official message from the Mexican president countered what Trump was saying. Meanwhile, Trump's support grew.
  Peña Nieto's was a flawed strategy, and we are seeing the effects.