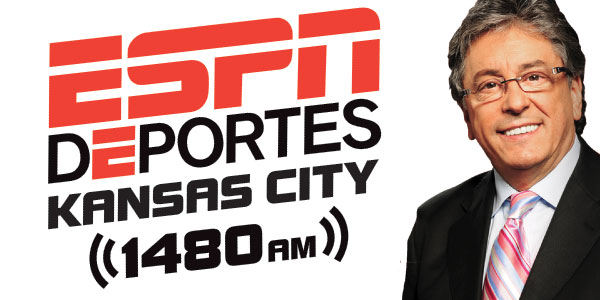 Sólo Deportes, sólo en español
La actualidad deportiva de todo el mundo puede ser vivida  desde esta semana en su estación local ESPN Deportes 1480 AM Radio Kansas.
ESPN Deportes es la señal en español para los Estados Unidos del canal de televisión ESPN Deportes, que transmite por cable o satélite especializado en deportes.
Transmite para todos los países del mundo y se ha constituido en la primera cadena de deportes en español en la nación americana.
ESPN Deportes es el líder de deportes de la región por encima de Fox Sports, GolTV, DIRECTV Sports, TyC Sports. Sus propietarios son la cadena de televisión estadounidense ABC, que a su vez dirigida por The Walt Disney Company.
ESPN Deportes Radio 1480 AM
Un nuevo formato, un mundo de campeones!
Nuestros amables oyentes podrán escuchar una programación variada de los  mejores profesionales de la radio y los deportes.
Programas como la Raza Deportiva que dirige Rafael Ramos, nos comenta e informan todo lo que pasa en el universo deportivo.
El programa estrella Jorge Ramos y su Banda, es líder en audiencia y se destaca por ser un formato actual e informal que informa, comenta y crea polémicas al aire, con la participación de los oyentes.
ESPN Deportes transmite eventos especiales como la liga de campeones de la UEFA Y CONCACAF.
Así mismo, transmite el partido de la semana y las eliminatorias mundialistas.
Sintonizamos ahora mismo y vive el deporte en vivo!
ESPN DEPORTES RADIO 1480 AM
________________________________________________________________________________________________________
ESPN Deportes arrives in KC market
By Derek Marshall
Starting this week, the latest sports news can be enjoyed in Spanish in the Kansas City area on ESPN Deportes (1480 AM).
ESPN Deportes is broadcast in Spanish throughout United States from the ESPN Deportes network of stations, via cable and satellite television, and radio. It specializes in all things sports-related. Owned by the TV network ABC, whose parent company is The Walt Disney Co., it covers sports from all countries in the world and has become the leader in sports reporting.
Listeners can enjoy various programs from renowned professionals in radio and televised sports. Shows such as "Raza Deportiva," directed by Rafael Ramos, provides a mix of commentary and straight reporting about what's happening in the sports universe. The show's hosts, Jorge Ramos y su Banda, regularly draw top ratings in their timeslot. The program has drawn praise for a factual, informative format that includes commentary and on-air discussion, including call-in participation.
In addition, ESPN Deportes broadcasts special events such as Champions League soccer for both UEFA and CONCACAF. It also broadcasts a game of the week, and various qualifying games from around the world.