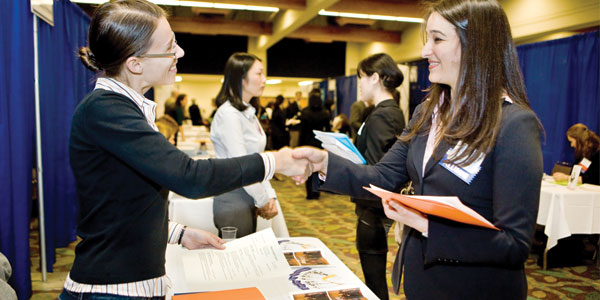 Jóvenes del área de Kansas City de 14-24 años de edad potencialmente podrán encontrar un trabajo de verano o de prácticas profesionales a través de la Feria de trabajo Hire KC Youth, un evento organizado por Kansas City, Mo., el Alcalde Sly James, la ciudad de Kansas City, Mo y la Comisión de Empleo Juvenil de Verano.
El evento se llevará a cabo de las 9 am a mediodía el 16 de abril en el Kauffman Foundation, 4801 Rockhill Road. Varias empresas y organizaciones de los sectores públicos, privados y sin fines de lucro participarán en el evento para contratar a 2,500 adolescentes y adultos jóvenes.
"Hire KC Youth es un esfuerzo de la Oficina del Alcalde para conseguir talento joven de Kansas City para entrenarlos, emplearlos y se prepararlos para sus carreras profesionales", de acuerdo con el sitio web del gobierno de Kansas City, Mo.
Además de la creación de puestos de trabajo, la ciudad tiene la intención de proveer oportunidades de empleo para crear beneficios a largo plazo para los jóvenes, prepararlos para la fuerza de trabajo, aumentar la tasa de empleo para los jóvenes de la zona y mantener a los jóvenes ocupados y productivos.
Se solicita el registro antes de atender al evento.
Para registrarse, visite hirekcyouthfair.eventbrite.com. Para obtener más información acerca de la feria de trabajo o el programa Hire KC Youth, visite www.kcmo.gov/hirekcyouth.
---
KCMO hosting Hire KC Youth Job Fair
By Melissa Arroyo
Local youth ages 14-24 can potentially land a summer job or internship through the Hire KC Youth Job Fair, an event hosted by Kansas City, Mo., Mayor Sly James; the city of Kansas City, Mo.; and the Summer Youth Employment Commission.
The event will take place from 9 a.m. to noon on April 16 at the Kauffman Foundation, 4801 Rockhill Road. Several businesses and organizations from the government, private and non-profit sectors will participate in the event to hire 2,500 teens and young adults.
"Hire KC Youth is an effort of the Mayor's Office to get Kansas City's young talent trained, employed and prepared for the workforce," according to the Kansas City Mo., government's Web site.
Besides creating jobs, the city intends for the employment opportunities to create long-term benefits for the youth by preparing them for the workforce, boosting the employment rate for area youth and keeping young people engaged and productive.
Registration is requested. To register, visit hirekcyouthfair.eventbrite.com. For more information about the job fair or the Hire KC Youth program, visit www.kcmo.gov/hirekcyouth.