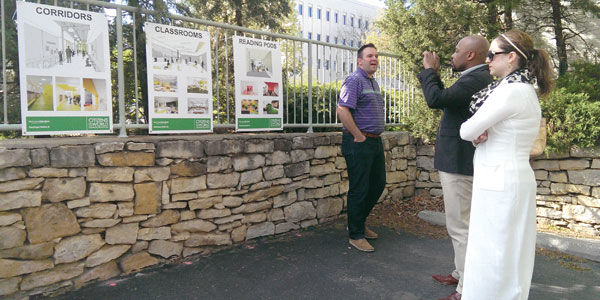 Después de la aspiración a una escuela que refleje la diversa población de Kansas City en el salón de clases, varios padres en el área se han asociado con los Ciudadanos del Mundo (CWC por sus siglas en Inglés) – una organización centrada en la experiencia de aprendizaje de los niños en un aula diversa – para hacer esta idea en realidad.
"Queremos llevar a los niños de una comunidad diversa juntos", dijo la Dra. Kristin Droege, directora ejecutiva de CWC en Kansas City. "También vamos a apoyar a los maestros con los recursos que necesitan para ayudarles a entender que cada niño es un aprendiz único."
Después de tres años de planificación y el apoyo del gobierno local y otros miembros de la comunidad, CWC Kansas City está proyectado a abrir un campus en agosto para estudiantes de jardín de niños y el primer grado. La escuela proyecta crecimiento cada año para atender a más de 1,700 estudiantes de jardín de niños hasta la preparatoria.
"Los niños tienen que ser capaces de salir al mundo y ser capaz de entenderlo," dijo Droege. "Ellos tienen que aprender desde el principio que nuestras diferencias nos hacen más fuertes y que pueden valorarse mutuamente. Pero en este momento, no pueden hacer eso porque no lo han experimentado en el aula".
Situado en el 3435 Broadway Blvd., la nueva escuela autónoma estará abierto a cualquier estudiante del distrito escolar en Kansas City, Mo. La escuela incorporará las artes, educación física, tecnología y otros componentes de aprendizaje en sus diversas clases.
CWC está aceptando solicitudes para el año escolar 2016-17. Para aprender más sobre la escuela y cómo aplicar, visite http://www.cwckansascity.org/.
________________________________________________________________________________________________________
CWC to open charter school in KCMO
By Melissa Arroyo
After envisioning a school that would reflect Kansas City's diverse population in the classroom, several local parents have partnered up with Citizens of the World Charter Schools (CWC) – an organization focused on children's learning experience in a diverse classroom – to bring the idea to fruition.
"We want to bring children of a diverse community together," said Dr. Kristin Droege, CWC Kansas City executive director. "We will also support teachers with the resources they need to help them understand that every diverse child is a unique learner."
After three years of planning and support from the local government and other community members, CWC Kansas City is scheduled to open a primary grade campus in August serving students in kindergarten and the first grade. The charter school is projected to grow each year to serve more than 1,700 K-12 students.
"Children need to be able to go out into the world and be able to understand it," Droege said. "They need to learn early on that our differences make us stronger and we can value each other. But right now, they can't do that because they haven't experienced it in the classroom."
Located at 3435 Broadway Blvd., the new charter school will be open to any student from the Kansas City, Mo., school district and incorporate arts, physical education, technology and other learning components into its diverse classrooms.
CWC is accepting applications for the 2016-17 school year. To learn more about the school and how to apply, visit http://www.cwckansascity.org/.