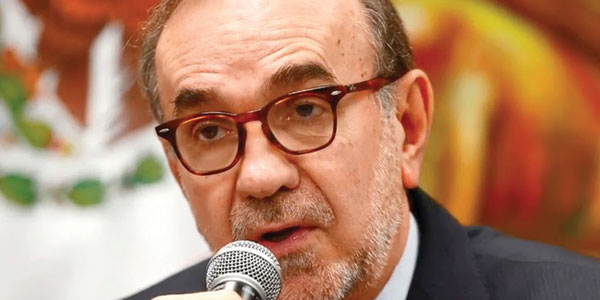 El 5 de abril, el gobierno mexicano nombró a Carlos Manuel Sada Solana como el nuevo embajador para Estados Unidos, pendiente de la aprobación por el Senado mexicano y el gobierno de Estados Unidos.
Sada Solana asumirá la responsabilidad de la embajada mexicana en Washington D.C. donde trabajó antes de servir como cónsul general en Los Ángeles -su empleo más reciente. El reemplazará a Miguel Basáñez.
Los reportes noticiosos en México y los Estados Unidos dijeron que nombrar a un nuevo embajador representa un cambio en estrategia por parte del gobierno mexicano. Varias agencias de medios de comunicación reportaron que la nueva estrategia de México tiene el propósito de mejorar las relaciones con Estados Unidos.
"Actualmente, en el contexto de la campaña electoral, hemos visto sentimientos que en muchos casos son antimexicanos entre una cierta parte de la población norteamericana", citó The New York Times la ministra mexicana de Relaciones Exteriores, Claudia Ruíz Massieu. "Este ambiente se debe en gran parte a la falta de conocimiento sobre nuestro país".
En concreto, las autoridades mexicanas han observado durante los últimos meses que el candidato presidencial republicano Donald Trump está generando un sentimiento "anti mexicano" en diferentes partes de los Estados Unidos. Según se dice, ellos desean evitar que este sentimiento se propague. De acuerdo con The Washington Post, al gobierno mexicano le preocupa que las relaciones económicas puedan verse afectadas.
En una entrevista con la estación de noticias Radio Formula, Sada Solana declaró: "La agenda bilateral no es compleja, más bien es muy compleja. Los retos de la ola "antiinmigrante" es uno de los numerosos temas que deben ser analizados como lo han estado haciendo los 50 consulados mexicanos en Estados Unidos".
Sada Solana es ex alumno de la Universidad Iberoamericana en la ciudad de México. Él ha hecho trabajos de diplomado en Holanda.
________________________________________________________________________________________________________
Mexico names new ambassador to United States
By Chara
On April 5, the Mexican government named Carlos Manuel Sada Solana as the new ambassador to the United States, pending approval by the Mexican Senate and the U.S. government.
Sada Solana will take over the Mexican Embassy in Washington, D.C., where he worked before serving as general consul in Los Angeles – his most recent job. He'll replace Miguel Basanez (Basañez in Spanish).
News reports in Mexico and the United States said that naming a new ambassador represents a shift in strategy by the Mexican government. Several media agencies reported that Mexico's new strategy is based on improving relations with the United States.
"Today, in the context of the electoral campaign, we have seen sentiments that in many cases are anti-Mexican among a certain part of the U.S. population," The New York Times quoted Mexican Foreign Minister Claudia Ruiz Massieu as stating. "This climate is due in large part to a lack of knowledge about our country."
Specifically, Mexican officials have observed over the past few months that Republican presidential candidate Donald Trump is generating an "anti-Mexican" sentiment in various parts of the United States. They reportedly want to prevent this sentiment from spreading. According to The Washington Post, Mexico is America's largest trading partner – and if Trump is elected, the Mexican government is worried that economic relations might be affected.
In an interview with news station Radio Formula, Sada Solana stated: "The bilateral agenda is not complex; it is very complex. The challenges for the 'anti-immigrant' wave is one of the many topics to be analyzed as the 50 Mexican consulates in the United States have been doing it."
Sada Solana is an alumnus of Universidad Iberoamericana in Mexico City. He has done graduate work in the Netherlands.