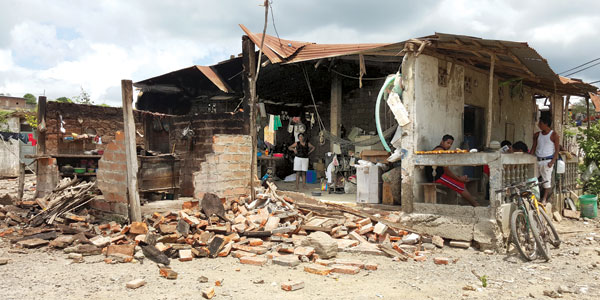 Woodland Charity envía ayuda humanitaria a Ecuador
El pasado 1 de mayo el Director de Woodland Public Charity Jorge Coromac viajó a Ecuador para brindar ayuda a los damnificados por el terremoto que el pasado 16 de abril destruyó varias ciudades en Ecuador dejando más de 650 personas fallecidas así como miles y miles sin vivienda.
Woodland, una organización con sede en Kansas City Missouri, coordinado con los líderes locales en varias comunidades para distribuir filtros de agua para la purificación de agua que beneficiaría a 1.886 personas.
Ecuador continúa recuperándose del terremoto, que ha tenido un impacto importante en la infraestructura local, regional y nacional. Además de temblores continuos que están creando daño adicional y están afectando a los residentes emocionalmente.  Sectores públicos y privados de Ecuador están tratando de restablecer los servicios a la comunidad. En los refugios masivos que el gobierno local ha establecido en el centro de la ciudad de Malta, los ecuatorianos son cada vez más que requieren de los servicios básicos de salud; y el acceso al agua, letrinas y alimentos. Los funcionarios del gobierno están visitando cada refugio para llevar a cabo un censo de población y determinar los daños sufridos por la vivienda de cada persona y determinar qué tipo de asistencia se proporcionará. Los hospitales y centros médicos han distribuido los miembros del personal de las unidades médicas móviles que viajan comunidad por comunidad para proporcionar servicios básicos de salud.
Woodland y sus colaboradores han enviado voluntarios para aquellas comunidades donde ha llegado poca o ninguna ayuda. Su próximo equipo de voluntarios está previsto visitar Ecuador del 17 al 23 de junio.
Para ser voluntario o proporcionar otros tipos de apoyo a Woodland, envíe e-mail o visite jorgec@woodlandcharity.org www.woodlandcharity.org.
____________________________________________________________________________________________________________________
Woodland Public Charity sends humanitarian aid to Ecuador
On May 1, Jorge Coromac, director of Woodland Public Charity, traveled to Ecuador to provide assistance to those affected by the April 16 earthquake that destroyed many cities in Ecuador, leaving more than 650 people dead and thousands homeless.
Woodland, a Kansas City, Mo.-based organization, coordinated with local leaders in multiple communities to distribute water filters for the purification of water that would benefit 1,886 people.
Ecuador continues to recover from the earthquake, which has had a major impact on local, regional and national infrastructure. It addition, continuous tremors are inflicting further damage and are affecting residents emotionally.
Ecuador's public and private sectors are trying to restore services to the community. In the massive shelters that the local government has established in the center of the city of Malta, Ecuadorians are getting basic health services; and access to water, latrines and food. Government officials are visiting each shelter to conduct a population census and determine the damage suffered from the housing of each person and determine what assistance will be provided. Hospitals and medical centers have distributed staff members to mobile medical units that are traveling community by community to provide basic health services.
Woodland and its collaborators have sent volunteers to those communities where little or no assistance has arrived. Its next volunteer team is scheduled to visit Ecuador from June 17 to 23.
To volunteer or provide other support to Woodland, e-mail jorgec@woodlandcharity.org or visit www.woodlandcharity.org.