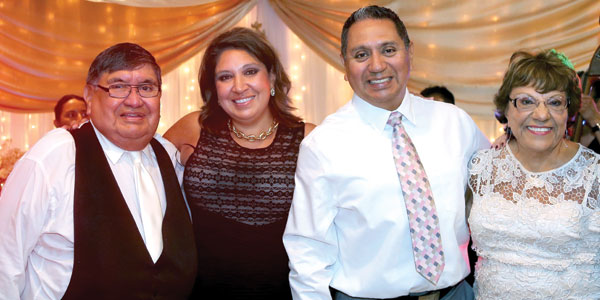 1ª parte, de material impreso a multimedia
Dos Mundos, el periódico más antiguo bilingüe en inglés-español, ganador de premios en la región de cuatro estados, ha estado llenando estantes por toda la región por más de un tercio de siglo. El periódico semanal propiedad de familia celebra este mes un acontecimiento importante: el 35º  aniversario de la publicación de su primera edición que fue en junio de 1981.
Los artículos en la actualidad son escritos pr una nueva generación de periodistas, y las imágenes son grabadas por fotógrafos que ni siquiera habían nacido cuando un pequeño grupo de editores principiantes produjeron la edición inaugural. La presentación, editorial y formato del periódico también ha evolucionado, así como el programa de la publicación. Sin embargo, la misión del periódico sigue intacto.
"Pensamos que la comunidad e inmigrantes hispanos necesitaban tener una voz y acceso a la información en su propio idioma", dijo la fundadora de Dos Mundos, jefa de redacción y co-editora Clara Reyes. "El periódico sirve como un enlace informativo, educativo y cultural para su nuevo mundo en Kansas City y como una plataforma en español para temas que son importantes para ellos".
Dos Mundos siempre ha sido más que solamente un periódico fiable con una afirmación a la historia local. El periódico ha aumentado el conocimento en general del área en los temas que transformaron el  panorama de los medios de comunicación de la región, abriendo nuevos horizontes en el periodismo impreso tanto comunitaro como étnico. Reportando desde la perspectiva de sus lectores, Dos Mundos ha conectado a muchas culturas, ha ayudado a que la comunidad sea más rica e invitante y ha mejorado la calidad de vida para los hispanos, particularmente para los recién llegados de países de habla hispana. La comunidad de usuarios importantes entre los suscriptores del periódico son escuelas primarias, secundarias y preparatorias, colegios y universidades y clases de idiomas para adultos. Dos Mundos se utiliza para enseñar inglés y español, y es un recurso para medios de noticias en inglés.
En inglés y español, la publicación semanal presenta artículos sobre los perfiles y posturas de los candidatos políticos. Cubre eventos educativos, culturales, espirituales, de entretenimiento locales y regionales,  y provee información importante sobre recursos de salud comunitaria y alertas, decretos y leyes locales, oportunidades de becas y cambios en las leyes locales, estatales y  federales.
Trabajando con investigadores estatales y federales, Dos Mundos expuso una estafa de 1 millón de dólares orientada hacia los inmigrantes y sacó a la luz vulneración de derechos laborales en la industria de comida rápida.
Actualmente, el periódico semanal ofrece columnas nacionales, sindicalizadas y editoriales escritos por expertos y periodistas, y cobertura de noticias de países de habla hispana y así como del área local y regional. El periódico contiene secciones dedicadas a negocios, salud, educación, entretenimiento, comida, clima y deportes en la edición en línea y en la impresa.
El reportaje local presenta noticias y eventos de vecindarios; deportes de liga, de equipos y de instituciones; ceremonias sociales tales como quinceañeras, nacimientos, defunciones, bodas y aniversarios; eventos conmemorativos y culturales; logros individuales en el arte, negocios, educación, industria y ciencias; creaciones, desarrollo y oportunidades de crecimiento de empresas grandes y pequeñas.
"Se necesita trabajo de equipo, todos en nuestro personal trabajando juntos, colaborando", dijo Diana Raymer, gerente de anuncios publicitarios e hija de Reyes.
Las oficinas y espacio de producción en la nueva localidad del periódico en Kansas City, Kansas está ocupado por 25 profesionales que participan para producir y distribuir Dos Mundos.
"Si no fuera por la gente que nos ayuda y por su dedicación y talento, no habríamos logrado las metas ni ganado los premios", dijo Reyes.
Dos Mundos  ha ganado premios de la Asociación Nacional de Publicaciones Hispanas en catetogorias múltiples, y en el 2005, Reyes y su esposo Manuel, presidente y coeditor del periódico recibieron el premio de la asociación por éxito de toda la vida. Clara Reyes fue premiada como Editora Latina del Año.
Hace diez años, la familia Reyes fundó Reyes Media Group, y en el 2010 agregó tres estaciones de radio en español para expandir el alcance de su programación y noticias impulsados por la comunidad.
"La oportunidad para abrir ventanas de comprensión y ofrecer acceso a información importante y práctica es un honor y una responsabilidad", dijo Reyes.
Próximo 23 de junio: antes y ahora: celebrando 35 años, 2ª parte, desde el sótano al edificio
_____________________________________________________________________________________________________________________
Now & then: celebrating 35 years
By Edie R. Lambert
Part 1, from print to multi media
The award-winning, bilingual and oldest English-Spanish newspaper in the four-state region, Dos Mundos has now been filling racks across the region for more than a third of a century. The family-owned weekly this month celebrates a notable milestone: the 35th anniversary of the publication of its first edition in June 1981.
Articles these days are written by a new generation of journalists, and images are recorded by photographers who weren't even born when a handful of publishing neophytes produced the inaugural edition. The newspaper's appearance, editorial content and format have evolved, too, as well as the publishing schedule. But the mission of the broadsheet remains unchanged.
"We thought the Hispanic community and immigrants needed to have a voice and access to information in their own language," said Dos Mundos founder, editor and co-publisher Clara Reyes. "The paper serves as an informational, educational and cultural link to their new world in Kansas City and a platform in Spanish for issues that are relevant to them."
Dos Mundos has always been more than just a reliable periodical with a claim to local history. The broadsheet has raised the at-large area's awareness of Hispanic issues and transformed the region's media landscape, breaking new ground in both community and ethnic print journalism.
Reporting from the perspective of its readers, Dos Mundos has bridged many cultures, helped make the community richer and more inviting and improved the quality of life for Hispanics, particularly newcomers from Spanish-speaking countries. Key constituencies among the paper's subscribers are elementary, middle and high schools; colleges and universities; and adult languages classes. Dos Mundos is used to teach both English and Spanish, and it's a resource for English-only news outlets.
In English and Spanish, the weekly publishes feature articles on election issues and political candidate profiles and platforms. It covers local and regional education, cultural, spiritual and entertainment events and provides critical information about community health resources and alerts, local laws and ordinances, scholarship opportunities and changes in local, state and federal laws.   
Working with state and federal investigators, Dos Mundos exposed a million dollar scam targeting immigrants and brought to light labor rights violations in the fast food industry.
Nowadays, the weekly offers national news, syndicated columns and editorials by international pundits and journalists and news coverage of Spanish-speaking countries as well as the local and regional area. There are sections dedicated to business, health, education, entertainment food, weather and sports in both online and print editions. Local reporting showcases neighborhood news and events; intermural, league and team sports; social functions, such as quinceañeras, births, deaths, weddings and anniversaries; commemorative and cultural events; individual achievements in the arts, business, education, industry and science; and small and big business start-ups, development and growth opportunities.
"It all takes teamwork, everyone on our staff working together, collaborating," said Diana Raymer, Dos Mundos ad manager and Reyes's daughter.  
Office and production space at the newspaper's new home in Kansas City, Kan., is occupied by the 25 professionals involved in producing and distributing Dos Mundos.
"If not for the people helping us and their dedication and talent, we wouldn't have achieved our goals and won the awards," Reyes said.
Dos Mundos has won awards from the National Association of Hispanic Publications in multiple categories, and in 2005, Reyes and her husband, Manuel, the newspaper's president and co-publisher received the association's lifetime achievement award. Clara Reyes is a Latina Publisher of the Year laureate.  
Ten years ago, the Reyes family founded the Reyes Media Group, and in 2010, they added three Spanish-language radio stations to expand the reach of its community-driven news and programming.   
"The opportunity to open windows of understanding and offer widespread access to relevant, practical information is an honor and a responsibility," Reyes said.
Coming June 23: now & then: celebrating 35 years, part 2, from basement to building.