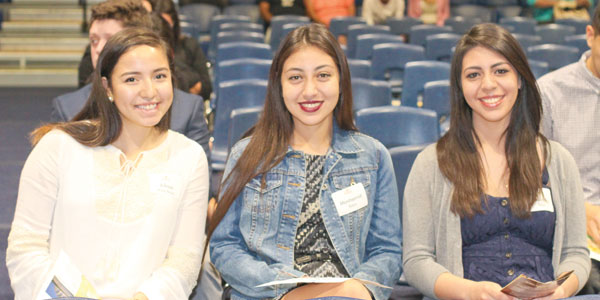 Desde 1983, los estudiantes hispanos han sentido el impacto financiero del Greater Kansas City Hispanic Development Fund (HDF).
Según el sitio web de HDF, la organización ha otorgado mas de $3.5 millones de dólares en becas durante su historia. Los estudiantes siguen buscando la ayuda de la organización.
Para el año académico 2016, el programa de becas de HDF tuvo cerca de 400 aplicaciones, según Mayra Aguirre, la directora ejecutiva de HDF. El número de becas otorgadas varía según el año, pero por los últimos tres años, un promedio de 300 becas se han concedido. Cantidades de becas van desde $500 dólares a $3,000 dólares. Esta oportunidad de beca proporciona el estímulo a las generaciones más jóvenes para buscar ayuda financiera para ayudarles a través de la educación.
"Cuando hablamos con muchos de nuestros alumnos y académicos actuales, lo que mencionan es lo que significa la beca para ellos, independientemente de la cantidad," dijo Aguirre. "(Lo que significa) es que les brinda esperanza (y les dice) que su comunidad cree en ellos."
Aguirre dijo que ha visto un aumento en las solicitudes de becas. Ella y el Consejo Asesor de HDF cree que el incremento habla a las necesidades de los estudiantes para el apoyo financiero debido a los crecientes costos de la educación superior.
La HDF tiene fuertes asociaciones con los distritos escolares del área de Kansas City, consejeros y universidades, según Aguirre. Estos socios  han ayudado a promover la beca de HDF — y también han servido como voluntarios de HDF y como miembros del Consejo Asesor. Sin embargo, un componente clave en aumentar la conciencia de la beca ha sido la larga presencia de HDF en la comunidad, Aguirre sugirió.
"Nuestras becas han estado por alrededor de 30 años," Aguirre declaró a través de correo electrónico. "Los estudiantes y las familias saben de buscarlo cada año."
Además de su programa de becas, la HDF ofrece subvenciones a organizaciones no lucrativas locales. El programa de becas y subvenciones han impactado la comunidad de Kansas City en la provisión de oportunidades financieras para el crecimiento en la educación y los negocios, especialmente entre los hispanos.
Para obtener más informacion acerca de la HDF, en particular su programa de becas o subvenciones, llame a Aguirre al número (816) 268-3289, o visita http://hdfc.org o https://www.growyourgiving.org/scholarships/hispanic-development-fund-scholarship-program.
---
HDF continues providing financial assistance to students
By Katherine Diaz
Since 1983, Hispanic students have felt the financial impact of the Greater Kansas City Hispanic Development Fund (HDF).
According to the HDF website, the organization has awarded more than $3.5 million in scholarships during its history. And students continue to seek the organization's assistance.
For the 2016 academic year, the HDF Scholarship Program had nearly 400 applications, according to Mayra Aguirre, HDF executive director. The number of scholarships granted varies by year, but for the previous three years, an average of 300 scholarships have been awarded. Scholarship amounts range from $500 to $3,000. This scholarship opportunity provides encouragement to younger generations to seek financial help to aid them through higher education.
"When we talked to a lot of our alumni and current scholars, what they mentioned is what the scholarship means to them, regardless of the amount," Aguirre said. "(What it means) is that it provides them hope (and tells them) that their community believes in them."
 Aguirre said she has seen an increase in scholarship applications. She and the HDF Advisory Board believe the increase speaks to students' need for financial support because of the rising cost of higher education.
The HDF has strong partnerships with Kansas City area school districts, counselors and universities, according to Aguirre. Those partners have helped promote the HDF scholarship – and served as HDF volunteers and board members. However, a key component in increasing awareness of the scholarship has been the HDF's long-standing community presence, Aguirre suggested.
"Our scholarship has been around for over 30 years," she stated via e-mail. "Students and families know to look for it each year."
In addition to its scholarship program, the HDF provides grants to local non-profits. Both the scholarship program and grantmaking have impacted the Kansas City community in providing financial opportunities for growth in education and business, especially among Hispanics.
 For more information about the HDF, particularly its scholarship program or grants, call Aguirre at (816) 268-3289, or visit http://hdfc.org or https://www.growyourgiving.org/scholarships/hispanic-development-fund-scholarship-program.