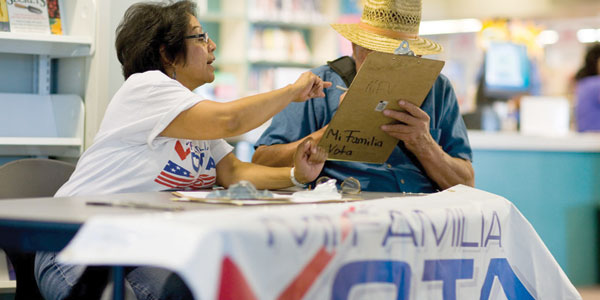 Después de meses de debates de los candidatos presidenciales, la carrera por la Oficina Oval está cerca su fin.
Eso significa que es tiempo de asegurarse de que la voz hispana se oye. Y eso sólo se puede lograr asegurando que todos los votantes hispanos elegibles se han registrado a las elecciones presidenciales de noviembre.
El voto hispano va a llevar un peso considerable en Kansas y Missouri. Según la encuesta sobre la Comunidad Estadounidense de la Oficina del Censo de EE.UU. 2014, realizado por el Centro de Investigación Pew, los votantes hispanos elegibles conforman el 38 por ciento del total de los votantes de Kansas. Constituyen el 46 por ciento de los votantes elegibles en Missouri.
Para votar, cada persona debe cumplir con los requisitos de los votantes. Entre ellos se incluyen con 18 años en el momento de la elección, ser ciudadano de los EE.UU. y presentar pruebas de estado con documentación válida, ser residente del estado y proporcionar una identificación válida.
Residentes de Kansas deben inscribirse 21 días antes de las elecciones. En Missouri, los residentes deben registrarse el cuarto miércoles antes de las elecciones. Puede registrarse en línea, descargando y enviando por correo el formulario de inscripción o en persona en la oficina de elecciones del condado.
Después de registrarse, cada nuevo votante recibirá una certificación de registro de votante con una lista de lugares de votación más cercanos. Si no está seguro de los lugares o no recibe su lista, póngase en contacto con su oficina de elecciones del condado.
En cuanto esté finalizado el registro, los individuos pueden votar en las elecciones primarias el 2 de agosto (la elección presidencial general y otras elecciones importantes se llevará a cabo el 8 de noviembre). Los lugares de votación de Kansas estarán abiertos de 7 a.m.-7 p.m. En Missouri estarán abiertos de 6 a.m.-7 p.m.
Hay otras reglas y restricciones para las personas que viven en el extranjero, los que reúnen los requisitos para la votación anticipada y los que han cambiado de residencia.
Para obtener más información sobre la votación en Kansas, visita http://voteks.org/main.html. Para obtener más informacion sobre el registro de votantes de Missouri, visite http://www.sos.mo.gov/elections/goVoteMissouri.
_________________________________________________________________________________________________________________
How and when to register to vote
By Katherine Diaz
After months of presidential candidate debates, the race for the Oval Office is near its end.
That means it's time to make sure the Hispanic voice is heard. And that can be accomplished only by ensuring that every eligible Hispanic voter is registered for November's presidential election.
The Hispanic vote will carry considerable weight, including in Kansas and Missouri. According to the U.S. Census Bureau's 2014 American Community Survey, conducted by the Pew Research Center, Hispanic-eligible voters make up 38 percent of total Kansas voters. They make up 46 percent of eligible voters in Missouri.
To vote, each person must meet the voter requirements. Those include being 18 years old at the time of the election, being a U.S. citizen and providing proof of status with valid documentation, being a state resident and providing a valid ID.
Kansas residents must register 21 days before Election Day. Missouri residents must register by the fourth Wednesday before the elections. You can register online, by downloading and mailing in the registration form or in person at your county election office.
After registering, each newly registered voter will receive a voter registration certification with a list of the nearest voting locations. If you're unsure of the locations or don't receive your list, contact your county election office.
Once registration is complete, individuals may vote in the primary elections on Aug. 2 (the general presidential election and other major elections will take place on Nov. 8). Kansas' polling places will be open 7 a.m.-7 p.m. Missouri's will be open 6 a.m.-7 p.m.
There are other rules and restrictions for those living overseas, those who qualify for advance voting and those who've changed residency.
For more information on voting in Kansas, visit http://voteks.org/main.html. For more information on Missouri voter registration, visit http://www.sos.mo.gov/elections/goVoteMissouri.