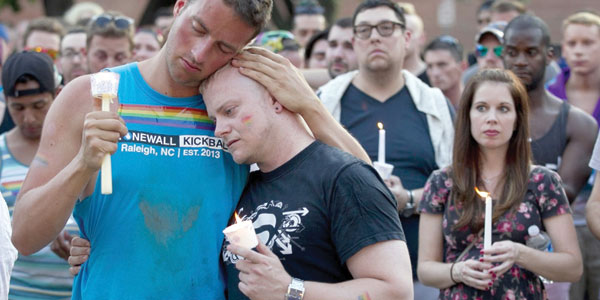 ORLANDO, Florida — "I love you", decía el mensaje de texto. La mamá me enseñó su celular donde aparecía el mensaje de su hijo a las 2:07 de la mañana. Y después nada. Esa pantalla, fría y rallada, era lo único que le quedaba de su hijo. La mujer no pudo decirme más, y se fue llorando. No sabía si su hijo había muerto o estaba herido. Me quedé inmóvil mientras la vi irse. (Luego, por la televisión, me enteraría que su hijo fue uno de los 49 muertos en el centro nocturno Pulse.)
A las afueras de un centro comunitario en Orlando, donde se estaban reuniendo los familiares de las víctimas, me encontré a un hombre mexicano que acababa de llegar de Chicago para identificar el cadáver de su hijo. Salió a buscar unos lentes oscuros de su auto. Tenía los ojos rojos, reventados de tanto llorar. Una tía de Puerto Rico buscaba infructuosamente una foto de su sobrino en el celular para enseñármela. Pero ya lo había perdido dos veces — en su teléfono y en la discoteca.
Cuando llegué al hotel la noche del domingo — el mismo de la masacre — no podía sacarme de la cabeza a la madre del texto, al padre de Chicago, a la tía que buscaba un poquito de esperanza en su celular. Esas eran caras de la tristeza más infinita. Y luego pensé: Pude haber sido yo o mis vecinos o mis amigos. Ese es el horror del terrorismo, que nos puede pasar a cualquiera en cualquier momento. Si el pistolero hubiera decidido viajar dos horas al sur, hacia Miami, en lugar de manejar dos horas al norte, hacia Orlando, la tragedia habría sido cerca de casa.
Como periodista, sigo tratando de entender lo que pasó en Orlando para luego explicarlo en la televisión, mis columnas, Twitter y Facebook. Pero es complicado.
La masacre de Orlando — la peor en la historia de Estados Unidos realizada con un tiroteo — no puede explicarse tan solo como un acto terrorista. Ni simplemente como un ataque homofóbico. Ni tampoco como un problema por el fácil acceso a las armas de fuego. Ni como un asunto de salud mental. Ni como un agravio a la comunidad latina. Ni como un acto individual de un joven ególatra, trastornado y estúpido. No, lo de Orlando es todo esto junto y más.
Es, sin duda, un acto de odio, como lo describió el presidente Obama. Pero, el problema en Estados Unidos es que los que están llenos de odio pueden comprar un arma de guerra en sólo unos minutos. Desde que Obama llegó a la Casa Blanca en el 2008 ha dado 16 discursos después de una masacre. Diez y seis.
Y Donald Trump o Hillary Clinton darán muchos más por qué aquí no hay ninguna voluntad política para limitar el acceso a los rifles y pistolas. Traducción: Hay que prepararse para la siguiente matanza.
En el noticiero hicimos un reportaje sobre qué hacer en caso de que alguien se meta a un lugar público y empiece a disparar. Primero huye. Si no puedes, escóndete. No pierdas tiempo llamando a familiares, al 911 o a la policía. No te hagas el muerto — el pistolero puede venir a rematarte. Y si no tienes más remedio, ataca al atacante. Otros quizás hagan lo mismo y se salven. No quisiera tener esta plática con mis hijos, pero ya es inevitable.
Nada, ni el dolor más personal, se escapa de la política en un año electoral. Trump insiste en su propuesta de prohibir temporalmente la entrada a los musulmanes en el mundo. Pero eso no hubiera evitado esta masacre ya que el pistolero, Omar Mateen, nació hace 29 años en Nueva York. Trump, que tiene una respuesta para todo, dijo que el terrorista nació aquí porque el gobierno le permitió a su familia emigrar a Estados Unidos. Eso es culpabilidad por vínculo sanguíneo.
La realidad es que no podemos sancionar a toda una religión por lo que hizo una sola persona. Eso sería tan absurdo como culpar a todos los estadounidenses blancos de la matanza realizada por Adam Lanza en una escuela de Connecticut en el 2012 — donde murieron 20 niños y seis adultos — o por el acto terrorista de Timothy McVeigh contra un edificio del gobierno en Oklahoma City, que dejó 168 muertos en 1995.
Todos mis viajes anteriores a Orlando fueron para divertirme. Esta vez, sin embargo, fue para ver lo que hace el odio. Uno espera que después de un texto que diga "I love you" haya, por lo menos, una sonrisa. No la muerte.
(Jorge Ramos, periodista ganador del Emmy, es el principal director de noticias de Univisión Network. Ramos, nacido en México, es autor de nueve libros de grandes ventas, el más reciente de los cuales es "A Country for All: An Immigrant Manifesto".)
(¿Tiene algún comentario o pregunta para Jorge Ramos? Envíe un correo electrónico a Jorge.Ramos@nytimes.com. Por favor incluya su nombre, ciudad y país.)
_______________________________________________________________________________________________________________
In Orlando, an Act of Hatred — and a Message of Love
By Jorge Ramos
ORLANDO, Florida — "I love you," read the text message that the mother's son sent to her at 2:07 a.m., the last time she heard from him. Many excruciating hours later, when I met her, she still didn't know where he was — whether he was safe without a way to reach her, wounded or dead. After we talked, I watched her walk away, weeping. I later learned from news reports that her son was among 49 dead inside Pulse nightclub.
That same day, June 12, outside a community center in Orlando where victims' families had gathered, I met a Mexican man who had arrived from Chicago to identify his son's body. As we spoke, he stopped to fetch his sunglasses to cover his eyes, bloodshot from many tears. I also met an aunt from Puerto Rico, who searched her phone in vain for a picture of her nephew to show me. He, too, was killed in the nightclub.
When I got back to my hotel that Sunday night, almost a full day after the massacre, I couldn't shake these images of profound sadness — a son's final message to his mother, an anguished father from Chicago, a victim's aunt frantically searching for her nephew's face on her phone. Later, a grim realization set in: This attack could have happened to me, or my family, or my neighbors or friends. That's the horror of terror — it can happen to anybody, anytime. If the shooter had driven two hours south, toward Miami, I thought, instead of north to Orlando, the tragedy would have struck closer to home.
As a journalist, I'm still trying to understand how and why this attack happened — so I can somehow explain it on television, in my column and on social media. But the Orlando massacre — the deadliest shooting in American history — was deeply complicated. It wasn't just terrorism, or a violent, homophobic act, or the result of easy access to firearms, or evidence of the shooter's mental illness, or an attack on the Latino community. No, the Orlando tragedy was about all of this — and more.
The attack was indeed an act of hatred, as President Obama described it hours later, which occurred in a country where people full of hatred can buy a war-grade weapon in a matter of minutes. Since Obama entered the White House in 2009, he has delivered 16 speeches after mass shootings. Sixteen.
Yet we still lack the political will in the U.S. to limit access to assault rifles and handguns. So the next president, be it Donald Trump or Hillary Clinton, will deliver many such speeches as well.
Recently on our newscast at Univision, we aired a segment explaining what to do if someone enters a public place and starts shooting: Run, experts on such matters advise. And if you can't run, then hide. Don't waste time calling your family or 911. Don't play dead; the shooter might come back and pick you off. And if you're cornered, attack the attacker. Perhaps others will join you and fewer lives will be lost. I hate the thought of having this sort of conversation with my children, but it's become unavoidable.
As expected, nothing escapes politics in an election year. After the shooting, Donald Trump revived his proposal for a temporary ban on Muslims entering the U.S. Of course, such a ban wouldn't have prevented this massacre, since the shooter, Omar Mateen, was born in New York. Still, Trump, who has an answer for everything, retorted that the terrorist was born here because the government allowed his family to immigrate to the United States. That's guilt by blood relation.
But we can't blame everyone of a certain religion or ethnicity because of one person's actions. That would as absurd as blaming white Americans for the massacre by Adam Lanza, who killed 20 children and six adults in a Connecticut school in 2012, or for Timothy McVeigh's terrorist act against a federal building in Oklahoma City in 1995, where 168 people died. In the past, all my trips to Orlando have been for pleasure. This time, though, it was to witness the unfathomable damage that hatred can inflict on a community.
I'm still haunted by that text message with those last words: "I love you." A message like that should mark the beginning. Never the end.
(Jorge Ramos, an Emmy Award-winning journalist, is a news anchor on Univision and the host of "America With Jorge Ramos" on Fusion. Originally from Mexico and now based in Florida, Ramos is the author of several best-selling books. His latest is "Take a Stand: Lessons From Rebels." Email him at jorge.ramos@nytimes.com.)