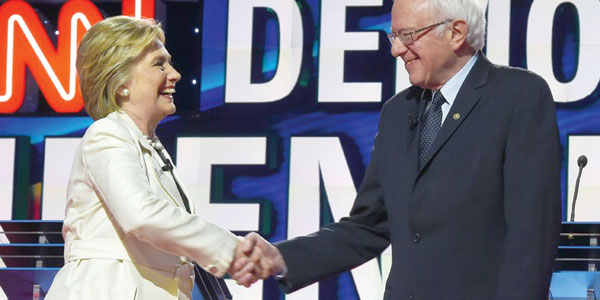 Finalmente sucedió lo previsto por muchos: El ex candidato presidencial demócrata Bernie Sanders anunció su respaldo a la presunta candidata presidencial demócrata Hillary Clinton – su antiguo enemigo político.
Durante la larga campaña contra Clinton en las primarias demócratas, el senador de Vermont luchaba por una "revolución política" y supo energizar a millones de estadounidenses que comparten su idea que un cambio es necesario. Ahora, Sanders llama a la unidad del partido. Sanders quiere ver el partido democrático unificado para mantener el control de la Casa Blanca por otros cuatro años.
El respaldo de Sanders esperado por un largo tiempo se llevó a cabo el martes (12 de julio) en Portsmouth, N. H., en una escuela secundaria local. El evento terminó formalmente la rivalidad política entre los dos y marcó el comienzo del esfuerzo en conjunto para realizar una campaña en contra al enemigo en común y candidato presidencial republicano Donald J. Trump.
"No es ningún secreto que Hillary Clinton y yo no estamos de acuerdo en una serie de cuestiones", dijo el senador cerca del final de un discurso que fue transmitido en línea y televisado en vivo. "Eso es lo de lo que esta campaña se trata."
"Nuestro trabajo ahora es ver que la plataforma demócrata gane el Senado, la Cámara y una la presidencia ocupado por Hillary Clinton", dijo Sanders. "Voy a hacer todo lo posible para que esto suceda."
Después del discurso del Senador Clinton tomó el podio para dar la bienvenida y agradecer a todos los presentes, a los que califica de "amigos, antiguos y nuevos". Clinton indicó que ella y Sanders "unen sus fuerzas para derrotar a Donald Trump."
"Somos más fuertes juntos!", dijo Clinton.
Es muy bueno para ver a Sanders finalmente apoyar al candidato mejor calificado para el trabajo. Bien hecho, Senador Sanders.
---
Hillary Clinton's long-awaited endorsement
Analysis and commentary by Dermidio Juez-Perez
It has finally happened: Former Democratic presidential candidate Bernie Sanders is endorsing presumptive Democratic presidential nominee Hillary Clinton – his former political enemy.  
When campaigning against Clinton during the Democratic primaries, the U.S. senator from Vermont called for a "political revolution" and was successful at energizing millions of Americans who believed a change needed to take place. Now, he's calling for unity. Sanders wants to see the Democratic Party unified and keep the White House for another four years.
Sanders' long-awaited endorsement took place on Tuesday (July 12) in Portsmouth, N.H., at a local high school. The event formally ended the political rivalry between the two and marks the beginning of joint effort to campaign against shared enemy and Republican presidential candidate Donald J. Trump.
"It is no secret that Hillary Clinton and I disagree on a number of issues," the senator said near the end of a speech that was streamed online and televised live. "That is what this campaign has been about."
However, Sanders added that he and Clinton had united their respective campaigns during a recent Democratic Platform Committee meeting in Orlando, Fla., to craft "by far, the most progressive platform in the history of the Democratic Party."
"Our job now is to see that platform implemented by a Democratic Senate, a Democratic House and a Hillary Clinton presidency," Sanders said. "I am going to do everything I can to make that happen."
After the senator had endorsed and praised Clinton, she took to the podium to welcome and thank everyone present, calling them "friends, old and new." Clinton stated she and Sanders were "joining forces to defeat Donald Trump."
"We are stronger together!" Clinton said.
It's great to see Sanders finally endorse the most qualified candidate for the job. Good job, Senator Sanders.