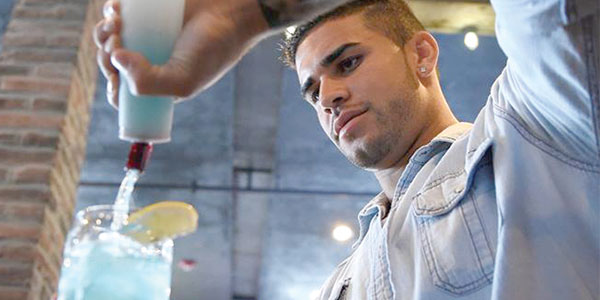 El 7 de julio, los jugadores de Sporting Kansas City demostraron sus talentos trabajando de barmans en No Other Pub ubicado en Power and Light District en Kansas City, Mo.
Los fans pudieron ordenar bebidas con sus jugadores favoritos, tomarse fotografías con ellos y participar en una rifa para ganar premios autografiados. Los fans también pudieron jugar ping pong contra jugadores selectos de Sporting. Incluso uno de los fans recibió una serenata de cumpleaños cantada por los jugadores.
Entre los jugadores participantes estuvieron Dom Dwyer, Ike Opara, Chance Myers y Matt Besler.
Las ganancias de este segundo evento anual con celebridades trabajando como barmans fueron para The Victory Project (El Proyecto Victoria). Fundado en el 2013, The Victory Project es un producto de la organización madre, Sporting Club. De acuerdo con la organización, su meta es "hacer una diferencia concreta en las vidas de los niños que están luchando contra el cáncer y todos los retos de la vida".
La organización, que recaudó $100,000 en el 2015, ha financiado proyectos para reciclar equipo de fútbol soccer para jóvenes de bajas situaciones económicas. También ha desarrollado la tradición de honrar a un niño que lucha contra el cáncer en cada juego en casa de Sporting.
"The Victory Project está muy cerca de mi corazón. Forma parte de quienes somos", dijo Myers.
Sporting había ganado o empatado siete de sus últimos ocho partidos y estaba en quinto lugar en la Western Conference al iniciar su partido con Chicago Fire el miércoles 13 de julio en Toyota Park. Este sábado 16 de julio, Sporting saldrá de gira para jugar contra Colorado Rapids.
---
SKC players tend bar for charity event
By Nick Moreno
On July 7, Sporting Kansas City players displayed their bartending talents at No Other Pub in Kansas City, Mo.'s Power and Light District.
Fans could order drinks from their favorite players, take pictures with them and enter a raffle to win autographed prizes. Fans also could play ping pong against select Sporting players. One fan even received a birthday serenade from the players.
Participating players included Dom Dwyer, Ike Opara, Chance Myers and American international Matt Besler.
Proceeds from this second annual celebrity bartending event went to The Victory Project. Founded in 2013, The Victory Project is a product of Sporting's parent organization, Sporting Club. According to the organization, its goal is "make a tangible difference in the lives of children who are battling cancer and all of life's challenges."
The organization, which raised $100,000 in 2015, has funded projects to recycle soccer gear to underprivileged youth. It also has developed a tradition of honoring a child battling cancer at every Sporting home game.
"The Victory Project is near and dear to my heart," Myers said. "It's part of who we are."
Sporting had won or tied seven or its last eight games and was in fifth place in the Western Conference entering its meeting with the Chicago Fire on Wednesday (July 13) at Toyota Park. This Saturday (July 16), Sporting will be on the road against the Colorado Rapids.