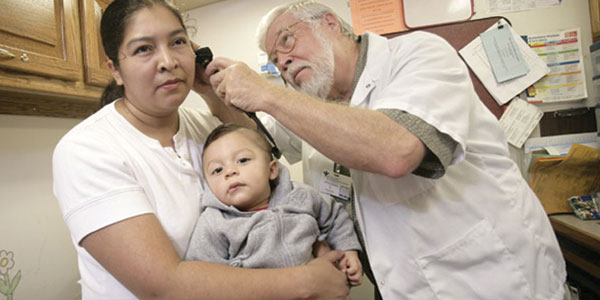 Servicios de salud son limitados para los inmigrantes indocumentados en los Estados Unidos.
Los inmigrantes indocumentados no califican para beneficios públicos; sin embargo, la asistencia médica existe en ciertas situaciones. Por ejemplo, en Kansas y Missouri si un indocumentado está sufriendo por una emergencia médica potencialmente mortal, solo entonces él o ella recibirá ayuda. Las mujeres también pueden recibir atención médica prenatal, pero ya no pueden considerarse más asistencia médica después del embarazo.
La Ley de Reconciliación del Presupuesto Omnibus Sexta (SOBRA) es un programa que proporciona ayuda a los inmigrantes indocumentados en situaciones extremas o de los servicios de parto y nacimiento. Según el Departamento de Salud de Kansas y el Medio Ambiente (KDHE), casos de embarazos reciben aprobaciones más rápidas para la elegibilidad SOBRA que otras condiciones médicas.
Para situaciones que no implican trabajo de parto, el individuo que busca asistencia médica debe completar una solicitud y enviarlo para revisión, junto con los expedientes médicos personales. En cuanto se ha recibido por el agente fiscal médica (EDS), la aprobación o la denegación de elegibilidad se determina por el EDS y el director del programa SOBRA.
Clínicas de salud locales pueden proporcionar información adicional sobre las opciones de cuidado de la salud para los inmigrantes indocumentados.
Un estudio de 2012 realizado por el Pew Hispanic Center encontró que 75,000 inmigrantes no autorizados estaban viviendo en Kansas y 65,000 vivian en Missouri – un total de 140,000 personas sin ayuda médica.
---
Healthcare options limited for unauthorized immigrants
By Katherine Diaz
Healthcare services are limited for undocumented immigrants in the United States.
Undocumented immigrants don't qualify for public benefits; however, medical assistance exists in certain situations. In Kansas and Missouri, for example, if an illegal immigrant is experiencing a life-threatening medical emergency, only then will he or she receive help. Women also may receive prenatal medical care, but no longer qualify for further medical assistance after pregnancy.
The Sixth Omnibus Budget Reconciliation Act (SOBRA) is one program that provides aid to undocumented immigrants in dire situations or for labor and delivery services. According to the Kansas Department of Health and Environment (KDHE), cases involving pregnancies receive faster approvals for SOBRA eligibility than other medical conditions.
For situations not involving labor and delivery, the individual seeking medical assistance must complete an application and send it for review, along with personal medical records. Once it's received by the medical fiscal agent (EDS), approval or denial of eligibility is determined by the EDS and the SOBRA program manager.
Local healthcare clinics can provide additional information about healthcare options for undocumented immigrants.
A 2012 study conducted by the Pew Hispanic Center found that 75,000 unauthorized immigrants were living in Kansas and 65,000 were living in Missouri – a combined total of 140,000 individuals without medical aid.