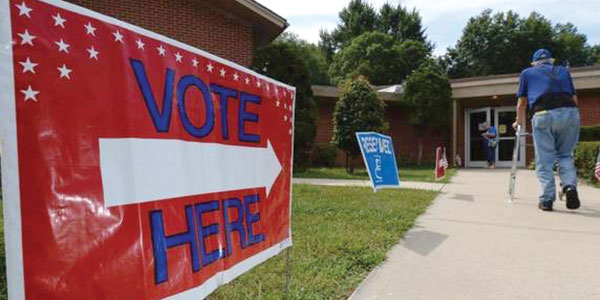 Los residentes de Kansas que se registraron para votar en la elección primaria del martes antes de la fecha límite del 12 de julio, fueron capaces de votar y que su voto contara incluso si no habían proporcionado documentos para comprobar su ciudadanía, ordenó un juez la semana pasada.
El 29 de julio, el juez del Tribunal del Distrito del Condado Shawnee, Larry Hendricks, emitió un mandamiento judicial temporal permitiéndole a los votantes de Kansas participar en la elección del 2 de agosto para las candidaturas locales, estatales y federales. El Sindicato Americano de Libertades Civiles solicitó el mandamiento  para bloquear el programa de registro de dos pasos  de Kansas para las elecciones primarias. La orden temporal del juez fue dada solo cuatro días antes de la elección.
En riesgo estaban 17,500 residentes de Kansas que se habían registrado en la oficina de registro de vehículos de motor bajo la "ley de votantes de la oficina de vehículos" la cual no requiere documentos de ciudadanía.  Desde el 2013, Kansas  ha solicitado que los nuevos votantes demuestren documentación  para comprobar la ciudadanía de Estados Unidos, pero la ley está siendo cuestionada en la corte.
Con el intento de satisfacer las leyes estatales y federales, la Directiva de Normas y Reglamentos de Kansas aprobó el mes pasado una norma temporal. Autorizó a los  oficiales del condado descontar los votos en las elecciones locales y estatales por los votantes nuevos que no hubieran proporcionado el comprobante de ciudadanía.
Para esos nuevos votantes demócratas o  republicanos en el "limbo del registro", su votación solamente sería  contada  su votación en las contiendas federales – para el  tercer distrito del Congreso la Cámara de Representantes, y el Senado de Estados Unidos en la elección primaria estatal en agosto.
El nuevo mandato tendría que haber permanecido vigente  hasta el 8 de noviembre, la fecha de la elección presidencial, y afectaba a los 50,000 votantes. Pero el juez Hendricks programó otra audiencia en septiembre en el requisito de comprobante de ciudadanía en Kansas y el registro de votantes de dos pasos  o el "sistema de votación de dos niveles" del estado.
Los nuevos votantes pueden revisar su elegibilidad para votar o si están en la lista de votantes que se registraron pero que no han cumplido con la ley de comprobante de ciudadanía 2013. La Liga de Mujeres Votantes de  Kansas  obtuvo los nombres de los votantes en el  "limbo del  registro". Visite  lwvk.org. Busque bajo "suspended voter registrations" (registros suspendidos de votantes) y haga clic en "the latest suspense list (by county)" (última lista de suspensiones (por condado)).
Los votantes también pueden buscar en el sitio web de la Secretaría de Estado de  Kansas en sos.ks.gov. Haga clic en "Search Your Voter Information" (Busque su información de votantes) bajo "Elections and Legislative" (elecciones y legislativo)  y "Registration and Voting" (registro y votación).
Los nombres de los nuevos votantes en la elección primaria del martes en el "limbo del registro" no aparecieron en el libro de registros. Cuando el juez emitió la orden el 29 de julio, los condados ya habían imprimido sus libros de registro. Fue decisión de las oficinas de elección buscar si los votantes se habían registrado en la oficina de licencias de vehículos, y los votantes afectados tuvieron que pedir una boleta de votación provisional.
Las boletas provisionales son contadas pero solamente después de ser verificadas por los oficiales electorales quienes deben confirmar la elegibilidad del votante.
El Secretario de Estado de Kansas, Kris Kobach se negó a apelar el mandato del juez Hendricks el 29 de julio, estaba demasiado cercano a la elección. Pero Kansas puede apelar el mandato eventual del juez en septiembre sobre el registro de dos partes de votantes o sistema de votación de dos niveles.
___________________________________________________________________________________________________________
Judge ordered new voters' ballots to count
By Edie R. Lambert
Kansas residents who registered to vote in Tuesday's primary by the July 12 deadline were able to vote and have their ballots counted even if they haven't provided documentary proof of citizenship, a judge ruled last week.
On July 29, Shawnee County District Court Judge Larry Hendricks issued a temporary injunction allowing registered Kansas voters to participate in the Aug. 2 election for local, state and federal   races. The American Civil Liberties Union requested the injunction to block Kansas's "dual-registration program" for the primary. The judge's temporary order was handed down just four days before the election.
At issue were about 17,500 Kansans who had registered at their motor vehicle license office under the federal "motor voter law," which doesn't require citizenship documentation. Since 2013, Kansas has required new voters to show proof of U.S. citizenship, but the law is being challenged in court.
In an attempt to satisfy both state and federal laws, the Kansas Rules and Regulations Board last month approved a temporary rule. It authorized county officials to disregard votes cast in local and state elections by new voters who hadn't provided proof of citizenship. Those new Democratic or Republican voters in "registration limbo" would only have had their ballots count in federal races – for U.S. House of Representative 3rd Congressional District and U.S. Senate in the August state primary.
The new rule was to have remained in effect through Nov. 8, the date of the presidential election, and affected an estimated 50,000 voters. But Judge Hendricks scheduled another hearing in September on Kansas's proof-of-citizenship requirement and the state's dual voter registration or "two-tiered voting system."   
New voters can check their eligibility to vote or if they're on the list of voters who registered but haven't yet complied with the 2013 state proof-of-citizenship law. The League of Women Voters of Kansas obtained the names of voters in "registration limbo." Go to lwvk.org. Look under "suspended voter registrations" and click on "the latest suspense list (by county)." Voters can also look on the Kansas Secretary of State's Website at sos.ks.gov. Click on "Search Your Voter Information" under the "Elections and Legislative" and "Registration and Voting" dropdown menus.
The names of new voters in Tuesday's primary in "registration limbo" didn't appear in poll books. When the judge issued his July 29 order, counties had already printed their election poll books. It was up to election offices to look up whether the voters had registered at the motor vehicle license office, and the impacted voters had to ask for a provisional ballot. Provisional ballots are counted but only after they're verified by election officials who must confirm voter eligibility.
Kansas Secretary of State Kris Kobach declined to appeal Judge Hendricks's July 29 injunction; it was too close to the election. But Kansas may appeal the judge's eventual ruling in September on the state's dual voter registration or two-tiered voting system.