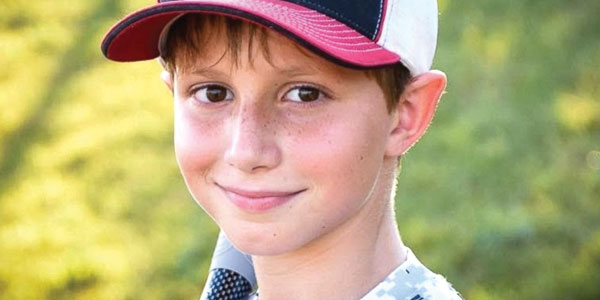 Un joven de 10 años de edad de Olathe, Kan., murió el domingo por la tarde (7 de agosto) en el parque acuático Schlitterbahn.
La policía y bomberos de la zona llegaron al parque ubicado en Kansas City, Kan. después de que un accidente había sido reportado en el tobogán de agua Verruckt, conocido como el más alto del mundo.
Caleb Schwab fue declarado muerto en el parque después de subirse al tobogán con dos adultas, que sufrieron de heridas leves. De acuerdo con las reglas del parque, el paseo se limita a tres personas en un barco a la vez y cada individuo debe ser de al menos 54 pulgadas de estatura.
Los funcionarios informaron el lunes (8 de agosto) que Schwab había muerto de una lesión fatal en el cuello, pero no se han dado a conocer todos los detalles sobre el accidente.
Después de escuchar sobre el accidente, Itzel López, residente de Overland Park, Kan., dijo que no está segura acerca de visitar el parque en un futuro próximo. También dijo que lamentaba el accidente.
"Es algo que se rompió mi corazón, creo, porque tengo primos que están alrededor de la misma edad que (Schwab) – y estábamos pensando en llevarlos antes de haber comenzado la escuela", dijo López.
A medida que la noticia recibió la atención nacional, la familia Schwab recibió un gran apoyo y condolencias de los residentes del área y en la zona, al igual que del gobernador de Kansas, Sam Brownback. El padre del niño, Scott Schwab, que es representante de Olathe en la Legislatura de Kansas, emitió una declaración.
"Michele y yo queremos dar las gracias a las comunidades de Olathe y Kansas City, Kan., y a todos nuestros amigos y familia por su gran apoyo y compasión tras la repentina pérdida de nuestro hijo …. Desde el día en que nació, él trajo abundante alegría a nuestra familia y a todos los que lo conocieron."
El parque publicó un comunicado en su página de Facebook que ofrece sus condolencias a la familia Schwab y asistencia de asesoramiento a los visitantes del parque ese día que podrían haber sido afectados por el accidente.
Los funcionarios del parque reclaman que hicieron pruebas en el tobogán antes de su apertura en el 2014 "cientos de veces" para asegurarse de que era seguro. De acuerdo con KCUR-FM (89.3), el parque retrasó la inauguración del tobogán varias veces debido a preocupaciones de seguridad y se enfrentó a tres demandas relacionadas con lesiones en sus otros juegos.
Una solicitud de registros abiertos propuesta por el Topeka Capital-Journal reveló que el estado no había inspeccionado Schlitterbahn desde el 2012.
El parque espera tentativamente volver a abrir el miércoles (10 de agosto), el tobogán de agua estará cerrado por un tiempo no especificado, a la espera de una investigación del Departamento de Policía de la Ciudad de Kansas, Kan.
_________________________________________________________________________________________________________________
Olathe boy, 10, dies from neck injury on Schlitterbahn ride
By Melissa Arroyo
A 10-year-old Olathe, Kan., boy died on Sunday afternoon (Aug. 7) at Schlitterbahn Waterpark.
Kansas City area police and fire officials arrived at the Kansas City, Kan., park after an accident had been reported on the Verruckt water slide, known as the world's tallest.
Caleb Schwab was pronounced dead at the park after riding the slide with two adult females, who had minor injuries. According to park rules, the ride is limited to three people on a boat at a time and each individual must be at least 54 inches tall.
Officials reported on Monday (Aug. 8) that Schwab had died of a fatal neck injury, but full details about the accident haven't been disclosed.
After hearing about the accident, Overland Park, Kan., resident Itzel Lopez said she's not sure about visiting the park in the near future. She also said she lamented the accident.
 "It kind of broke my heart, I think, because I have cousins that are around the same age as (Schwab) – and we were planning on taking them before they started school," Lopez said.
As the news received national attention, the Schwab family received an outpouring of support and condolences from area and non-area residents, and Kansas Gov. Sam Brownback. The boy's dad, Scott Schwab, who's serving as an Olathe representative in the Kansas Legislature, issued a statement in reaction.
"Michele and I want to thank the Olathe and Kansas City, Kan., communities and all of our friends and family for their outpouring of support and compassion as it relates to the sudden loss of our son…. Since the day he was born, he brought abundant joy to our family and all those he came in contact with," the statement read.
The park posted a statement on its Facebook page offering its condolences to the Schwab family and offering counseling assistance to park visitors that day who might have been affected by the accident.
Park officials are claiming they tested the slide before its 2014 opening "hundreds of times" to make sure it was safe. According to KCUR-FM (89.3), the park delayed the inauguration of its slide several times because of safety concerns and faced three lawsuits pertaining to injuries on its rides.
An open-records request given by the Topeka Capital-Journal revealed the state hadn't inspected Schlitterbahn since 2012.
With the park tentatively expected to reopen on Wednesday (Aug. 10), the water slide will be closed for an unspecified time, pending an investigation by the Kansas City, Kan., Police Department.