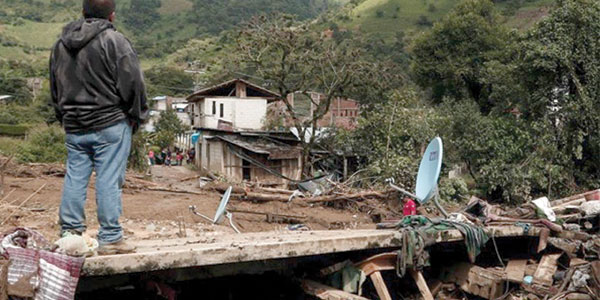 Durante el fin de semana (Agosto 5-7), el huracán Earl se abrió paso por el sureste de México alrededor de los estados de Veracruz, Hidalgo y Puebla, causando una gran cantidad de destrucción.
La tormenta alcanzó la categoría de huracán al cruzar el Océano Atlántico y perdió fuerza al llegar a Belice. Fue etiquetado como una tormenta, pero lo suficientemente fuerte como para dejar de desastres en su camino. fuertes vientos de la tormenta alcanzó el 65 millas por hora; y las fuertes lluvias causaron inundaciones y deslizamientos de tierra que amenazan la vida, causando concentraciones de suelo para colapsan en casas y carreteras.
Al escribir estas líneas, 45 personas han sido declarados muertos. Sin embargo, se espera que la cifra aumente debido al alto número de personas por desaparecidos.
Alrededor de ocho refugios facilitados por las autoridades locales y el ejército mexicano están albergando a más de 500 personas que perdieron sus hogares durante el desastre natural.
Las zonas afectadas siguen siendo consideradas altamente peligrosas y de difícil acceso debido a las ubicaciones montañosas de algunas de las poblaciones afectadas. Las autoridades dijeron que algunas áreas recibieron el equivalente de un mes de lluvia en menos de 24 horas.
México se prepara para más tormentas y huracanes tropicales, incluyendo la tormenta tropical Javier, que se formó el domingo (7 de agosto) alrededor de la Península de Baja California, según el Centro Nacional de Huracanes de EE.UU.. Se registraron vientos a 45 mph, pero se debilitaron a 25 mph.
_________________________________________________________________________________________________________________
Hurricane Earl strikes Mexico, leaves 45 dead and several missing
By Melissa Arroyo
Over the weekend (Aug. 5-7), Hurricane Earl made its way through southeast Mexico around the states of Veracruz, Hidalgo and Puebla, causing a wide amount of destruction in its path.
The storm reached hurricane status while crossing the Atlantic Ocean and lost strength upon reaching Belize. It was labeled as a storm, but strong enough to leave disaster in its path. The storm's strong winds reached 65 mph; and the heavy rainfall caused life-threatening flash floods and mudslides, causing concentrations of soil to collapse on houses and roads.
As of this writing, 45 people have been declared dead. But the number is expected to rise because of the high number of people reported missing.
About eight shelters facilitated by local authorities and the Mexican military are housing more than 500 people who lost their homes during the natural disaster.
The affected areas are still considered highly dangerous and inaccessible because of the mountainous locations of some of the affected towns. Officials said some areas received a month's worth of rain in less than 24 hours.
Mexico is preparing for more tropical storms and hurricanes, including Tropical Storm Javier, which formed on Sunday (Aug. 7) around the Baja California Peninsula, according to the U.S. National Hurricane Center. Winds were recorded at 45 mph, but weakened to 25 mph.